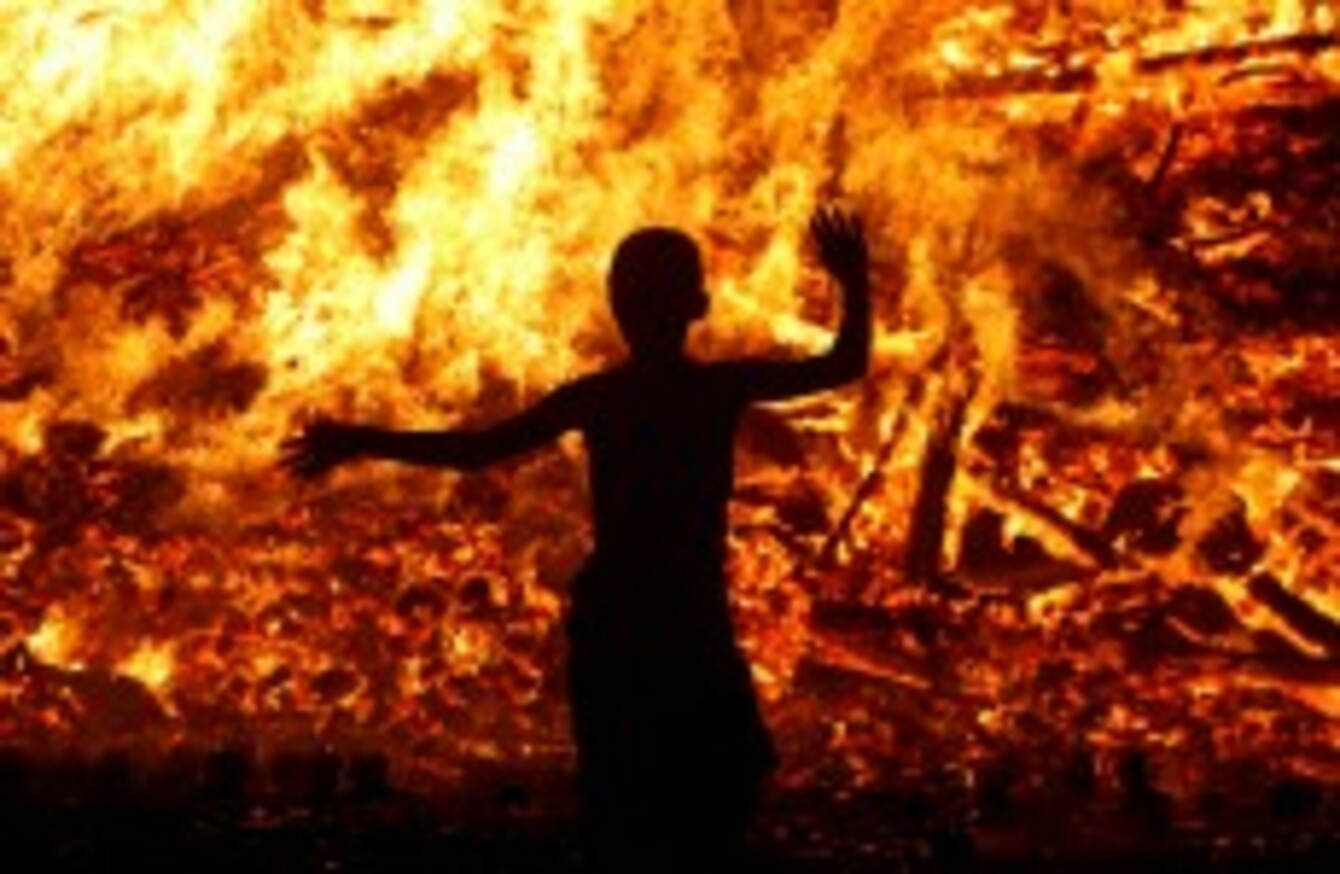 People gather at a huge bonfire on the Shankill Road in Belfast as Orange Order members celebrate the 12th of July this year
Image: Niall Carson/PA Wire/Press Association Images
People gather at a huge bonfire on the Shankill Road in Belfast as Orange Order members celebrate the 12th of July this year
Image: Niall Carson/PA Wire/Press Association Images
NORTHERN IRELAND'S FIRST Minister Peter Robinson has condemned the burning of Polish flags in Belfast on July 11th.
Calling for "respect and understanding", Robinson asked those who carried out the burning how they would feel if it was their flags on the bonfires.
"I think we need to have respect and understanding and tolerance for other traditions in our country. The one question I always put to myself in these circumstances is — how would I feel if that was my flag on top of that bonfire?"
Polish and Irish flags, as well as election posters for a Polish SDLP candidate, Magdalena Wolska were burned in the fires, which took place the night before the 12th of July. Members of the Orange Order traditionally march on the day to commemorate the victory of William of Orange over  King James at the Battle of the Boyne in Meath in 1690. Bonfires are traditionally lit by many loyalist communities to celebrate the victory.
Maciek Bator, of the Polish Association said the Polish community "embrace and respect all traditions here in Northern Ireland" but found behaviour such as flag burning "totally appalling and offensive".
"The Polish flag is a symbol of freedom, independence and peace for the 30,000 Polish people living in Northern Ireland and around 80 million across the globe," he said in an open letter.
"By burning the Polish flag and other symbols, some members of the local communities were able to express their strong political views and promote anti-Polish sentiments."
Alliance South Belfast MLA Anna Lo condemned the burners as "bigots".
"It is completely unacceptable for people to burn any flag. The people who burnt these Polish flags are nothing more than bigots. It is the actions of a hateful person who would do such a thing."