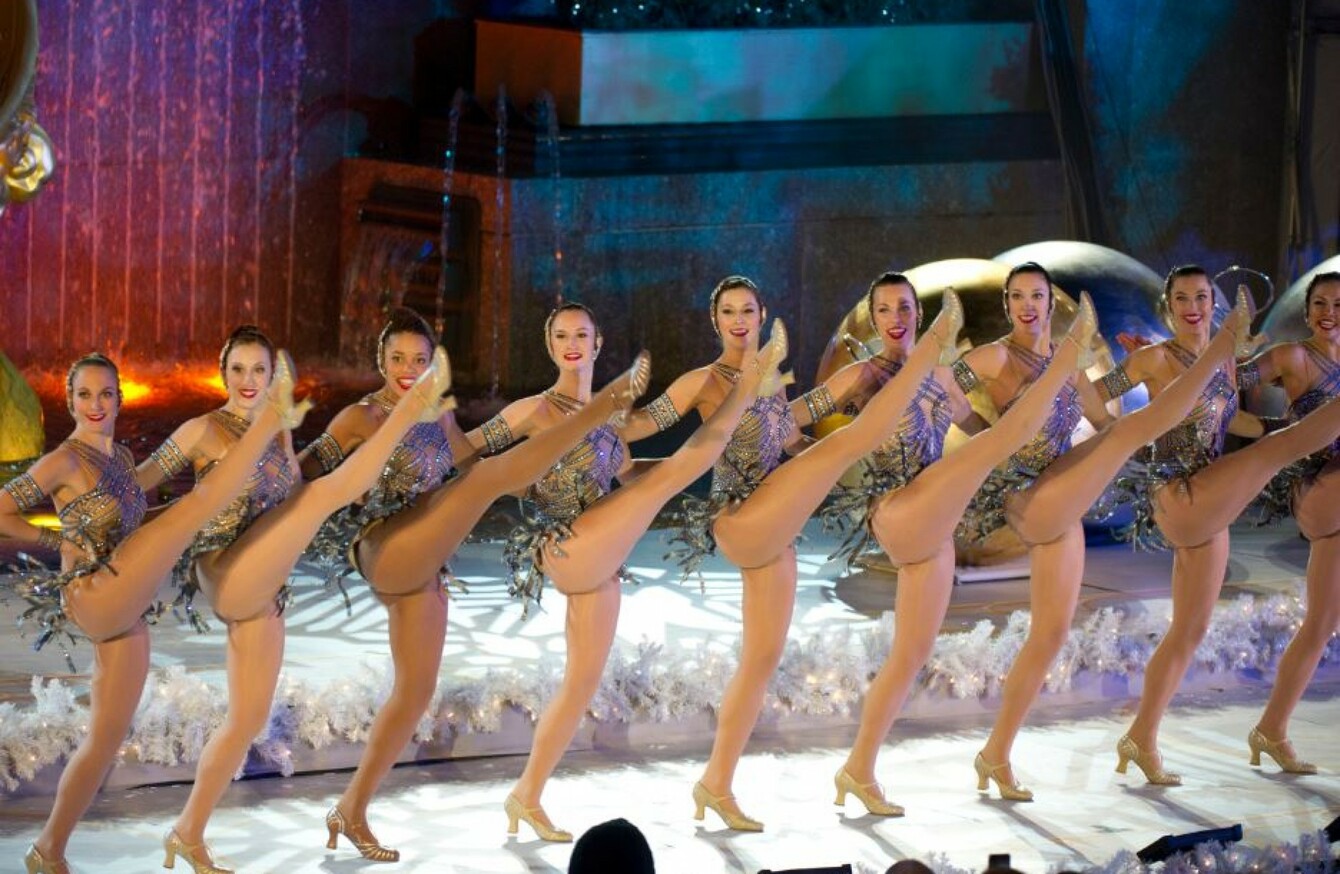 File photo of the Rockettes
Image: Charles Sykes AP/Press Association Images
File photo of the Rockettes
Image: Charles Sykes AP/Press Association Images
THE OWNERS OF the Rockettes have denied dancers in the famous group are being forced to attend the inauguration of Donald Trump as US president next month.
BroadwayWorld said it has confirmed the authenticity of an email sent from the American Guild of Variety Artists, which represents the Rockettes, saying talk of dancers boycotting the event is "invalid".
The email reads: "We have received an email from a Rockette expressing concern about getting "involved in a dangerous political climate" but I must remind you that you are all employees, and as a company, Mr (James) Dolan (chair of the Madison Square Garden Company, which employs the dancers) obviously wants the Rockettes to be represented at our country's Presidential inauguration, as they were in 2001 & 2005. Any talk of boycotting this event is invalid, I'm afraid…
"I will reiterate that if Hillary Clinton was the President-elect, nothing would be different, and there would probably be those who would not want to be involved because of her. It is a job, and all of you should consider it an honor, no matter who is being sworn in. The election is over and this country will not survive if it remains divided…
"If you are not full-time, you do not have to sign up to do this work. If you are full-time, you are obligated."
Some of the dancers have taken to social media to express why they don't want to perform at the inauguration.
One woman said she was "embarrassed and disappointed" at having to attend the event, triggering calls for a boycott of the group by some. Critics have posted the phone numbers of the dancers' union and the Rockettes' employer online to urge complaints.
Voluntary 
However, the Madison Square Garden Company has said no dancers are being compelled to attend the event.
A statement notes:
For a Rockette to be considered for an event, they must voluntarily sign up and are never told they have to perform at a particular event, including the inaugural. It is always their choice. In fact, for the coming inauguration, we had more Rockettes request to participate than we have slots available.
The American Guild of Variety Artists has not publicly responded.
The Rockettes, who have performed at Radio City Music Hall in New York since the 1930s, have previously appeared in Super Bowl halftime shows, Macy's Thanksgiving Day parades and George W Bush's inaugurations in 2001 and 2005.
Contains reporting from AP