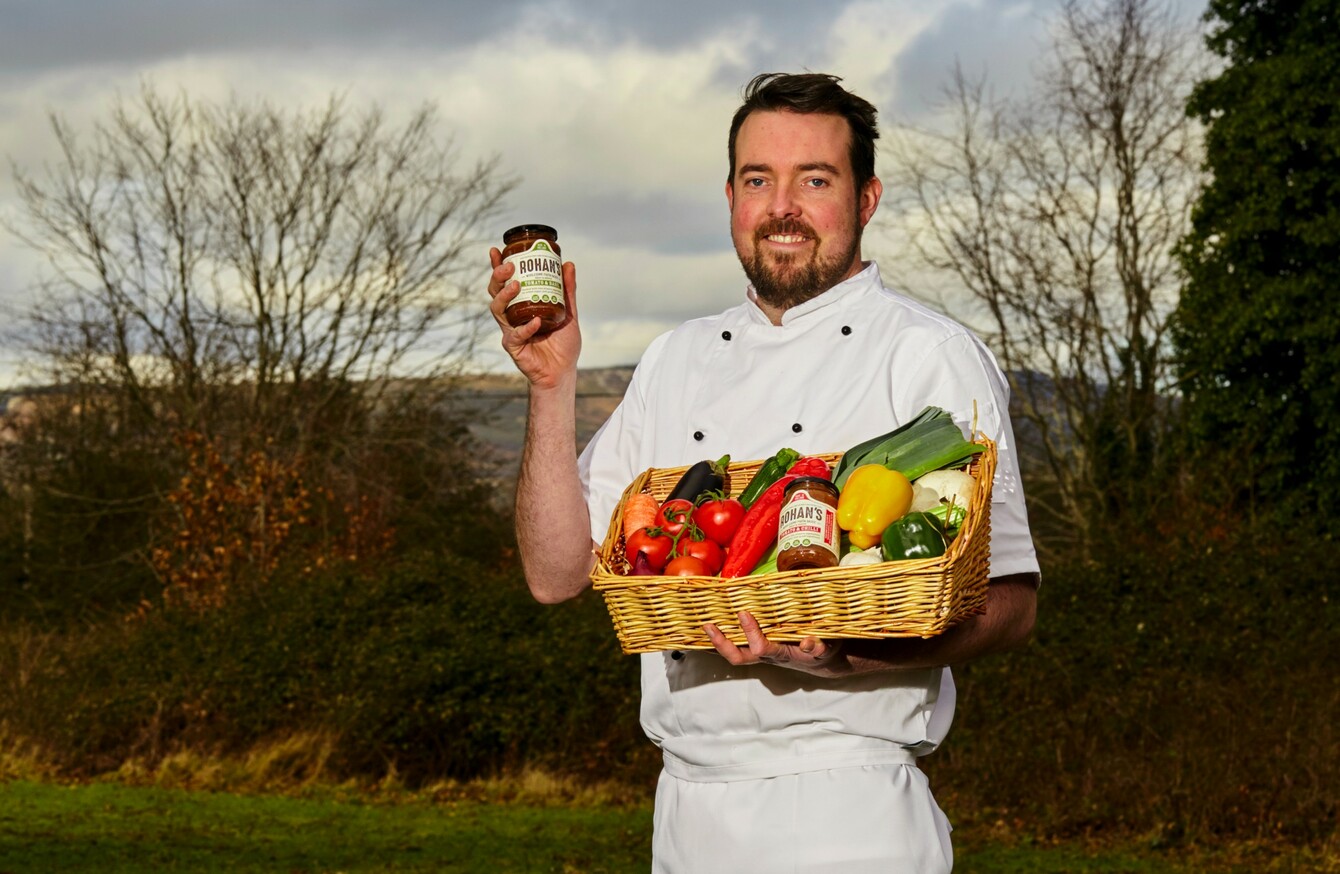 Rohan O'Duill, founder of Rohan's Sauces.
Image: SuperValu Food Academy
Rohan O'Duill, founder of Rohan's Sauces.
Image: SuperValu Food Academy
TESTING YOUR PRODUCT is one of the most important stages of starting a new food business. If people don't like the taste, or the look, of what you're offering, it's time to go back to the drawing board.
Rohan O'Duill is the founder of Rohan's Sauces, a range of vegetable-packed sauces with no added sugar or oil. It's a concept he's always had confidence in, because he tested his first batches on the toughest critics of them all: young kids. 
Rohan's own interest in food started early, and somewhat by necessity. Aged just ten, he started cooking meals for his family when his mother fell ill. "My dad gave it a go first, but after a couple of nights of us eating dinner after midnight, I took over," he says.
Later on, he trained in professional cookery at DIT, spending time working in high-end restaurants with "plenty of salt, butter, cream and wine". When he took up a role as resident chef and menu developer at Park Academy Childcare, Rohan's eyes opened up to a "new way of thinking" – one where food can be both healthy and flavoursome at the same time:
I had free rein to develop menus for the kids. Everything was made from scratch, with no butter and no sugar, because the food had to be as nutritious as possible.

"One of the biggest problems was trying to get kids to eat their vegetables, so I started making sauce from scratch, blending tomatoes up with loads of other vegetables. They loved it. Parents were popping their heads into the kitchen and saying, 'you need to sell this stuff,' so I did up a few test batches and handed them out."
People came back to me saying they'd all loved the sauce. Not just the children, the whole family. That was where Rohan's Sauces grew from.
Start-up to success
After those initial testing stages, Rohan took his fledgling idea for a blended vegetable sauce to his Local Enterprise Office in Wicklow. After four months of prep, he pitched it to the team at the SuperValu Food Academy, an ongoing programme that supports small food producers around Ireland.
I've been with the SuperValu Food Academy from the start. The whole thing was just an idea when I first made contact. I wouldn't have known what to do to get started. I had no idea about what jars to use or any of that. But I did the pitch in October 2017 and we were on shelves in five SuperValu stores by May 2018.
These days, you'll find Rohan's Sauces in 45 SuperValu locations around Ireland – and his aim for the future is to go national to all 223 stores. The guidance along the way has been invaluable, he says, from retail expertise to practical advice:
"As part of the programme, you meet people who know everything there is to know about the food retail industry. It's a very supportive environment, and what's great is that they let you go at your own pace. They understand that you're a start-up and are learning as you go."
The business has grown fast, but Rohan is still very hands-on. He looks after prep and production by himself, roasting or cooking down each vegetable to bring out the flavours, before blending everything up, and filling 450 jars per batch. It's a lengthy process, but one that Rohan believes is worth it to achieve a top quality product made entirely from natural ingredients.
"People have a low opinion of jarred sauces," he says. "They expect them to be full of thickeners, which is understandable, because many of those sauces are. With my products, when I tell people what's in them and the quality of the ingredients, you can see their expressions change."
Looking ahead
Like all Irish food businesses, Rohan has faced challenges in recent months due to the Covid-19 shutdown. With no orders coming in from independent stockists like health clinics and smaller shops, he's seen a slowdown in sales, but there have been some inspiring developments too:
"What we noticed is that my loyal customers have stayed loyal. For example, in the SuperValu stores I've been in since the very start, sales were still really strong. The Food Academy team recognised early on that some of the members might need extra support, and they've been brilliant at checking in. It means a lot to know that the support is there."
Looking ahead to the future, Rohan hopes to add new products to his range of sauces, while always sticking to the core concept of food that's both tasty and packed with nutrition. It's a vision that has served him well so far:
Once people hear about what's in the sauce, and they taste it, they're customers for life.
At SuperValu, we believe in local. Through our Food Academy programme, we've nurtured hundreds of small Irish food producers, from start-up to seeing their products on our shelves. Look out for the Food Academy section in your local SuperValu.