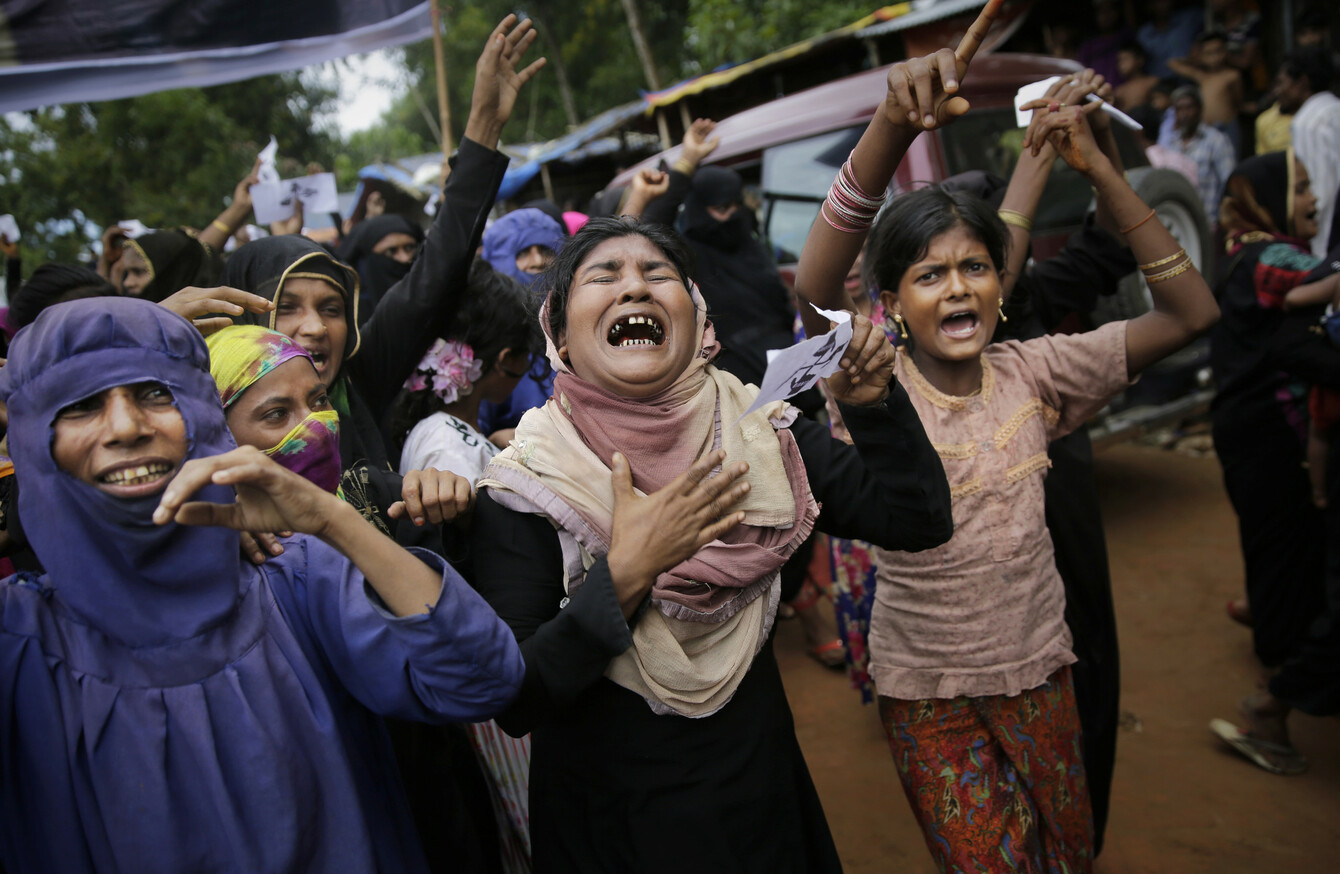 Rohingya women cry as they shout slogans during a protest rally to commemorate the first anniversary of Myanmar army's crackdown.
Image: Altaf Qadri via PA images
Rohingya women cry as they shout slogans during a protest rally to commemorate the first anniversary of Myanmar army's crackdown.
Image: Altaf Qadri via PA images
TENS OF THOUSANDS of Rohingya refugees staged angry protests for "justice" today on the first anniversary of a Myanmar military crackdown that sparked a mass exodus to camps in Bangladesh.
Many wept as they recalled the brutal killings and rapes inflicted on the Muslim minority last year as 700,000 fled across the border.
The biggest refugee camp in the world is rigidly controlled by Bangladesh authorities and the peaceful but charged Rohingya marches and rallies seen there were unprecedented.
A local police chief, Abul Khair, told AFP an estimated 40,000 refugees attended marches and rallies across the camps.
"We are Rohingya, we want justice," people chanted in the Kutupalong camp, where a giant banner proclaimed: "Never Again: Rohingya Genocide Remembrance Day. 25 August 2018."
In a different part of the camp, thousands of women and children marched behind a huge poster declaring: "365 days of crying. Now I am angry."
Rohingya militants staged attacks on Myanmar police posts on August 25 last year, sparking a bloody crackdown in Rakhine state.
Nearly 7,000 Rohingya were killed in the first month, according to Medecins Sans Frontieres (MSF).
Refugees arrived in Bangladesh on foot or in flimsy boats. Many brought horrific stories of sexual violence, torture and villages burned to the ground.
'Black day' 
Columns of people marching through the camp on Saturday waved banners and chanted "Allahu Akbar" (God is Great).
Tears flowed as one imam gave a sermon, saying "Please Allah, return to us our homeland. Let us see our parents' graves. We left them back in Myanmar."
Mohammad Ayub, a 28-year-old refugee who joined a march, said many Rohingya had lost loved ones in the violence and still mourned for them.
"We remember them on this day. It is a black day," he told AFP.
Myanmar authorities, who insist their forces only targeted insurgents, have made an agreement with Bangladesh to repatriate refugees but only a handful have gone back.
Rohingya leaders say the exiles will not return home unless their safety is guaranteed.
Myanmar's civilian leader Aung San Suu Kyi this week said it was up to Bangladesh "to decide how quickly" repatriation of the refugees can be accomplished.
She said the "terrorist threat" posed by Rohingya militants remains "real and present".
The Arakan Rohingya Salvation Army, which has been blamed for attacks in Myanmar, issued an anniversary statement in which it condemned Myanmar's "terrorist government and genocidal military".
Mohammad Hossain, a 40-year-old protester at Kutupalong, said: "We are here remember to 25 August. We want justice.
"We want them (Myanmar) to recognise us as Rohingya. We are very sad because we are not in our native land."
No home, no hope
The Rohingya were stripped of their citizenship decades ago by Myanmar and have been chased from the country in successive convulsions of violence.
#Open journalism No news is bad news Support The Journal

Your contributions will help us continue to deliver the stories that are important to you

Support us now
About 300,000 were already in the camps in Bangladesh's Cox's Bazar district and the latest arrivals pushed numbers to one million.
The Rohingya and aid agencies are most worried about the uncertain future of the refugees, who are stateless and seemingly unwanted in Bangladesh while conditions in their Rakhine homeland remain dangerous.
International Red Cross Committee president Peter Maurer, who visited the camps and Rakhine in July, said in an anniversary statement that Rohingya in both places were "living in misery".
"Unfortunately, since my visit we have not seen tangible improvements for those displaced or the few who remain in Rakhine."
The Red Cross chief called for urgent "sustainable solutions" for "safe, dignified and voluntary returns as soon as possible".
He said this must include "political steps" in Myanmar and Bangladesh.
While the Rohingya exodus from western Myanmar continues, with refugees still trickling over the border, the United Nations and international rights groups say conditions are not ready for their return.
"It may be decades until they can safely return to Myanmar, if ever," said MSF head of mission in Bangladesh Pavlo Kolovos in a statement.
Calls have mounted for Myanmar's military to be held responsible for the campaign and the United States has sanctioned two army brigades and several commanders who oversaw the expulsion.
There have also been calls for an International Criminal Court inquiry but Myanmar has bristled at international criticism.
Humanitarian agencies spearheading the relief effort in Bangladesh say just one-third of the roughly $1 billion needed for the refugees until March has been raised.