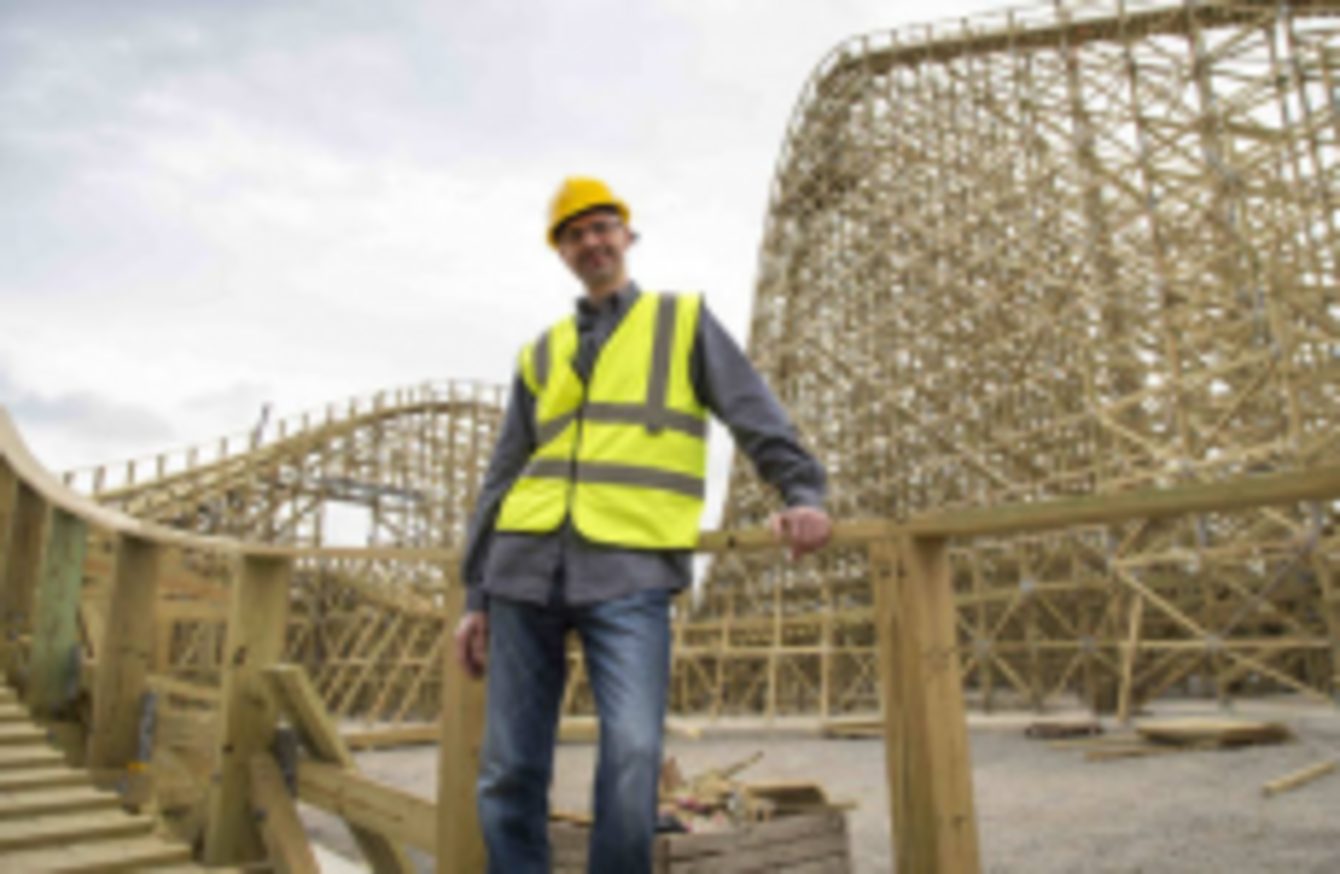 Korey Kiepert in the building stage on the Cú Chulainn rollercoaster.
Image: Photocall Ireland/Presence PR
Korey Kiepert in the building stage on the Cú Chulainn rollercoaster.
Image: Photocall Ireland/Presence PR
YOU WOULD IMAGINE a man who has designed more than 20 rollercoasters would have become somewhat jaded with them.
If Korey Kiepert of Ohio's Gravity Group feels that way, he hides it well. At the media open day for the launch of his latest design, the Cú Chulainn Coaster in Tayto Park, Kiepert is bounding with enthusiasm.
Standing beside the platform on the ride, he tells TheJournal.ie that he is proud of his work on Cú Chulainn, which was designed and built in painstaking detail over four years.
"I'm really pleased with [the ride]. Right now it's my favourite one.
I met the Coyles (who own Tayto Park) at a trade show in Orlando and they said that they had a park. A couple of months later I came and visited Tayto Park.
"Based on what they were talking about, I put together a ride plan which is actually pretty similar to what have here."
Source: davidjellis/YouTube
What wasn't part of that plan is the inversion, which is the first on a wooden rollecoaster in Europe.
There are a group of engineers in our office who have a bucket list of things they want to try. This ride originally went to 90 degrees and in the final tweak, Raymond Coyle asked if there was anything we could do to kick it up a notch, so we did the overbank.
He says that the thrill of riding and designing rollercoasters is intertwined and one he has yet to lose.
I still enjoy riding rollercoasters, that's what drew me to my career and now that this ride is coming to a close and that's bittersweet.
The job of rollercoaster engineer is incredibly technical, with analysis and planning needed for every cross-section of the build and every section of the track. But what is the job like?
"Every day is different. Some days I'm on site, inspecting things, training people.
Some days I'm in the office trying to design something and come up with a proposal for a park. Other days I'm checking drawings and there are days where I'm ordering office products."
The first load of passengers to take the ride this week were not, in fact, the first people to ride Cú Chulainn. Kind of.
"We have ballasts, water dummies, who take the ride because the ride has to break in. It's not uncommon for rides to get stuck, but this one made it back to the station first time."