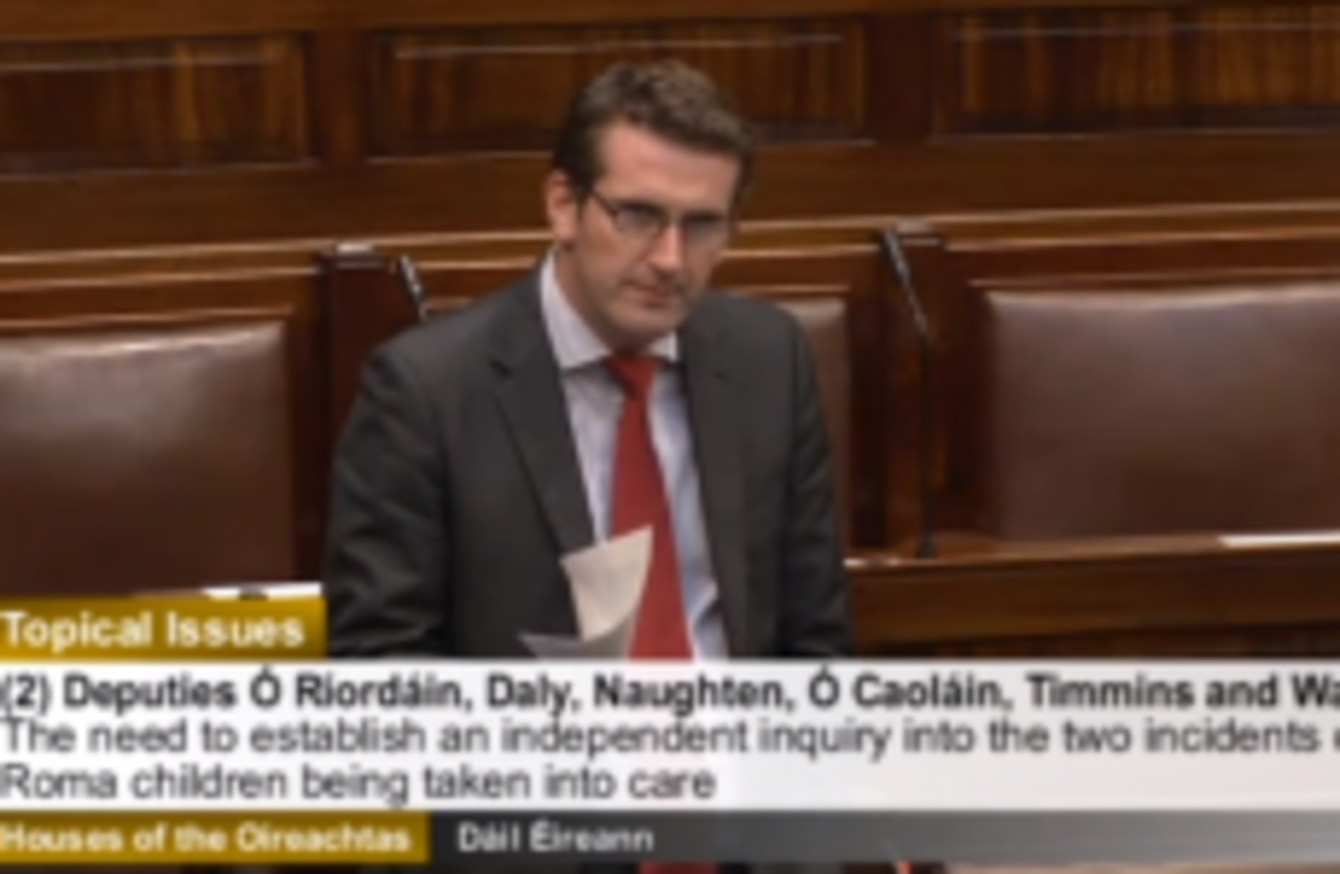 Aodáhin Ó'Ríordán in the Dail today.
Aodáhin Ó'Ríordán in the Dail today.
A NUMBER OF TDs in the Dáil today called for Justice Minister Alan Shatter to hand the task of an independent inquiry to the Children's Ombudsman after two Roma children were taken away from their families this week.
Many of the TDs questioned the merits of the actions of gardaí and the HSE and whether this was a result of racial profiling.
Aodhán Ó'Ríordáin described the events of the last week as an "unbelievably appalling scenario". He said that, at the centre of "this whole circus, has been a pure, raw, naked, poisonous racism".
He claimed it showed that the gardaí and the HSE "are willing to believe the worst of some of the communities that live in this land".
Immediate and serious risk
A number of the TDs in the debate asked whether these children would have been removed if they had not been living with Roma families. The section of the Childcare Act applied is only supposed to be used by the authorities where there is an immediate and serious risk to the child.
"If this was really motivated by the child's welfare then why did they leave the family's four other kids with them?" asked Mick Wallace, making reference to the 7-year-old girl in Tallaght who was reunited with her family yesterday.
Shatter revealed that the section of the Childcare Act that was used to immediately remove the children from their homes has been used 582 times this year and a total of 2,825 times since 2010.
Reports
The government has asked An Garda Síochana and the HSE for reports on the incidents with the two children, explaining the procedures taken and why those particular decisions were made.
However TDs Clare Daly and Mick Wallace said the authorities involved should not be allowed to essentially investigate themselves.
Shatter asserted that both reports would be handed over to the Children's Ombudsman and she would then be free to ask any questions about them and make recommendations which would then be made public.
He accused TDs on the opposition benches of prejudging the cases by singling out gardaí and the HSE as having done something wrong before the facts have been established.
The minister said that gardaí are "somewhere between a rock and a hard place" as they are "open to critisicm for either doing something or for doing nothing".
The opposition TDs were also critical of the media coverage of the two indicents, with several of them calling it a "media frenzy" and Clare Daly commenting that it was clear that "some elements in the gardaí, at senior level, are feeding their pet poodles in the media".
Shatter said he was aware that matters relating to the two children appeared in newspapers and "that will be a matter subject to the inquiry".