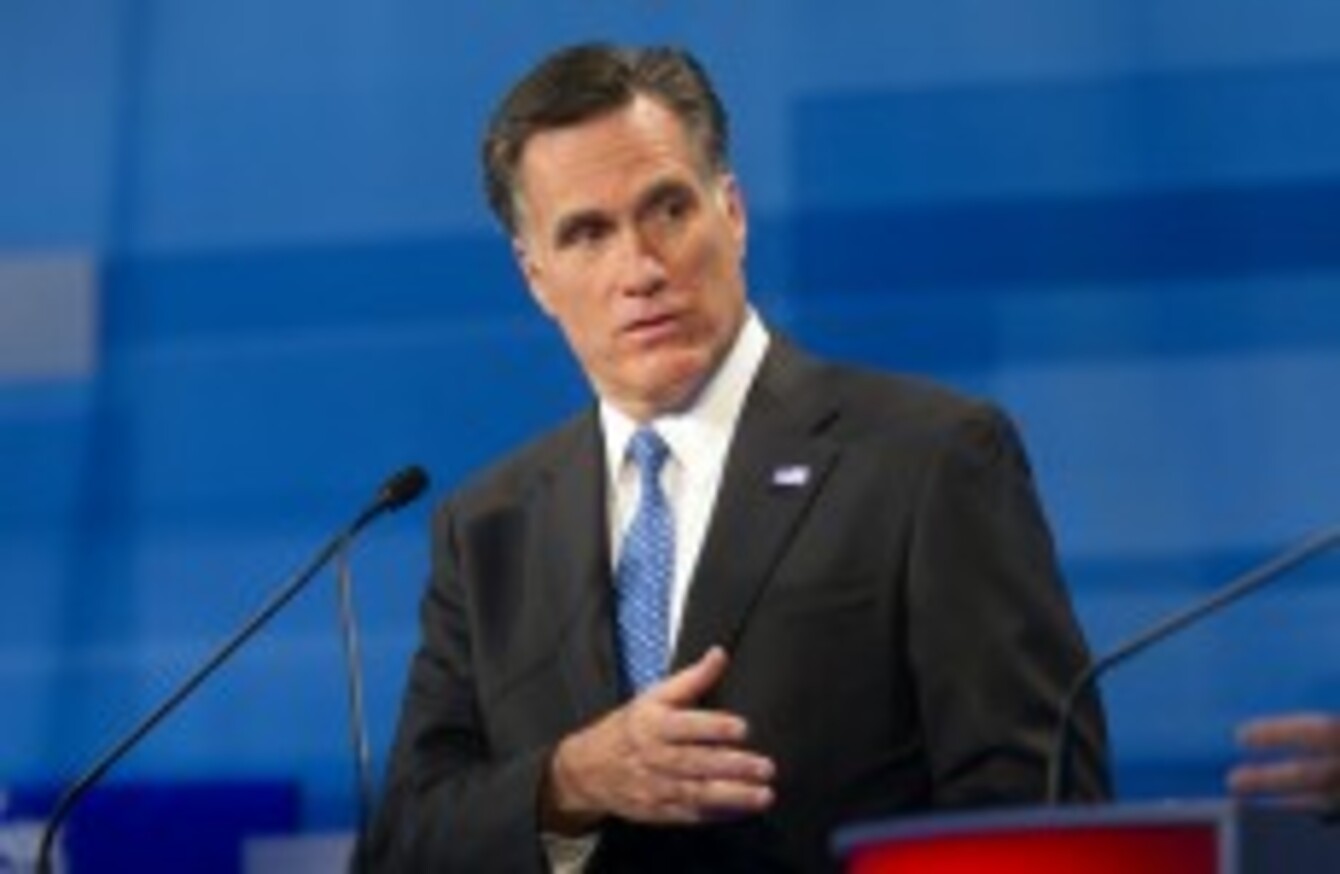 Frontrunner Mitt Romney
Image: David Goldman/AP/Press Association Images
Frontrunner Mitt Romney
Image: David Goldman/AP/Press Association Images
REPUBLICAN FRONTRUNNER Mitt Romney came under sustained attack from his rivals in the penultimate debate before the South Carolina primary vote this weekend.
With Jon Huntsman's departure yesterday leaving just five candidates in the race, Romney faced barbs over his job creation record, wealth and character as the remaining challengers attempted to claw back the Mormon's seemingly unassailable path to his party's nomination.
Having won the Iowa caucus and New Hampshire primary, Romney is clear favourite to win the nomination and face Barack Obama in the autumn. He has currently got a strong poll lead in South Carolina which holds its primary vote this Saturday.
Romney did not lose his composure or make any major mistakes, devoting as much time to those who trail as to Obama, the New York Times noted.
Candidates implored the former Massachusetts governor to release his income tax records which he indicated he would do in April. They also took issue with his record as an executive at Bain Capital, a management consultancy which Romney helped set up and at which he claims he created 100,000 jobs.
Former House Speaker Newt Gingrich said:  "There was a pattern in some companies … of leaving them with enormous debt and then within a year or two or three having them go broke"I think that's something he ought to answer."
While Texas governor Rick Perry referred to a steel mill in Georgetown, South Carolina where, he said, "Bain swept in, they picked that company over and a lot of people lost jobs there."

YouTube: AssociatedPress
AP noted that the tone turned muscular at times in a state which is renowned for its high concentration of military veterans and army bases and has a strong record of voting Republican in the main US presidential election.
Gingrich had these thoughts to share on America's enemies: "Andrew Jackson had a pretty clear idea about America's enemies. Kill them."
While Romney responded to a question about entering Pakistan if there was actionable intelligence that the Taliban leader Mullah Muhammad Omar was there by saying:
We go anywhere they are, and we kill 'em.
Gingrich, who overshadowed former Pennsylvania Senator Rick Santorum with whom he is battling to appeal to social conservatives, faced criticism from moderator Juan Williams for his call for schoolchildren to work as janitors and his description of Obama as a "food stamp president".
The exchange drew boos from the audience and appeared to benefit Gingrich:

YouTube: rightvideos03
Libertarian Texas congressman Ron Paul faced questions over his apparent criticism of the US raid which killed Osama bin Laden in Pakistan last May outlining a foreign policy that will not curry favour with more hawkish Republicans:

YouTube: LibertySource
The five will meet again in debate in Charleston on Thursday night, the last time they will share a stage before Saturday's South Carolina primary.