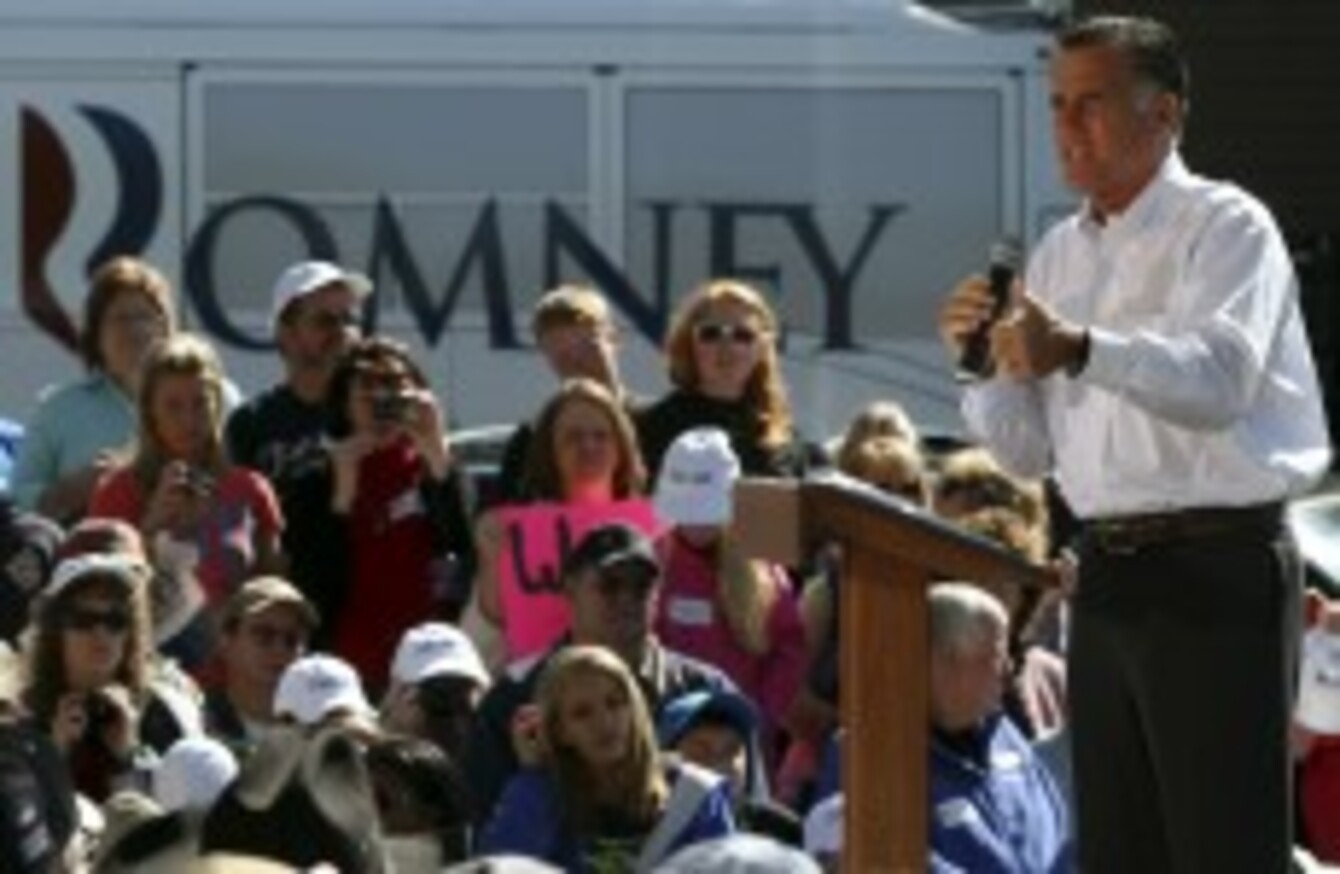 Mitt Romney speaking in Craig, Colorado earlier today.
Image: AP Photo/Mary Altaffer/PA
Mitt Romney speaking in Craig, Colorado earlier today.
Image: AP Photo/Mary Altaffer/PA
MITT ROMNEY SHOULD clinch the Republican presidential nomination today by winning the Texas primary, overcoming doubts about his ideological purity to become the party's 2012 flag bearer after a bruising battle.
Voters in the second most populous US state cast their ballots today, with Romney the only Republican still actively campaigning for the nomination to challenge President Barack Obama in November.
An all-but-assured Texas victory will secure him the 1,144 delegates needed, capping a long, rough-and-tumble slog through dozens of state primaries and caucuses.
Rivals like Newt Gingrich and Rick Santorum humbled Romney by stealing some victories, rallying voters to their more conservative agenda and highlighting his flipflops on key issues such as abortion.
They also accused Romney of being the wrong candidate to challenge Obama on his historic health care reform, widely reviled by core conservatives, because as governor of Massachusetts he implemented similar reforms that the White House readily states formed the basis for the Obama plan.
But the pugnacious and well-funded Romney always bounced back, unleashing furious assaults on his challengers such as the one in Florida that helped him trounce former House speaker Gingrich, who had alarmed the Romney campaign by winning the South Carolina primary the week before.
Faith
In nominating a multimillionaire former businessman, the Republican Party is in familiar territory, but in one key respect Romney is making history, as the nation's first-ever Mormon nominee of a major political party.
The Republican base has long been dominated by evangelical Christians, and Romney's faith has occasionally emerged as a campaign topic, with some religious leaders expressing suspicion about his religion.
But Romney is counting on Americans seeing him as the pragmatic problem solver with the business credentials to turn the economy around better than Obama has.
"I'm in this race because I believe in America's greatness," Romney told a crowd Tuesday in Craig, Colorado, echoing a common refrain of his stump speeches.
"Every recession ultimately comes to an end, but you'd expect this deep recession to come back to an aggressive turnaround, and it didn't happen. This president's policies made it harder for America to get on its feet again."
Romney, hinting at the controversy over the president's recent assault on his record as head of private equity firm Bain Capital, said the Obama administration had wrongly portrayed small businesses and corporate America as the enemy.
"We're not the enemy," he said.
Romney, 65, pivoted toward Obama in his campaign speeches and events more than a month ago, when it became clear his long march toward the nomination at the party convention in August would not be stopped.
Delegates
In Texas, 155 delegates are at stake. Romney's tally currently stands at 1,064, according to the website RealClearPolitics, some 80 shy of the nomination threshold.
But in Craig he made no mention of reaching that milestone, and his plans for later in the day do not include the Lone Star State.
Instead he travels from Colorado to Las Vegas, Nevada, where he attends a fundraiser with Donald Trump, the billionaire developer who himself was considering a presidential run but endorsed Romney in February.
Trump was in the spotlight today for again trumpeting his contentious "birther" conspiracy views in which he suspects Obama was born in Kenya, instead of the US state of Hawaii.
Romney says he believes Obama was born in Hawaii but has caught flak for not repudiating the recent remarks by the man who will host him at a Trump property in Las Vegas.
"You know, I don't agree with all the people who support me and my guess is they don't all agree with everything I believe in," Romney said aboard his campaign plane on Monday.
"But I need to get 50.1 per cent or more and I'm appreciative to have the help of a lot of good people."
The Obama re-election team quickly released a video hitting Romney for failing to distance himself from the birther issue.
Polls show a steadily tightening White House race, with Republicans coalescing behind Romney in the weeks since Gingrich and Santorum dropped out of the race.
Poll aggregates show Obama narrowly ahead. The latest RealClearPolitics average shows the president with a two-point lead, 45.6 to 43.6 per cent.