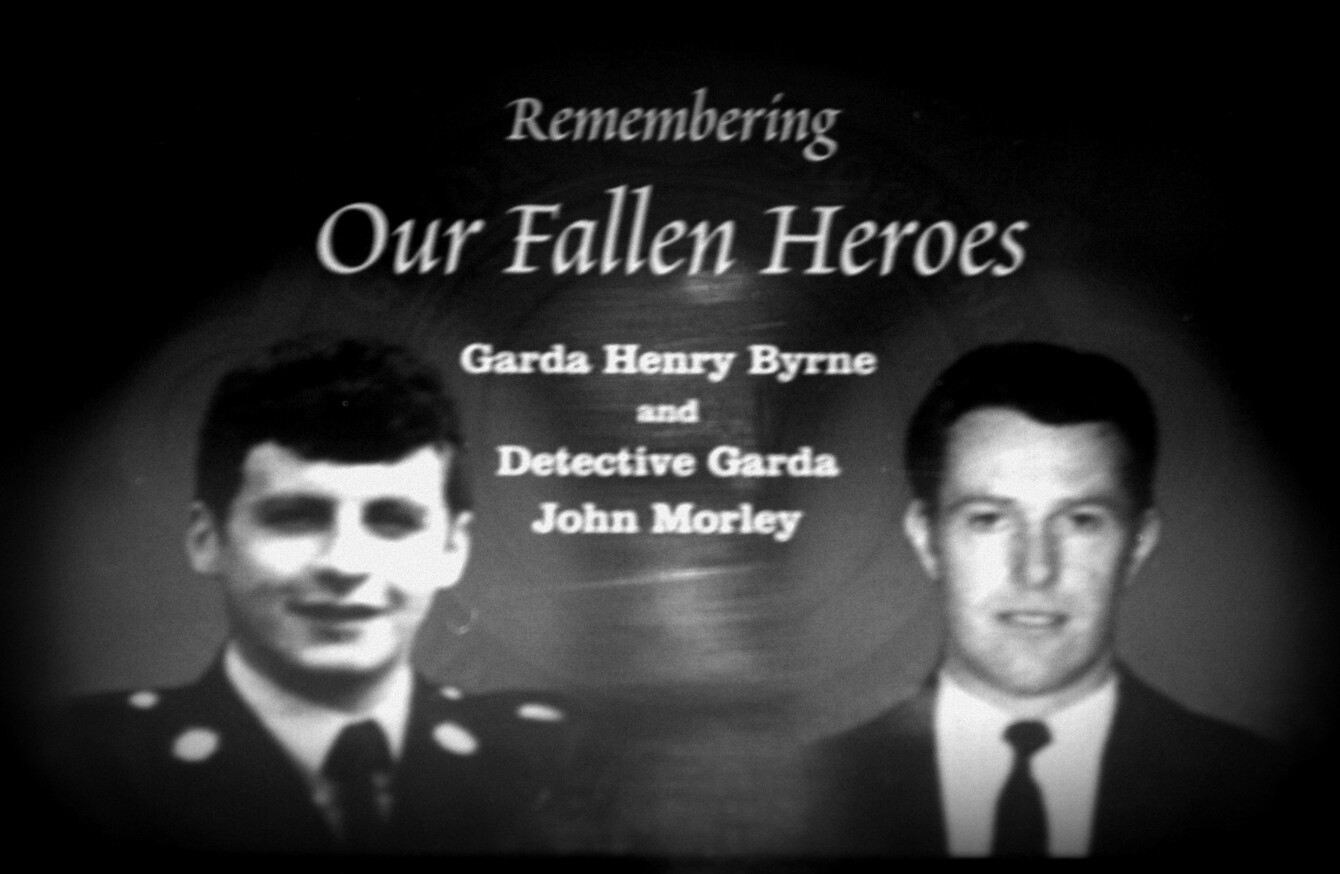 Image: Memorial Committee
Image: Memorial Committee
THE MINISTER FOR Justice Charlie Flanagan has unveiled a memorial to two gardaí killed in a 1980 Roscommon bank robbery.
Detective Garda John Morley and Garda Henry Byrne lost their lives on 7 July 1980, after intercepting armed bank raiders at Shannon's Cross, just out the village of Loughglynn in West Roscommon.
The shooting dead of the two young officers shocked the nation at the time. Both were married with young families.
37-year-old John had been a well-known Gaelic footballer and 29-year-old Henry Byrne's grandfather was among the 15 visionaries who witnessed the apparition in Knock, the Mayo parish where both he and John hailed from.
Byrne was killed instantly on that fateful day in 1980 after one of the raiders opened fire when the Garda and getaway cars collided at Shannon's Cross.
Detective Morley exchanged fire but was fatally wounded. The three raiders, who had taken £35,000 from the Bank of Ireland branch in nearby Ballaghaderreen, were later apprehended after an extensive manhunt.
After today's unveiling of the monument by Minister Flanagan, the Byrne and Morley families planted two oak trees in memory of their loved ones. A book containing stories and reflections from local people, colleagues and friends was also launched today.
Brendan Gordon, Chairperson of the Memorial Committee said today went off without a hitch.
"It was a great day. It's been a long time coming and has been put on the long finger.
"This year, we decided to get it done. I live in the area and pass the spot three or four times a day. I just thought it should be marked. In a small community, you get great support, we just had to get the ball rolling."
Speaking at today's ceremony, Flanagan said the men's deaths came in "dark days".
John and Henry are present in our thoughts today, but I would also like to take the opportunity to pay tribute to the 86 others members of An Garda Síochána who have given their lives protecting the citizens of this State since its foundation.
"And as we gather here this afternoon, the men and women of An Garda Síochána continue to go about their duty throughout the country not knowing what challenges they may have to face during their shift – when they may have to find the courage to face down a criminal with a knife or a gun.
"That is the nature of the job; but it is important that we pay tribute to them and acknowledge their willingness to put themselves in the way of harm so that the rest of us can go about our lives secure in the knowledge that they are there to protect us and will do their utmost to do so.
The period of the State's history when John Morley and Henry Byrne were murdered were dark days indeed. We are eternally grateful for the bravery and courage shown by the members of An Garda Síochána during those troubled times in our not so distant past. Thankfully, because of their sacrifice, we can live our lives in peace today.
"Today, is a proud but sad day for the family, friends and colleagues of these two brave members of An Garda Síochána. I hope that it is some comfort to you to know the depth of the esteem and respect that this whole community holds for both John and Henry.
"The members of the Memorial Committee have put a lot of time and effort into arranging for this fine tribute and I would like to thank the Committee and, in particular, the Chairperson Brendan Gordon, for all they have done.
I unveil this fitting tribute to the John and Henry that will serve to remind all those who pass of the debt of thanks that we owe them and of the esteem in which they are held.
Three men, Peter Pringle, Patrick McCann, and Colm O'Shea, were convicted of the murders of the two Gardai but their death sentences were commuted to 40 years imprisonment. O'Shea and McCann were released after serving 30 years and Pringle's conviction was overturned in 1995.