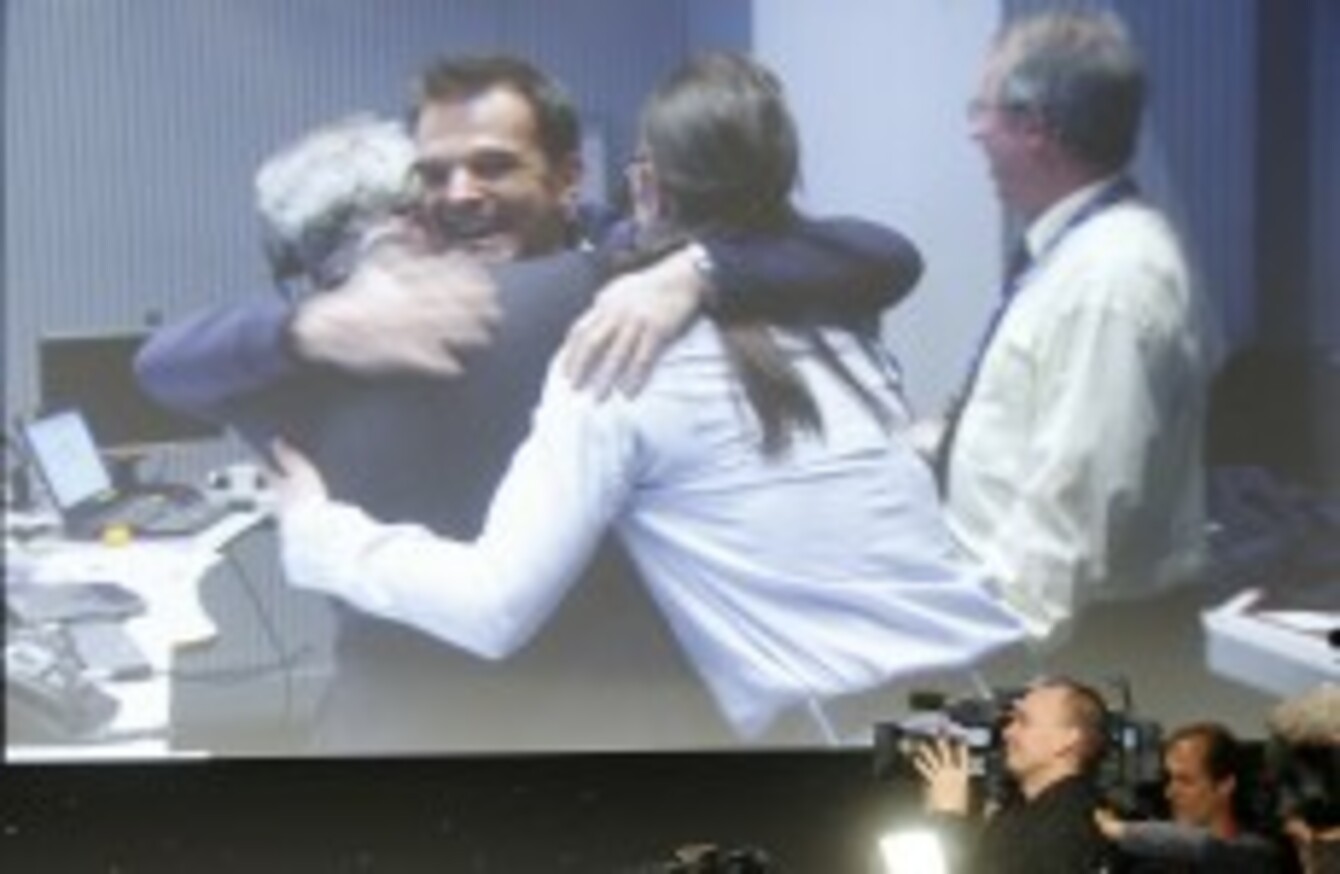 Look at their happy faces.
Image: Michael Probst/AP/Press Association Images
Look at their happy faces.
Image: Michael Probst/AP/Press Association Images
TODAY'S MINDBLOWING DEVELOPMENT in space exploration had scientists across the world celebrating.
One NASA man, Jim Green, claimed the landing of a probe on a speeding comet was a significant step in our journey to Mars (as in, our journey to inhabit another planet).
He is adamant that the human race will not survive on just one planet alone and the European Space Agency's "audacious" move to unlock the secrets of comets — primordial clusters of ice and dust that may have helped sow life on Earth – is just one of the things "we must do".
So, how much did this enormous feat cost?
According to Scienceogram.org, a body that looks at the spending on science projects across the UK and Europe, it's not that much, if you think about it.
Yes, the mission cost a massive €1.4 billion in European monies. But what does that equate to?
Less than the cost of a cinema ticket to Interstellar!
Here's the math:
There was some bad news, however, to relay tonight.
During touchdown, the three-legged landing gear was meant to absorb the impact to prevent rebound, and an ice screw in each foot was supposed to drive into the surface.
Neither of these things have been confirmed yet.
"The conditions of landing – including whether or not the thruster performed – along with the exact location of Philae on the comet are being analysed," according to the agency.
#Open journalism No news is bad news Support The Journal

Your contributions will help us continue to deliver the stories that are important to you

Support us now
The ESA does not want to jump to bad conclusions, saying the probe is transmitting data and that it will know more tomorrow about its location.
It may have landed on a soft area of sand, according to the scientists.
Images have already been received and will be released in the next few hours.
The Philae lander's journey from its mothership took seven hours today – a tense wait for those in the German control room who had decided last night to 'go' with the mission, one years in the making.
"Our ambitious Rosetta mission has secured a place in the history books: not only is it the first to rendezvous with and orbit a comet, but it is now also the first to deliver a lander to a comet's surface," noted Jean-Jacques Dordain, ESA's Director General.
With Rosetta we are opening a door to the origin of planet Earth and fostering a better understanding of our future. ESA and its Rosetta mission partners have achieved something extraordinary today.
Rosetta was launched on 2 March 2004 and travelled 6.4 billion kilometres through the Solar System before arriving at the comet on 6 August 2014.