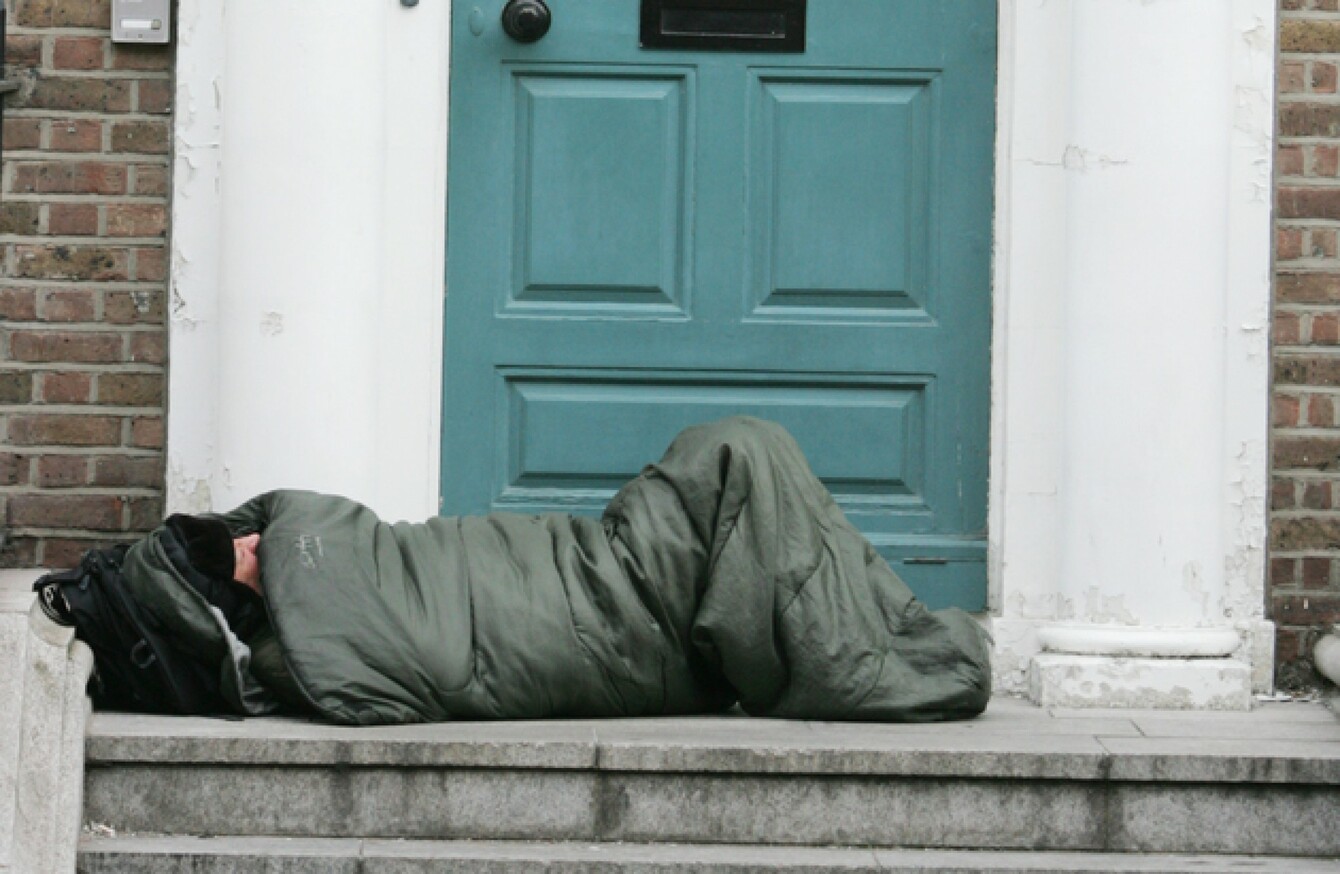 Image: Photocall Ireland
Image: Photocall Ireland
91 PEOPLE WERE recorded sleeping rough on the streets of Dublin during the winter rough sleeper count this year.
This is down from 168 in the same period last year, marking a 46% decrease.
On the same night, 61 people accessed the Merchant's Quay Night Café, a service which runs to give people who fail to secure a bed in emergency accommodation a place to go.
This means that there were 152 people in Dublin without secure accommodation on the night of 30 November, when the count took place.
Despite these lower figures, the number of people accessing emergency beds has gone way up in Dublin.
In total, 3,766 beds were occupied on the night of this year's count, up from 2,197 in 2014, marking almost a 60% increase in just a year.
Of the 91 persons sleeping rough:
73 were male; 16 were female; and two were unknown.
71 were Irish; six were non-Irish; and 14 were unknown.
13 were aged 18-30; 33 were aged 31-40; 17 were aged 41-50, five were aged 51-60, four were aged 61+and 19 were unknown.
Commenting on the figures, Cathal Morgan, director of the DRHE said that the numbers were a welcome decrease from last year.
We have been working extremely hard with our NGO and statutory partners to ensure there is suitable and secure emergency accommodation available for any person that needs it.
The rough sleeper count takes place every winter and spring. There were 105 people counted sleeping rough during the last spring count.
The decline in numbers was helped by the cold weather initiative in place since the beginning of November, which made more emergency beds available to protect homeless people against the harsher winter weather.
Available beds
But Ireland is still facing a growing homelessness problem.
The number of emergency accommodation beds (beds in hostels or hotels) available in Dublin increased by 71% since November 2014, with an additional 1,569 beds now available.
While homeless charities welcomed the reduction in numbers, Focus Ireland said that increasing the number of emergency beds alone would not solve the homelessness crisis.
"The delivery of these new beds is a tribute to the hard work of the local authorities and the homeless organisations across the city," said Mike Allen, Director of Advocacy with Focus Ireland.
"However, it is essential the Government move to ensure no-one should sleep on the streets for want of a bed, and there is still some way to go on that.
"Ending rough sleeping is not just about providing an emergency bed for the night – it's about providing a secure and affordable home."