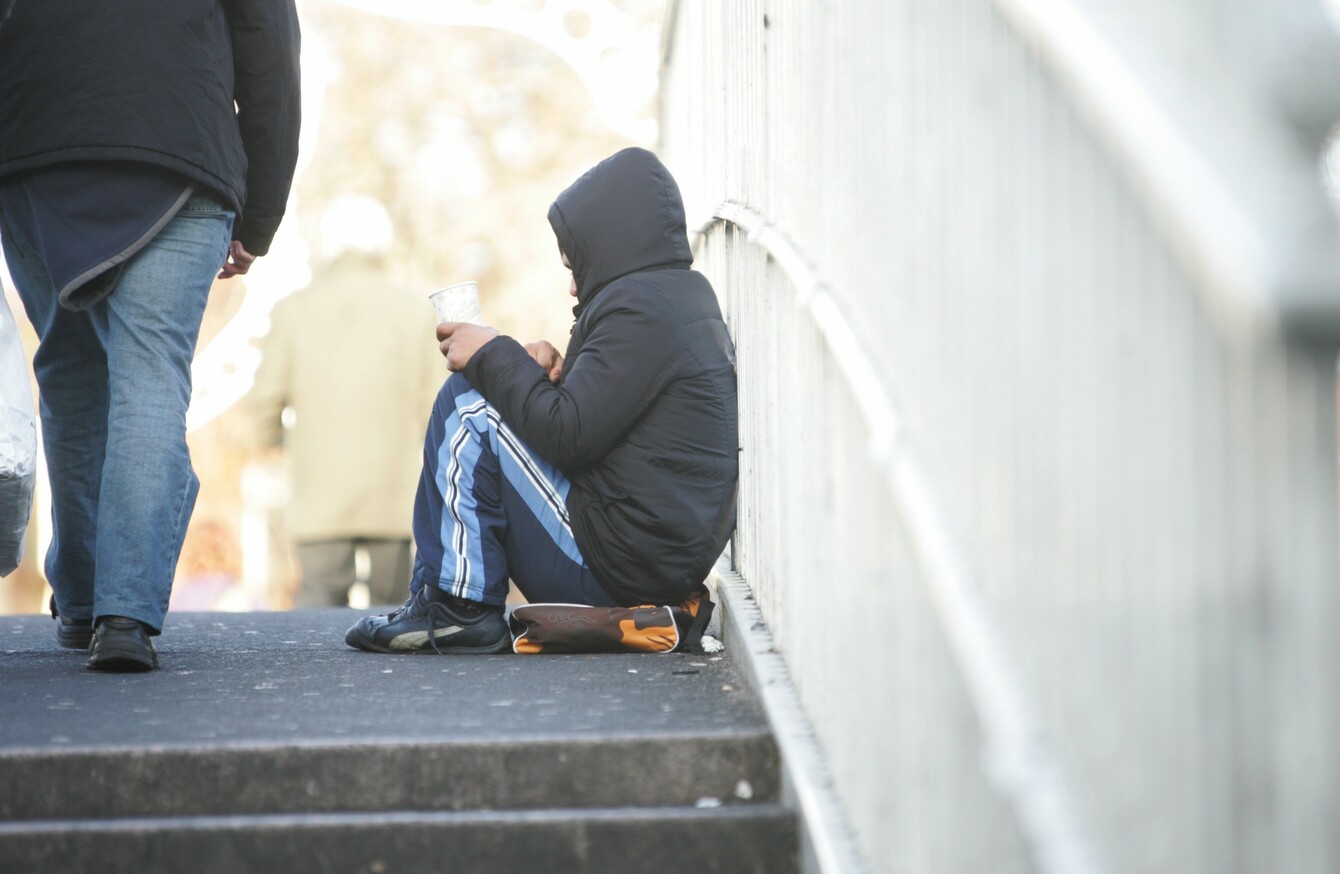 Image: Leon Farrell/RollingNews.ie
Image: Leon Farrell/RollingNews.ie
THE OFFICIAL WINTER count for Dublin has confirmed that 142 people are sleeping rough on the streets of the capital.
Homeless charities have slammed the figures, while Dublin City Council has pledged a further 230 emergency beds to combat the problem.
The official count was conducted on the night of 22 November into the morning of 23 November. This represents a rise in rough sleepers of 40% since the last count found 105 in April, and a 56% rise since 91 rough sleepers were identified in the same period last year.
Since 77 people were sleeping in the Homeless Night Café on Merchants Quay on the evening of 22 November, it meant that a minimum of 219 people were without a bed that night.
Alongside these figures, the Dublin Region Homeless Executive (DRHE) and Dublin City Council has confirmed that emergency accommodation is being expanded by 230 bed spaces, which will be delivered in full by 9 December.
The DHRE said that this expansion of 230 beds was essential to ensure no person is forced to sleep rough due to "inadequate provision".
A spokesperson said:
Given that in Dublin there are at least 142 persons sleeping rough tonight, the addition of 230 new bed spaces alongside the expansion of Dublin's Housing First Service ensures we can, and will, provide for everyone engaging in rough sleeping while allowing for additional overall capacity.
These bed spaces will be provided by organisations across four sites: Peter McVerry Trust on Ellis Quay, Depaul Trust on Little Britain Street, Dublin Simon and Salvation Army at Carman's Hall, and the Civil Defence at Wolfe Tone Quay.
Demographics
The key findings were, of the 142 persons confirmed sleeping rough:
110 were male, 20 were female, and 12 individuals were unknown;
63 were Irish nationals, 21 were non-Irish, with 58 individuals nationality unknown;
21 people were aged 18-30, 30 were aged 31-40, 21 were aged 41-50, 6 persons were 50+, and the age of 64 people was unknown.
Make housing available
Homeless charities called the figures "wrong and totally unacceptable", as well as "deeply disappointing and very frustrating".
Pat Doyle, CEO of Peter McVerry Trust, said: "[Our] view is that the only effective way that we can begin to reduce and ultimately eliminate rough sleeping is to ensure we have enough appropriate housing options.
To that end we need to see stronger and quicker interventions to make housing available.
Focus Ireland director of advocacy, Mike Allen, commented: "While much good work is being done to prevent people from becoming homeless the constantly rocketing rents and a growing number of buy-to-let homes being either repossessed or sold is causing a constant rise in the numbers being forced into homelessness."
Both added that the Housing First service, which is jointly operated by Focus Ireland and Peter McVerry Trust has seen consistently high numbers of rough sleepers this year.
Focus Ireland's Mike Allen urged the government to outlaw the eviction of tenants when a house is repossessed, while Pat Doyle from Peter McVerry Trust called for a vacant property tax to be introduced to push houses back into the system.
She said: "According to the CSO, there are just over 35,000 vacant private homes in Dublin. Even a 10% rate of return to use of these vacant units is equivalent to all the properties currently available to rent in Ireland, so you can see how tackling this issue now could have a massive impact."
The government has pledged to spend €5 billion over the next five years on its housing plan which it says will help alleviate the homeless crisis.