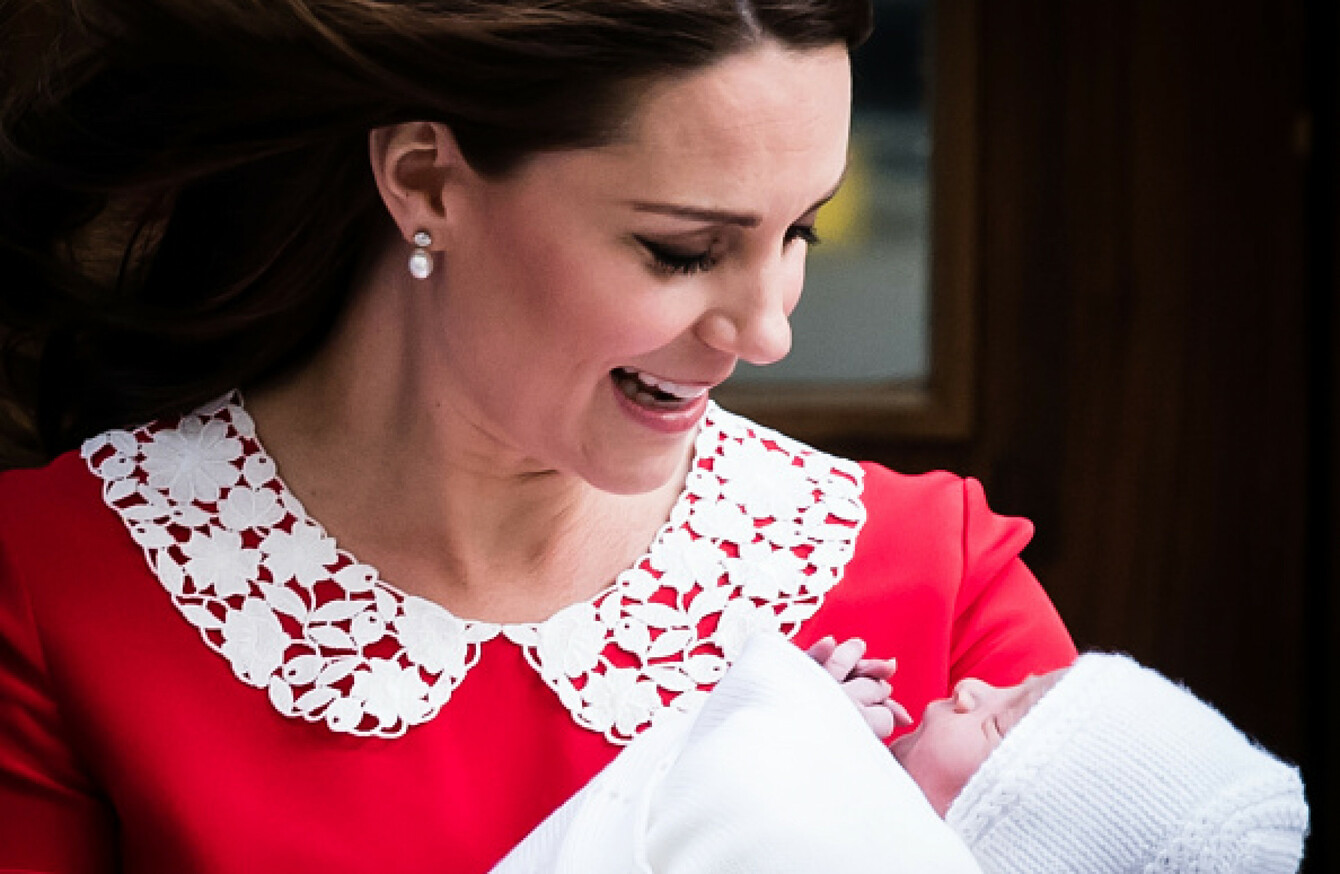 Image: WireImage
Image: WireImage
BRITAIN'S PRINCE WILLIAM and his wife Kate have named their baby son Louis Arthur Charles, Kensington Palace announced this morning.
"The Duke and Duchess of Cambridge are delighted to announce that they have named their son Louis Arthur Charles," said a palace statement.
"The baby will be known as His Royal Highness Prince Louis of Cambridge."
The name pays tribute to William's great-great uncle Louis Mountbatten, who was killed by the IRA in 1979 when a bomb detonated on a fishing boat at Mullaghmore, Co Sligo.
Mountbatten's 14-year-old grandson Nicholas Knatchbulla, and a local teenager who worked for the royal, Paul Maxwell, were also killed.
Another member of his party – the Dowager Lady Brabourne – died the day after the attack.
Lord Mountbatten had been a frequent visitor to the area in the years before the bombing – and was well-known locally.
Prince Charles spoke of the personal loss he and his family experienced when they visited the area in 2015.
"At the time I could not imagine how we would come to terms with the anguish of such a deep loss… For me, Lord Mountbatten represented the grandfather I never had.
So – it seemed as if the foundations of all we held dear in life had been torn apart irreparably.
Louis is currently the 71st most popular name for a baby boy in England and Wales. Arthur had been the bookmakers' favourite for the couple's third child.
Louis weighed eight pounds and seven ounces when he was born on Monday with William, the Duke of Cambridge, present for the birth.
The couple stepped out of St Mary's Hospital in central London to cheers from a crowd of supporters and global media outlets gathered outside.
Their two other children – Prince George, aged four, and two-year-old Princess Charlotte – had met the latest addition to the family earlier in the afternoon, before returning home to Kensington Palace.
Louis is a sixth great-grandchild for Queen Elizabeth, who turned 92 on Saturday, and her husband Prince Philip.
He will hold the title of prince after the Queen changed the rules in 2012 to ensure that all of William's children would be entitled to the prince title, not just his eldest son.
Prince Louis is also the first male royal who will not overtake his sister in the line of succession after a reform that ends male primogeniture.
 © – AFP 2018 with reporting by Ceimin Burke