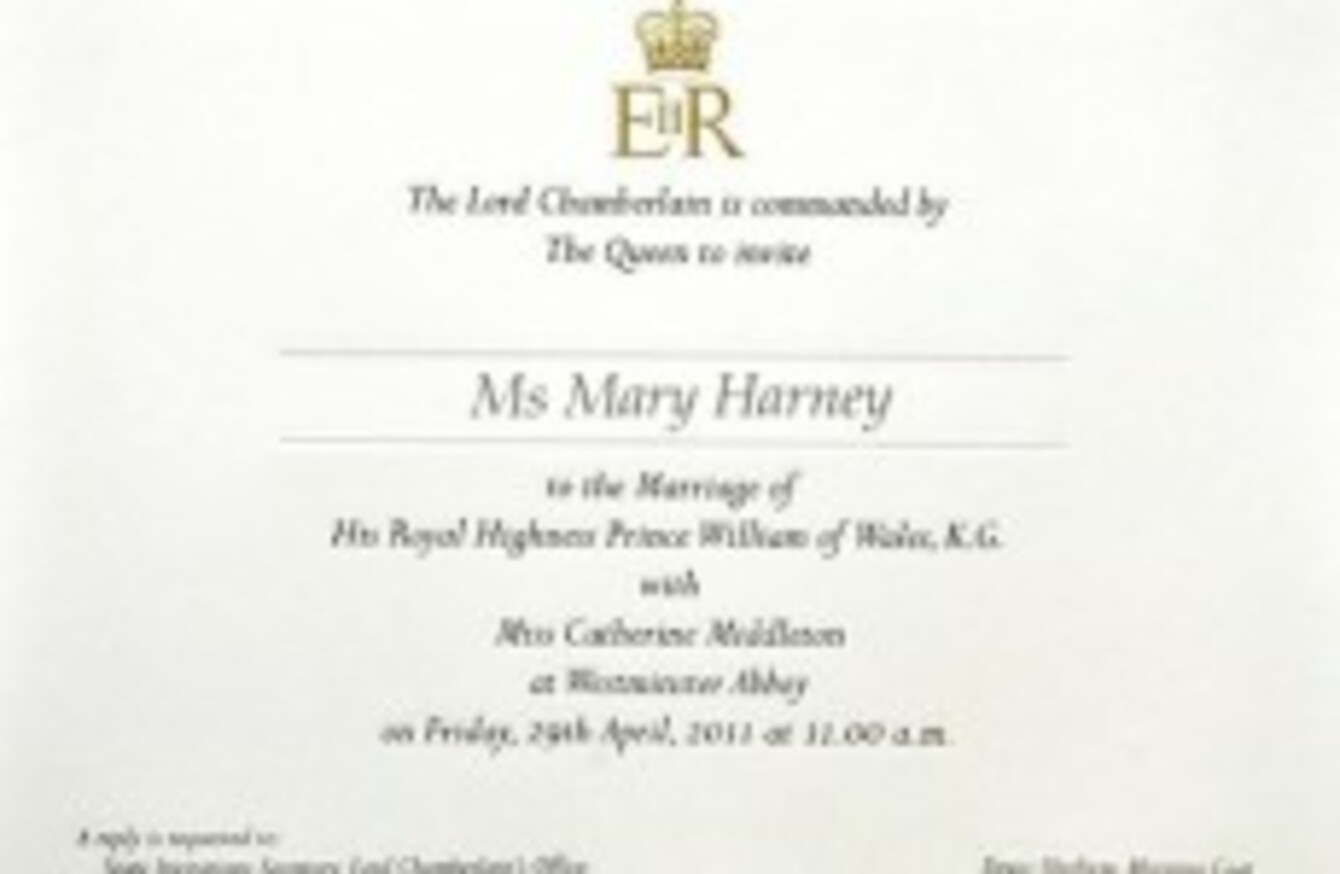 CLARENCE HOUSE HAS been forced to clarify that the former Minister for Health, Mary Harney, has not been invited to attend the upcoming nuptials of Prince William and Kate Middleton – after she was mistakenly sent an invitation to the royal event.
A total of 1,900 invitations have been sent to a plethora of high-profile guests, including foreign royals, representatives of the defence forces, celebrities, artists and politicians. Guests from Ireland include Brian O'Driscoll and Amy Huberman – who met William and Kate last year.
The presence of Ireland's President Mary McAleese was also marked for request but, embarrassingly, her invitation was instead addressed and delivered to former TD Mary Harney.
Making a red-faced U-turn this morning, Clarence House issued a brief statement, saying:
An error within the Clarence House information system resulted in inaccuracies relating to some guests' details… On behalf of His Royal Highness and Ms Catherine Middleton, Clarence House extends an unreserved apology for any offence that may have been caused by this oversight.
Mary Harney seems determined to put on a brave face about the mix-up however, with a source close to her insisting that she was "not in the least" bit disappointed.
The source added: "Mary had something on that weekend anyway, so she couldn't have made it. She's very busy."
Mary McAleese has made no public comment on the matter.
Spokesperson for Clarence House Felicity Thwarpe refused to confirm that Harney had received the rogue invitation, but added that the Palace would reimburse the cost of travel expenses incurred by anyone who has been disinvited.
When asked if the cost of attire purchased for the wedding would also be covered, Thwarpe replied: "No".