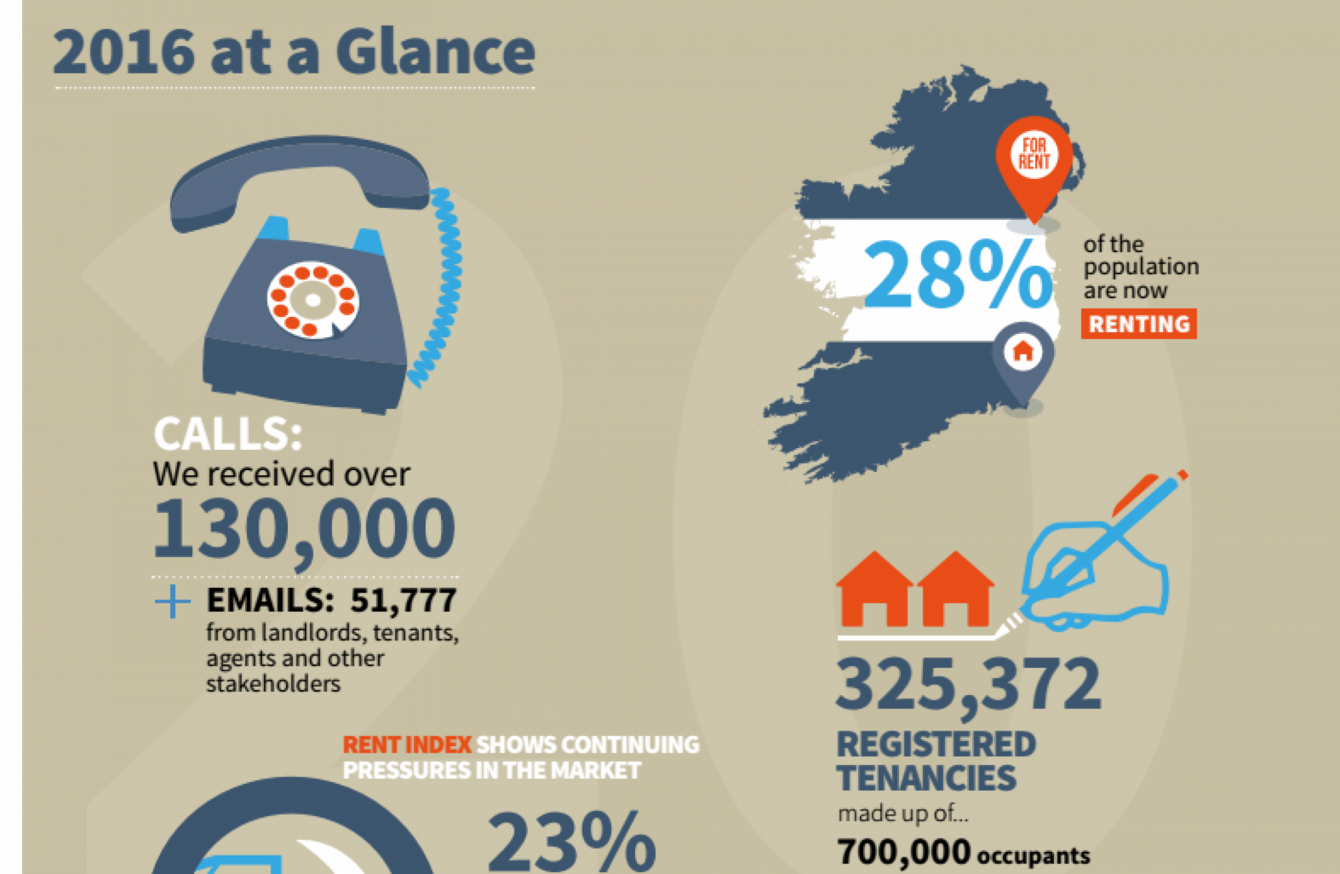 Image: Residential Tenancies Board
Image: Residential Tenancies Board
THE RESIDENTIAL TENANCIES Board (RTB) has said that Ireland's housing rental sector is now more like other European countries, and that the sector is "no longer geared towards renting as a temporary solution prior to home ownership".
The body received over 130,000 calls last year, and over 5,000 requests for dispute resolution services, according to its annual report for 2016.
Furthermore, almost a quarter of renters (23%) are now paying more than €1,300 a month while around 28% of the population now lives in rental accommodation.
The RTB said that more than half (55%) of tenancies are now covered by the government's Rent Pressure Zones, that the number of calls it has received has almost doubled since their introduction and disputes over rent reviews have increased by 160%.
Its director Rosalind Carroll said: "We would encourage any existing or new tenants who are faced with increases over and above 4% or to refer a dispute to the RTB, as well as tenants renting a new property."
The RTB is the statutory body that operates the national registration system for all private tenancies, and can intervene and provide mediation in disputes between tenants and landlords.
Last year was the organisation's busiest since it was set up in 2004. Its calls went up 10%, its email queries rose 5%, and the number of tenancies in Ireland registered reached its highest level at 325,372.
Nationally, it said the average rent was €954 per month, rising to €1382 per month in Dublin.
Even between the first and last three months of the year, the average rent in Dublin increased from €1,319 to €1,436.
The RTB said that the biggest change to the way it operates last year came from the new Rent Pressure Zones. Introduced by then-Housing Minister Simon Coveney, it designated areas where rent could not be increased by over 4% annually.
"If a landlord is found to have charged an illegitimate rent," Carroll said, "it has significant consequences and damages up to €20,000 can be awarded as well as repayment of additional rent".
It said that there was a notable increase in rent review disputes cases after the introduction of Rent Pressure Zones.
Of 44 such cases reported to the RTB in December, 77% of these rent review notices were found to be invalid.
Following on from this, the RTB received 4,837 new applications for dispute resolutions in 2016, which was an increase of 20% on the previous year.
The most common of these disputes concerned rent arrears and overholding by tenants, as well as invalid notice of termination and deposit retention by landlords.
In a small number of cases, the RTB prosecuted landlords for failing to register tenancies, with 20 criminal convictions made last year.