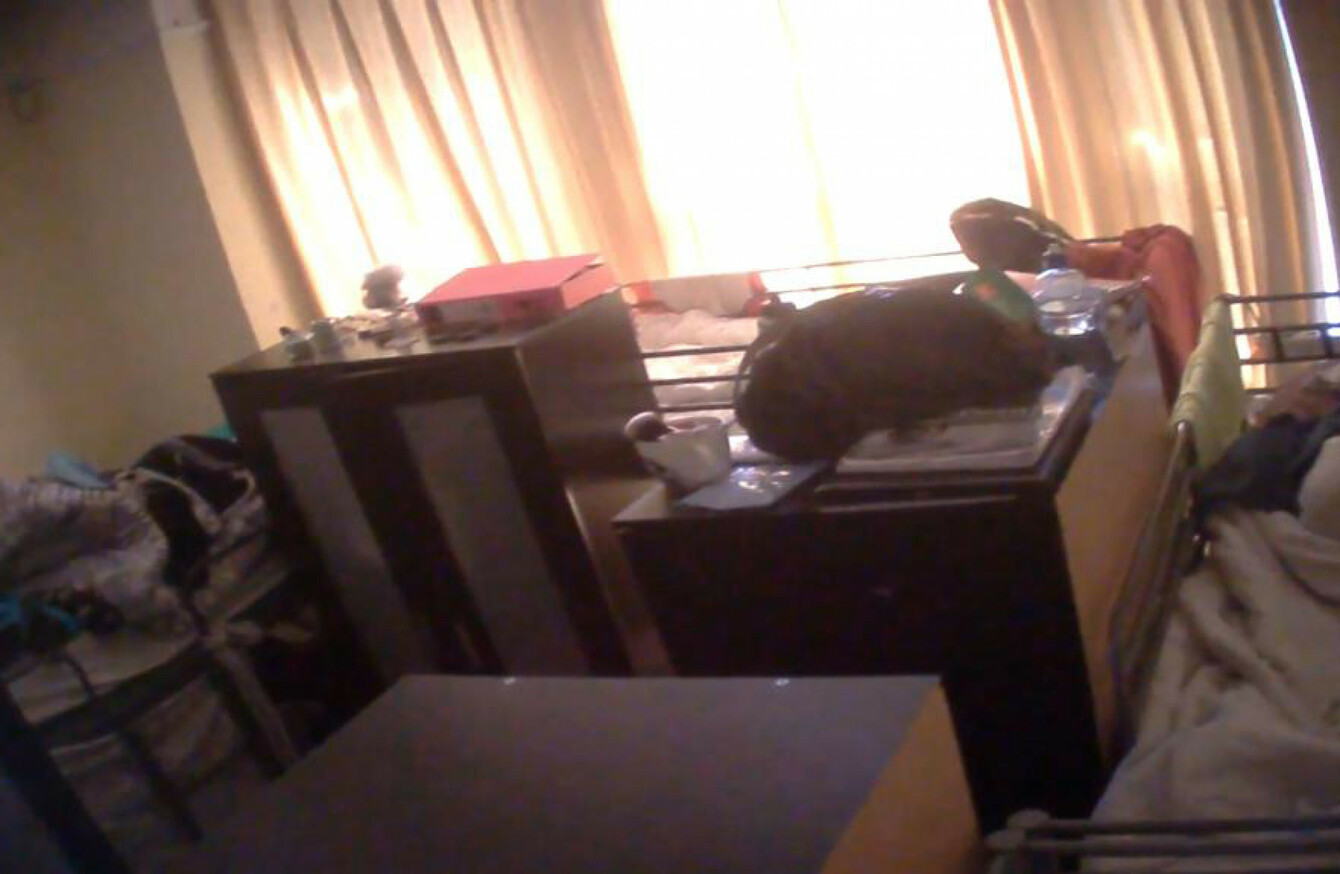 A shot from one of the overcrowded properties.
Image: RTÉ
A shot from one of the overcrowded properties.
Image: RTÉ
DUBLIN CITY COUNCIL has said that some of the criticism of it following last week's RTÉ Prime Time Investigates programme is justified.
It added that an official failed to open emails tipping the council off about a "fire trap" house.
The council has come in for criticism for failing to address concerns about overcrowded homes across the city.
The programme highlighted how some landlords were charging over 20 people hundreds of euro a month for homes that were barely habitable.
Three properties were identified in Dublin. Two have been closed by Dublin Fire Brigade and the third is in the process of being closed.
In a statement issued this afternoon the council said that it could not respond in the show because of data protection concerns. It apologised for not acting on a tip-off about an overcrowded house in Crumlin which has since been closed by a High Court order.
In relation to criticism of Dublin City Council in the Primetime Investigates Programme, some of this was justified and any weakness/deficiencies identified on how complaints were dealt with will be rectified immediately.
"In relation to criticism specifically on the Crumlin case, our Environmental Health section did receive an e-mail from a researcher on the programme which contained a phone number that our staff could not connect with (it is normal practice to try and engage with the complainant).
Two further emails were later sent directly to an individual official in the Environmental Health section (rather than through the normal route of the DCC Customer Services Office) and unfortunately these were not opened. If they had been, then it would/should have been referred to Dublin Fire Brigade.
We apologise for this mistake.
"Ultimately, a complaint on this particular case was sent by a local city councillor directly to the Chief Executive which resulted in immediate action and High Court closure Order through Dublin Fire Brigade."
The council statement goes on to say that the majority of landlords are upstanding and that a "small number" are unscrupulous.
It is important to state clearly that the majority of private landlords comply with all regulations and are providing a very important housing service in the city, particularly in the context of the current overall housing situation.
"There are other landlords who do not fully comply with current regulations on standards and these are pursued as much as possible but we are generally reliant on tenants complaining.
It is a complex issue particularly in the current housing climate, for example, many landlords have been upgrading their properties in Dublin City over the last couple of years, some of this to comply with the updated regulations and when it requires vacant possession, families have become homeless with no alternative but emergency accommodation.
"In light of this third and now more regular (but not rampant) category of gross overcrowding, council officials have been working on developing a greater co-ordinated approach to the problem and a swifter response to complaints while acting fully within the legislative framework."
The council also released figures which showed inspections for this year. It showed that around 880 dwellings had been checked and no legal actions taken this year. In 2014, 40 legal actions were taken out.
Figures supplied to RTÉ Investigates under Freedom of Information reveal that only 4% of rental properties in Ireland were inspected last year and of those that were inspected, more than two thirds were not compliant with the regulations.
There was a 100% failure rate in four districts – Kilkenny, Louth, Offaly, Limerick city and county.