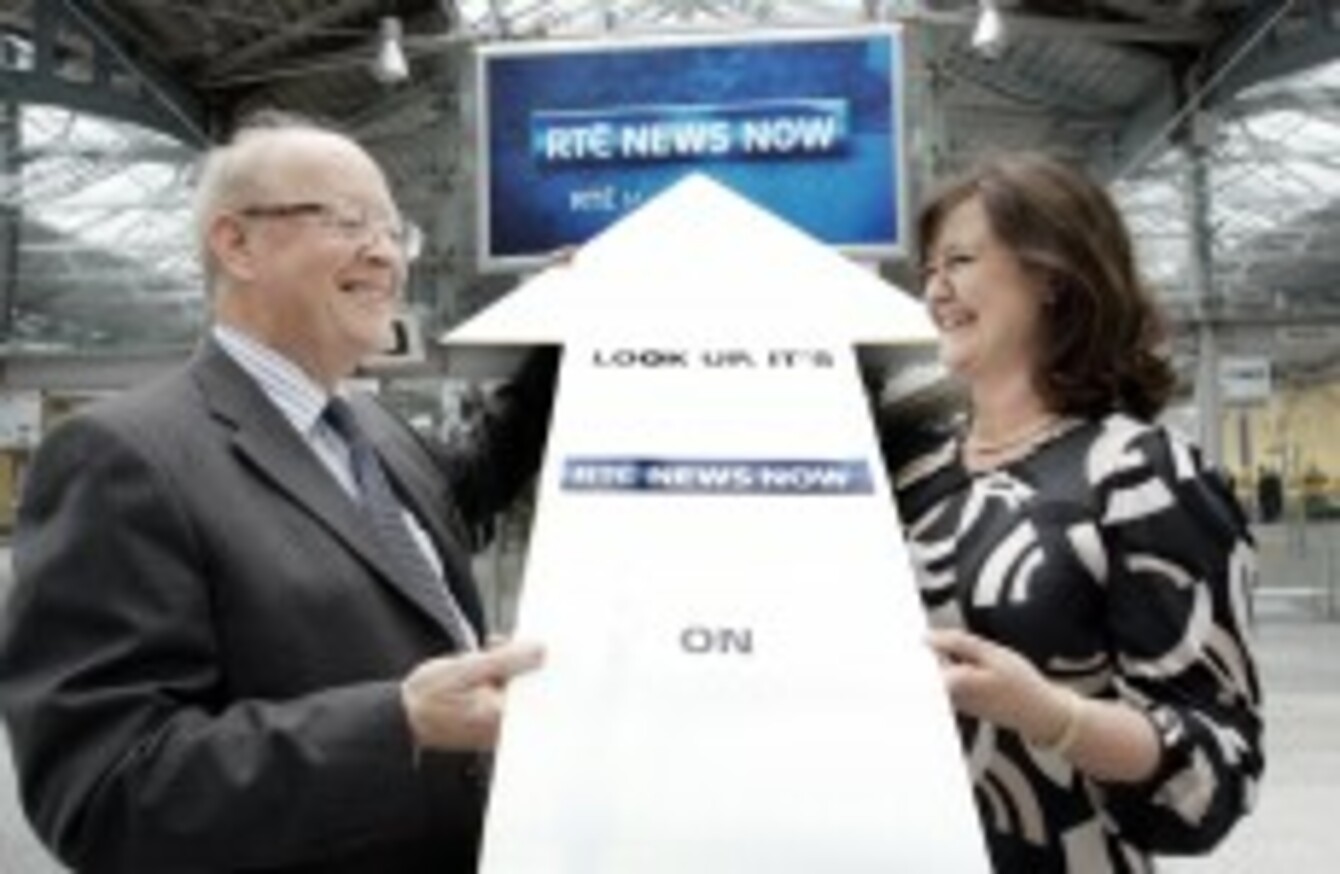 RTÉ's head of Digital, Muirne Laffan, launching an RTÉ News Now screen in Heuston Station in 2010 with CIE's John Lynch.
Image: Mark Stedman/Photocall Ireland
RTÉ's head of Digital, Muirne Laffan, launching an RTÉ News Now screen in Heuston Station in 2010 with CIE's John Lynch.
Image: Mark Stedman/Photocall Ireland
THE HEAD OF RTÉ Digital has said that she wants all sections of the State broadcaster to "convert" to digital.
Múirne Laffan told the Dublin Web Summit yesterday that while RTÉ had been online for 12 years, there had been an "incredible" change in online in the past five to seven years. She cited the "fragmentation in devices" used to access the web, and said that accessing RTÉ online through desktop and laptop had declined.
There was even a fragmentation in how people watched the RTÉ Player – the station's online watchback service – depending on what device the audience used to access it.
There are very different programmes being watched on the Player – on game consoles, it tends to be comedy and programmes for young people; it's news and drama on the iPad. We want to get out there and make sure we are meeting our audience's needs, whatever, wherever.
Laffan said she had a "great team" but a small one in digital but that they had incubated some digital-only products that then became integral to the overall RTÉ experience, for example, its RTÉ News Now service. "We had a corner of the organisation that had permission to try new things… It's a digital native that has become mainstream."
To this end, Laffan said she believed that all sections of the broadcaster – from entertainment, mainstream TV, sport – had to be digital.
She did however note that broadband speeds and penetration in Ireland were a problem. "Wi-fi is a major challenge and a potential opportunity for Ireland,"she said, "60 per cent of our audience is accessing us through Wi-fi."
Laffan hinted that RTÉ online wanted to work with other media organisations in the Irish market, as there is "an insatiable market for content".
RTÉ confirmed last year that it was hoping to make an offer to share video content with members of NNI (National Newspapers of Ireland). However, the Independent Broadcasters of Ireland claimed at the time that it was a "kneejerk reaction" by RTÉ to pressure NNI had exerted on the broadcaster. RTÉ's offer to share content has so far not extended to other national non-NNI news operations. The NNI had claimed that RTÉ had unfair commercial advantage in the online market and that it wasn't transparent about how much public funding is used in the digital arm.
Meanwhile, there was a great deal of consensus between members of a panel discussing the future of news journalism at the Summit yesterday. Henry McDonald of the Guardian and the Observer said that he found the lines blurring between print, online and broadcasting. Today, for example, he will be in Belfast to cover the opening of the Marie Stopes abortion clinic and said he will be writing about it – but also shooting short video on his iPhone5 for instant uploading to the Guardian's website.
#Open journalism No news is bad news Support The Journal

Your contributions will help us continue to deliver the stories that are important to you

Support us now
"You have to adapt and evolve," said McDonald. "The old way of publishing once a day are gone out the window." He also pointed out that citizen and 'traditional' journalism can co-exist and complement each other, as in the current reporting on events in Syria.
Matt Gilligan, CEO of the just-launched Circa news app, said that his news service wanted to take the essentials of news – the stats, video, pictures and facts – and "boil that down into a format that we felt was very native for the phone". He also said that while he believed in "some" algorithm-based journalism, he also employed journalists.
Gilligan said that it points to all sources for each bite-sized news item it posts. Techmeme founder Gabe Rivera said that his site posts forces readers to click back to the original source if they want any more information than what is contained in the first sentence.
The Dublin Web Summit continues this morning. Founder Paddy Cosgrove said yesterday that over 4,000 people were attending the conference in the RDS. Today's speakers on the main stage include the CEO of the Mozilla Foundation, Gary Kovacs; the founder of Flipboard, Mike McCue; Men in Black director Barry Sonnenfeld and other tech leaders on three side stages, Digital, Cloud and Developer.