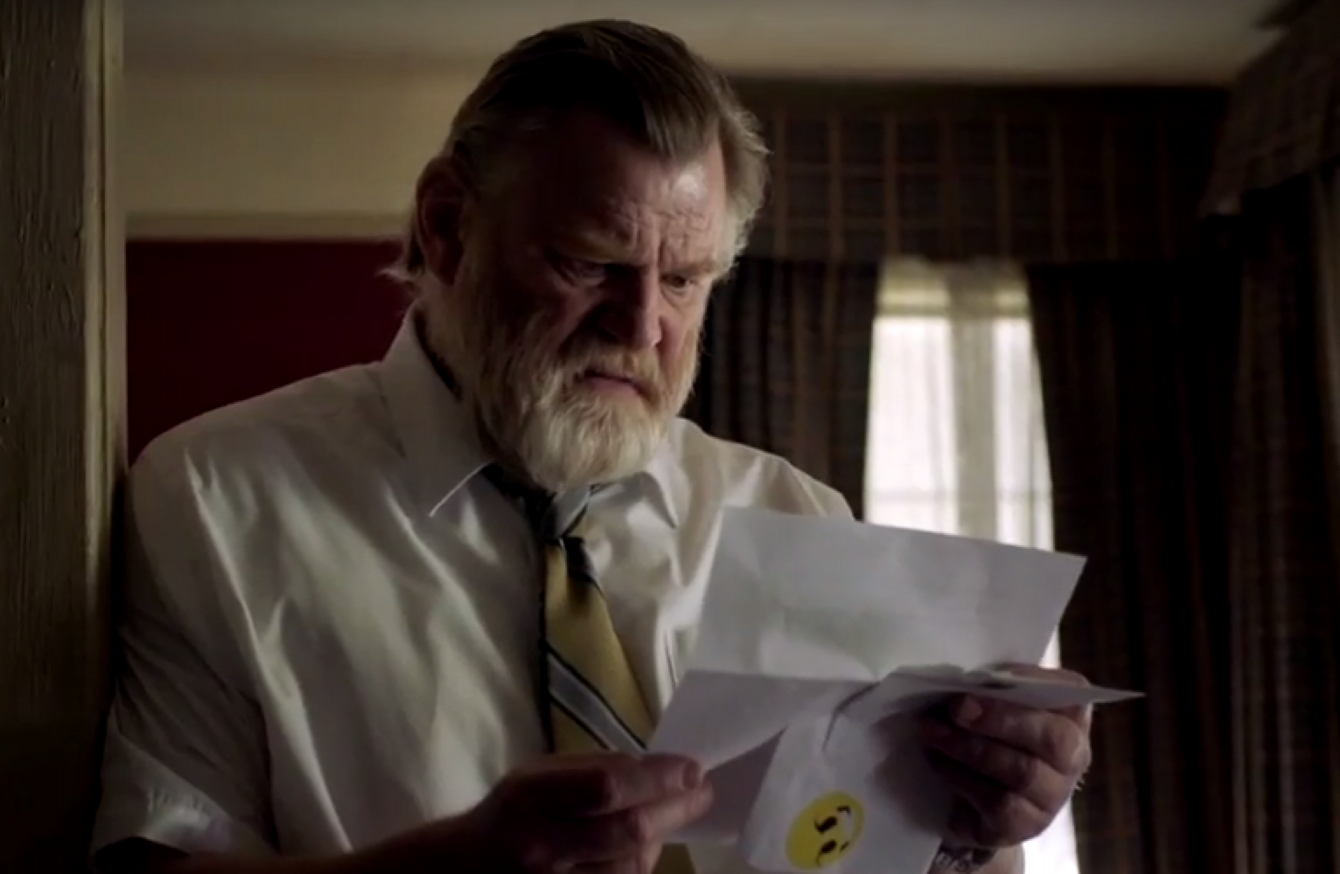 Brendan Gleeson's 'serial killer thriller' Mr Mercedes will be shown in coming months.
Image: Screengrab/RTÉ
Brendan Gleeson's 'serial killer thriller' Mr Mercedes will be shown in coming months.
Image: Screengrab/RTÉ
RTÉ HAS ANNOUNCED the highlights of its TV schedule for the coming autumn/winter season.
The state broadcaster's plans for the coming year were outlined to reporters at Donnybrook today.
The press release announcing the new schedule touted "over 60 new shows and series across factual, entertainment, arts, comedy, lifestyle and drama".
It also promised captivating natural history programmes, a strong line-up of female-led dramas, and new comedies featuring young writing talent.
The RTÉ Player will also get a revamp in the new year to allow "more choice and content".
And events are being organised to commemorate various anniversaries around the foundation of the state, between the years of 1918-1922. This follows on from the broadcaster's widely praised coverage of the 1916 centenary.
Here are some of the programmes RTÉ has listed as highlights:
A series of documentaries tackling inequality in Ireland with Dr Eva Orsmond asking whether where you are born and raised dictates your life expectancy in Ireland's Health Divide; Joe Duffy will explore how where you went to school impacts your life in The Classroom Divide; Philip Boucher Hayes will tackle how we work and what we earn in What Are You Working For?
Haunted: A documentary on the life of IRA volunteer Dolours Price
No Country for Women – a two part documentary looking at the relationship between women and the Irish State over the past 100 years, from restricting their ability to work to blocking access to fertility control
The Axel Foley Story: One year on from his untimely passing, this documentary celebrates Anthony 'Axel' Foley and his journey from a working class Limerick suburb to the pinnacle of international rugby
Source: RTÉ - IRELAND'S NATIONAL PUBLIC SERVICE MEDIA/YouTube
The Game – A definitive history of hurling in three parts
Baz Ashmawy explores the topic of gambling in a probing new documentary
We Won the Lotto: With the Lotto celebrating 30 years this year, this documentary meets some of the winners and goes behind the scenes at Lotto HQ as one of the country's newest millionaires arrives to collect their winnings
Shergar: Thirty years on from Shergar's infamous disappearance, this documentary charts his extraordinary story "with starring roles for an IRA supergrass who believes he knows what happened and a Sunday Telegraph racing correspondent who thought he was going to die"
Golden: One hour documentary about couples in Ireland who have been married for over 50 years
Fab Vinnie: Thirty years on from his death, this Irish language documentary looks at Vincent Hanley's story both in front of the camera as host of the cutting edge MT USA and his journey from small town Ireland to the bright lights of New York
Meanwhile, over on RTÉ2…  
Schizophrenia: The Voices in my Head – Tracking the daily lives of Irish people living with schizophrenia
My Trans Life: Series following the lives of young transgender people in Ireland as they transition
Trauma – Life and Death in A&E: Four-part series giving viewers unprecedented insight into the challenging, exciting, stressful world of medical emergencies at four Irish hospitals
Vogue: Vogue Williams looks at issues like sperm donation and sugar daddies
Irish in Wonderland: Sherlock star Yasmine Akram meets the Irish people making their own fortune serving the super-rich
Alison Spittle's Culchie Club: Westmeath-born comedian Alison Spittle travels across Ireland looking for answers as she investigates what makes a culchie a culchie
The Rich List: Joe O'Shea guides viewers through the top 30 billionaires and millionaires who make up this year's Sunday Times Rich List
The likes of the Late Late, Ray D'Arcy's chat show and Brendan O'Connor's Cutting Edge all return – and there'll be another series of Dancing with the Stars. Wedding guru 'Franc' also returns to RTÉ with an Irish spin on the Say Yes to the Dress format.
Among the 'natural world and science' highlights are:
Ireland's Deep Atlantic: The three part series reveals, according to the press blurb, "the astonishingly beautiful ocean floor off our coast"
WeatherWatch Live: Described as "a major three part family-focussed television event in Science Week looking at the subject that obsesses us all – Ireland's weather"
#Open journalism No news is bad news Support The Journal

Your contributions will help us continue to deliver the stories that are important to you

Support us now
Drama and comedy 
There'll be a new drama set in Dublin and Vancouver about a woman "who discovers all is not as it seems when her husband is murdered": it's called Acceptable Risk and stars Elaine Cassidy and Angeline Ball.
The Amy Huberman vehicle Striking Out will also be back for a new series, as will Stefanie Preissner's Can't Cope Won't Cope.
Notable imports include Brendan Gleeson thriller Mr Mercedes, Vikings and the latest from Borgen creator Adam Price, Ride Upon the Storm.
Comedy highlights include:
Nowhere Fast: Described as "a six-part comedy about the boomerang generation" written by and starring comedian Alison Spittle
The Young Offenders: The hit Irish movie comes to the small screen. The series was filmed on location in Cork and stars Alex Murphy and Chris Walley