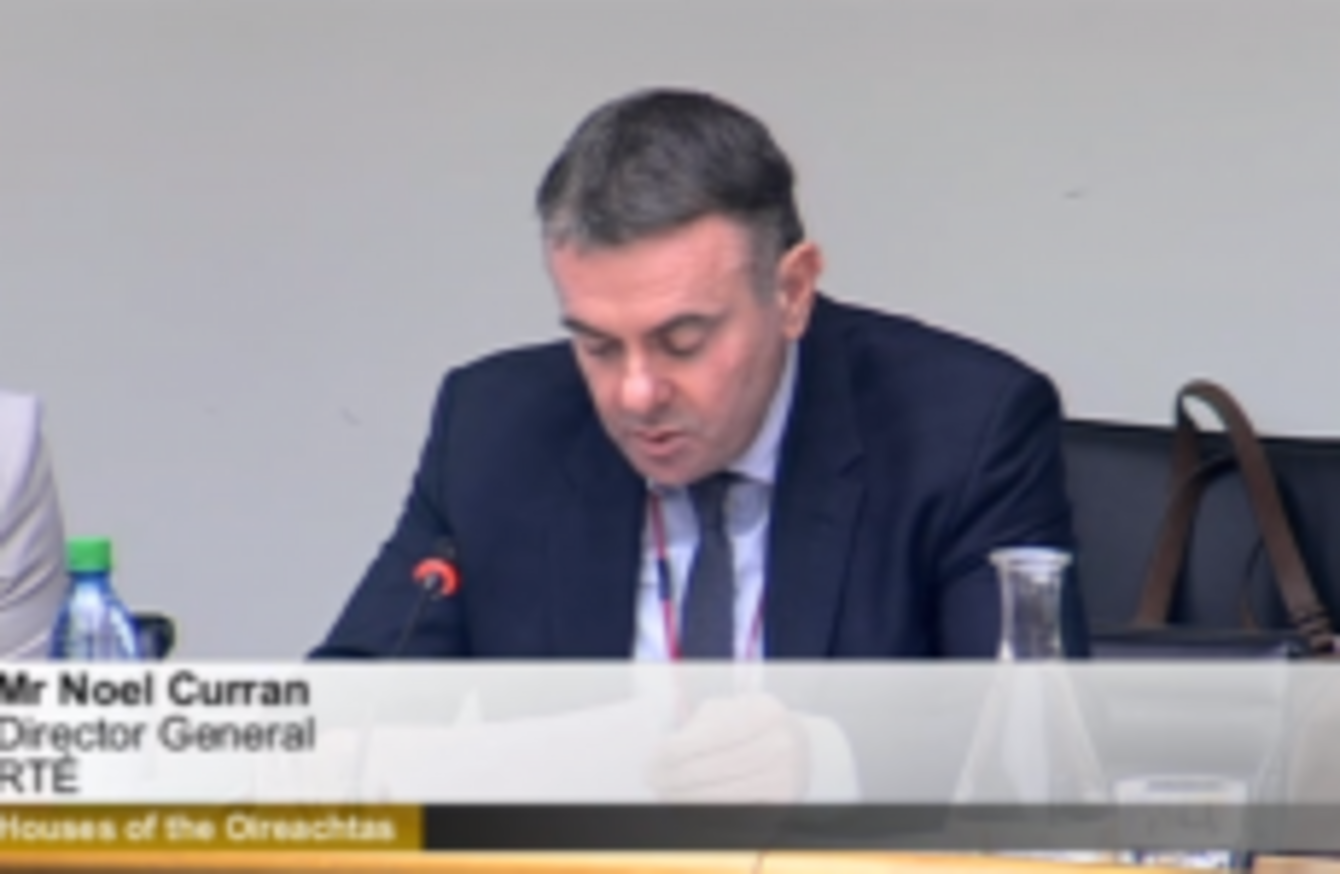 Noel Curran wants changes to defamation legislation.
Image: Oireachtas/Screengrab
Noel Curran wants changes to defamation legislation.
Image: Oireachtas/Screengrab
RTÉ DIRECTOR GENERAL Noel Curran says that "honest opinion" should be the "cornerstone of defence" in defamation cases but has complained that the law surrounding it is "complicated".
Curran was speaking at the Oireachtas Committee on Transport and Communications in which he faced questions about RTÉ's financial settlement in the wake of the defamation claims on The Saturday Night Show.
Curran pledged to TDs that "no individual settlement" will prevent them from providing a platform for debate but added that RTÉ "have strict legal responsibilities under Irish law".
He said that there was a need to remember that there were "some positives" following the Pantigate affair, specifically that there was "a substantial debate surrounding homophobia and same-sex marriage issues".
He indicated that RTÉ "would like some changes in defamation" legislation.
"I don't believe that we are ever going to have first amendment protection like in the US," he said.
But honest opinion should be the cornerstone of defence and should be as uncomplicated as possible.
Curran's argument on the shortcomings of the 2009 Defamation Act were backed by RTÉ's director of legal affairs Eamonn Kennedy who said that he has written extensively about "how the defence of honest opinion works in practice".
This would be something that RTÉ would make a submission on if there were any proposed changes to the defamation laws he added.
Kennedy also rejected a charge from Sinn Féin's Michael Colreavy TD that RTÉ "rolled over" in the face of legal action following the The Saturday Night Show.
RTÉ paid out €85,000 to five people over defamation claims following the show.
"I wouldn't agree with that," said Kennedy.
There are a range of cases that RTÉ has to deal with. In some instances you can work in the line to defend them….In some instances to continue to defend something in the way in which it operates down in the Four Courts would be foolhardy.
RTÉ's deputy director general Kevin Bakhurst says there are "four or five political figures" who have either taken legal action against RTÉ or are in the process of doing so, demonstrating the difficulty with defamation actions.
Before the public session of the meeting, the committee members were briefed about the legal advice given in the Pantigate case.
Fianna Fáil's Timmy Dooley TD said that legal advice provided showed that RTÉ deserved a "well done" for settling the action.
"Had you allowed a case to run and run, we'd have had you on front of us asking why you hand't settled sooner, " he said.