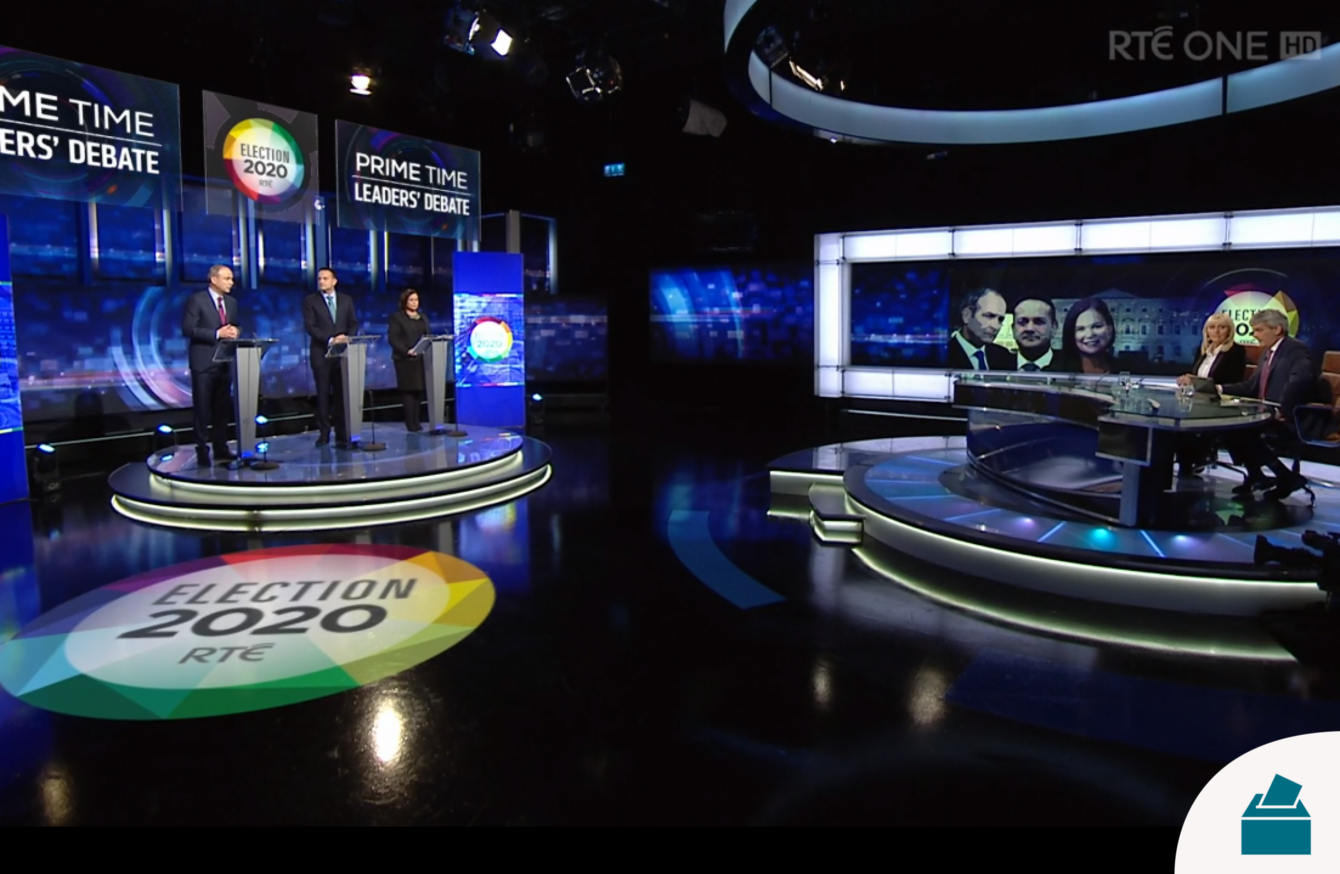 Image: RTÉ
Image: RTÉ
"ONE MISTAKE I will never make is to misunderstand who I represent, and what I represent."
It was a strong closing line from Sinn Féin's Mary Lou McDonald, but the leader of the country's most popular party – according to opinion polls – had some uncomfortable moments during tonight's RTÉ Prime Time leaders' debate.
It was a big test for McDonald as she was scrutinised on what her party really did represent, with questions about its stance on the Special Criminal Court and remarks by MLA Conor Murphy proving a little sticky for the Sinn Féin leader.
But if this was a test, McDonald seems to have passed and her supporters can be satisfied that there were no critical punches landed ahead of Saturday's vote.
So too can those of Fianna Fáil leader Micheál Martin and Taoiseach Leo Varadkar, who saved his most aggressive tactics for the final debate of this year's election campaign, moderated by Miriam O'Callaghan and David McCullough.
Here are our key moments.
Varadkar comes out swinging
First up, each leader laid out their stall – but it was noticeable early on that Varadkar was up for a fight.
The Taoiseach – whose party came third behind Sinn Féin and Fianna Fáil in an Irish Times/Ipsos MRBI poll last night – had spent the last number of days attacking his opponents, but appeared to ramp up his rhetoric from the get-go tonight.
He began by saying it was certain that the next government would not be the same as the last, and asked the public to think carefully about who they wanted to lead it.
Pointing to his party's record on Brexit, jobs and the marriage equality and abortion referendums, he said that Fine Gael had driven change during its time in government.
He also made another offer to lead the next government with Fianna Fáil, but only if further negotiations between the EU and the UK on Brexit became an issue.
"If, in a few months time or even a few weeks time, we head into the crucial talks on the Brexit trade deal, rather than have no government or a second election… only in that circumstance, I'd be willing to work with Fianna Fáil as a last resort in the interests of the country," he said.
But he also warned against the possibility of change, comparing the rise of alternatives to populist movements in other countries.
"Bear in mind all, change isn't changed for the better," he said.
"We saw in Britain with Brexit, people voting for change, they got Brexit. We saw Donald Trump being elected in the US. That's not the kind of change we want.
"We want change for the better, not Fianna Fáil's change…they will wreck the economy again. And you will get change with Sinn Féin, but it will be change for the worse: change that risks your job, your income and your business."
At one point, he also used a more popular analogy, claiming that returning Fianna Fáil to power "would be like asking John Delaney to take over the FAI again in nine years time".
The opinion of the court
In contrast, McDonald would have been purring coming into the debate.
That Irish Times/Ipsos MRBI poll yesterday put Sinn Féin on 25%, two points ahead of Fianna Fáil in second on 23%, while Fine Gael trailed in third on 20%.
And for the most part, she continued to play her hand as we've seen throughout this campaign, accusing Fianna Fáil of being Fine Gael's partner in government since the last election through the confidence and supply arrangement. 
"People have said to me that they they recognise that Fianna Fáil and Fine Gael are essentially identical parties and have had it all their own way now for almost a century," she said.
"The alternative has to be a party in government that unambiguously stands up for the citizens for the collective good, that isn't captured by power brokers in the state, by vested interests, or by golden circles."
But it didn't take long before Martin and Varadkar were taking shots at Sinn Féin's past and the party's previous policies.
Martin initially took a softer approach than the Taoiseach, accusing the party of collapsing the Northern Assembly and staying out of government there for three years.
It was Varadkar who landed the early blow when he said Sinn Féin did not support the Special Criminal Court – "the party that we use to lock up garda killers and IRA terrorists".
McDonald's reply was not exactly convincing. She initially accused her rivals of a "clarion of desperation", saying they wanted to ensure their dominance of Irish politics continued.
But pressed on her stance on the abolition of the non-jury court by O'Callaghan, she could only produce a fudge.
"I am for the courts. the Special Criminal Court exists, I accept that we need mechanisms and special powers," she said.
"I believe that we need special powers. We've got 21st century criminals. We need 21st century processes."
Not exactly the most convincing moment from McDonald – and she wasn't out of the woods yet.
Put it to the test-o
For his part, Martin defended his record on education and health when he was in government previously, saying his party was the only one that could deal with problems in health, housing, insurance and childcare.
He also said the party was willing to go into coalition with a number of smaller parties, but said Sinn Féin would not be able to enter government as it was only standing 42 candidates in Saturday's election, compared with Fianna Fáil's 84.
But like McDonald, he too faced an early test when he was hit with a heavy punch from Varadkar.
Claiming he did not support a rent freeze, the Taoiseach reminded him that he had erroneously signed a manifesto – the National Women's Council of Ireland's Feminist Manifesto - saying he would commit to one.
Martin initially dodged, taking aim at McDonald's call for the measure to be introduced.
"It's wrong in my view and irresponsible to make a promise about something on which we've been advised is unconstitutional, and we checked everything before publishing it in our manifesto," he said.
But Varadkar wasn't letting the Fianna Fáil leader off the hook so easily. Defending his party's record on housing, he quickly returned to Martin signing the National Women's Council of Ireland document.
"We have Micheál Martin here who can't be trusted on this," the Taoiseach said.
"He signed off on a Fianna Fáil manifesto, full of typos about housing, and he signed a manifesto calling for a rent freeze, which he didn't agree with, and then he blamed it on officials and HQ.
"That is that is not the kind of person who you want to be Taoiseach of this country."
Sins of the past
Much of the remainder of the debate passed without incident, as each party leader laid out their stalls on talk about taxation, health, the pension age and climate change.
Towards the end of proceedings though, each of the three was grilled on controversies that had affected their respective parties.
Varadkar was questioned about former Fine Gael TD Dara Murphy, who he accepted "let down a lot of people" after the ex-Cork North Central TD claimed significant Dáil expenses while working a second job with the European People's Party in Brussels.
"He said he would commit to an investigation. He now seems to have resiled from that, and I'm very annoyed about that," Varadar said, before pointing out that the Dáil record showed Murphy was present on the days he claimed expenses.
Questions then turned to Martin, who was asked about his support of former Taoiseach Bertie Ahern ahead of the 2007 general election.
The Fianna Fáil leader was asked why he had waited so long to speak out against his former boss.
"Certainly, you know, and in hindsight, yes, people could have acted differently, and we didn't in the end and that was not a good chapter," he said, adding that he wasn't aware of details which subsequently emerged during the Mahon Tribunal.
But the moment of the night came when Miriam O'Callaghan grilled McDonald about Sinn Féin MLA Conor Murphy's comments about the 2007 murder of Paul Quinn.
During another RTÉ interview with Bryan Dobson yesterday, McDonald said she would ask Murphy to speak Quinn's mother Breege to clarify remarks he made about his links to criminality.
McDonald reiterated that the only criminals involved in the case were those who killed Quinn, and said she had spoken to Murphy about his remarks today.
But when O'Callaghan responded that she had told Dobson on Tuesday evening that Murphy claimed he had never made the remarks about Quinn, there was a telling pause.
What followed was another fudge: "In a way, Miriam, what matters is what the family have heard." O'Callaghan pressed her further, saying she had sourced the remarks from an interview Murphy gave with the BBC in November 2007.
"Let me just say those things should not have been said. Those things should not have been said," McDonald continued.
"To be honest with you, my recollection was that he had not been as explicit as that the remarks were wrong. They're withdrawn correctly and will be apologised for directly."
And there was one final sting. O'Callaghan asked McDonald, that if that was the case, whether her remarks to Dobson a day previously were also incorrect.
"Yes well obviously, I was not, I remembered Conor being not quite as direct on this," the now stumbling Sinn Féin leader said.
It was not quite a fatal blow, but Sinn Féin can expect more attacks like this in the final days of this year's campaign.