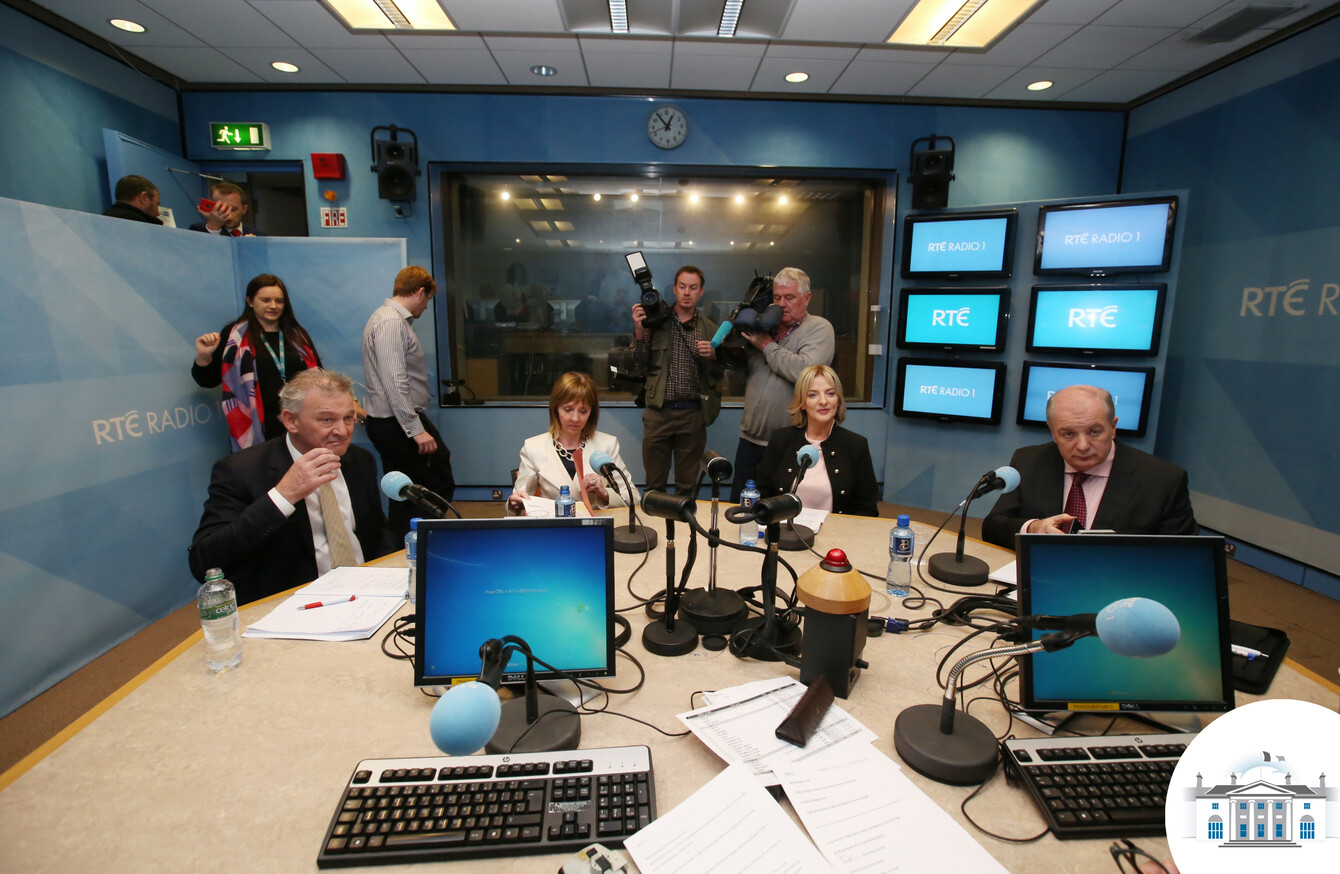 Presidential Candidates Peter Casey, Senator Joan Freeman, Sinn Féin's Liadh Ní Riada and Gavin Duffy together for a debate at RTE Radio 1
Image: Sam Boal/Rollingnews
Presidential Candidates Peter Casey, Senator Joan Freeman, Sinn Féin's Liadh Ní Riada and Gavin Duffy together for a debate at RTE Radio 1
Image: Sam Boal/Rollingnews
FOUR CANDIDATES FOR the presidency have taken part in the first debate of the campaign, a day after the race for the Áras officially got underway.
Peter Casey, Gavin Duffy, Joan Freeman and Liadh Ní Riada fielded questions on RTÉ Radio 1′s News at One this afternoon, ahead of this year's election on October 26.
Two candidates did not participate, with Michael D Higgins absent due to diary commitments and businessman Seán Gallagher refusing to attend in the President's absence.
A statement from both candidates was read out at the start of the programme, while RTÉ also apologised for their non-appearance and re-affirmed its commitment to fair and balanced debate under Broadcasting Authority of Ireland regulations.
Each of the candidates was given a minute at the outset to explain why they should become president, before being asked specific questions about their campaign.
Throughout the course of the debate, each of the candidates spoke about whether they would draw a salary if elected, if they would welcome US President Donald Trump, their ability to speak Irish, and whether they would campaign for a border poll.
Here's what each candidate said.
Gavin Duffy 
Businessman Gavin Duffy, who was first to speak, confirmed that he was funding his campaign via a loan, and hit back at the suggestion that his proposal to create an Ireland International Youth Corps would amount to 'volun-tourism'.
"It's a great idea. Someone can coin a phrase like 'volun-tourism' and take away from it," he said.
"But Ireland is changing, and in the past Irish people were famous for going abroad…young people today are very keen to do that."
He also revealed he would draw a full salary if elected, saying he worried that those who said they would donate the presidential wage to charity would send a message that only those who were rich enough could become president.
Asked whether he felt fluency in Irish was an important attribute of president, Duffy answered in Irish that it was.
He also said that, despite reservations, he would welcome Donald Trump to Ireland.
"Sometimes part of the job is having difficult conversations, and there would be some issues to be discussed with President Trump," he said.
However, he would not be drawn on whether he would campaign for a border poll if elected.
Joan Freeman
Pieta House founder Joan Freeman also said that she was funding her campaign via two loans, one worth €120,000 from Los Angeles businessman Des Walsh and another undisclosed amount from an anonymous source.
She defended her idea to have a Council of State to resolve problems in communities across the country, suggesting that solutions to local problems should be resolved "from the ground up".
"Problems that lie within the community can be resolved within the community," she said.
Freeman said she would accept the presidential salary if elected, but added that she would give a portion of it to initiatives around the country.
She agreed that fluency in Irish was important to the role of president, but revealed she did not speak the language, although she promised to learn it whether elected or not.
She said that she would reluctantly welcome Donald Trump to Ireland, as not doing so would potentially damage decades of Irish-American relations.
Asked whether she would campaign for a border poll if elected, Freeman said the question of Irish unification hadn't arisen yet and that there was still six months to "fix" Brexit.
Liadh Ní Riada
Liadh Ní Riada, who pointed to her experience as a politician in her opening speech, said she wanted to be a candidate for the whole of Ireland when asked why Sinn Féin logos were not on her election posters.
She also refused to reveal whether her daughters had received the HPV vaccine to prevent cervical cancer, after previously giving an interview saying she had taken a decision not to allow them to.
"I raised concerns about the lack of information," she said, defending her previous stance.
"I never was on record saying I opposed it…if you listen back, you will hear me saying 'I am raising concerns about the lack of information; at no time did I say I was against it."
Ní Riada said she would only take a ministerial salary if she was elected, with the remainder of the salary returning to the exchequer, and said there should be "accountability and transparency" over costs associated with the Office of President.
She also said she would campaign for a border poll, saying dialogue with Unionists on the issue was needed, and that she would welcome Donald Trump to speak to him about undocumented Irish and his "ridiculous hair".
Peter Casey
Peter Casey, who was the last candidate to present his case, expressed his desire to connect with the Irish diaspora, particularly as he had lived abroad for a number of years.
"We're such a unique country that sometimes I think you have to leave Ireland to realise how special and unique it is," he said.
During the debate, he took aim at fellow candidate Joan Freeman for suggesting she was the only independent candidate on the ballot, while he also re-iterated his backing for Ireland to align itself with NATO.
Casey said the presidential salary should be less than it is, and promised to distribute it among local authorities if he was elected, saying he was lucky enough that he didn't need it.
He claimed there would never be another hard border in Ireland, even after Brexit, but believed the president was above any debate about a border poll.
Meanwhile he also called the Irish language the "cornerstone" of Irish culture (but admitted he doesn't speak it).
Asked whether he would welcome Donald Trump to Ireland, Casey called the US President a "serial womaniser" and a "disgrace", but said he would respect his office and accept him into the Áras.