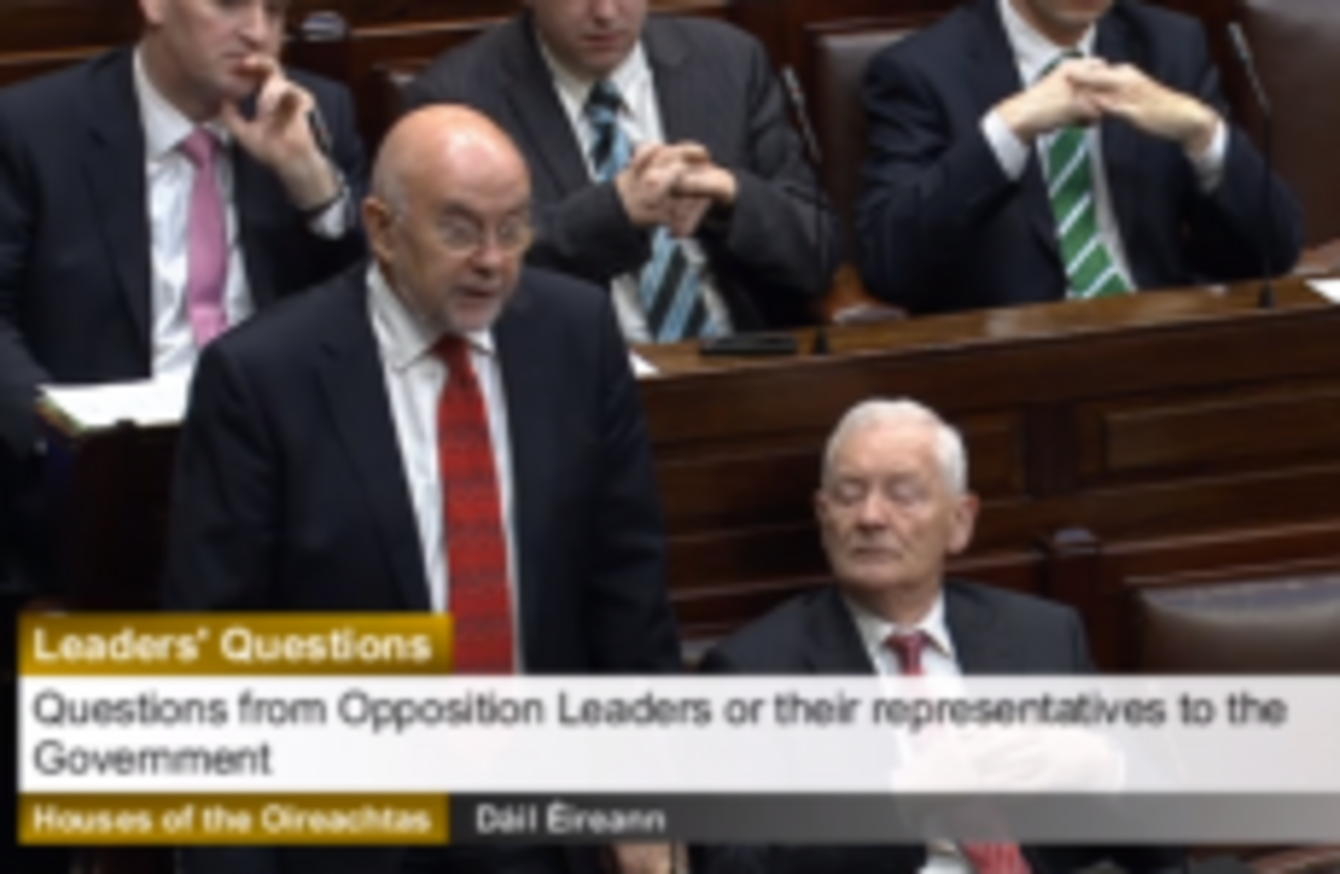 Ruairí Quinn in the Dáil this morning
Image: Screengrab via Oireachtas TV
Ruairí Quinn in the Dáil this morning
Image: Screengrab via Oireachtas TV
EDUCATION MINISTER RUAIRÍ Quinn has said that the government will considering intervening in the ESB dispute if management and unions fail to reach a solution and strike action goes ahead in just over a week.
The ESB Group of Unions has given notice of strike action on Monday, 16 December in a dispute over the utility company's pension fund with the high risk of power cuts across the country.
Speaking at Leaders' Questions this morning, Quinn said that "there is ongoing dialogue between the parties" and that it would be "inappropriate" to comment while that process is ongoing.
"The government is acutely aware of the seriousness of the situation," he said adding that the ESB, in cooperation with Eirgrid, has a "robust contingency plan" in the event of strike action.
Fianna Fáil's Dara Calleary said that people "need to know where they stand" and called for certainty, saying that any contingency plan "cannot guarantee there will not be a power outage".
Quinn said: "The government has at its disposal an array of instruments, an array of institutions that can be mobilised at the appropriate time."
'They face eviction'
He said that if an intervention in the dispute is required "then that will be considered in due course" saying that every member of the Oireachtas shared the concerns about possible strike action.
Sinn Féin's finance spokesperson raised the resignation of the Irish Lanaguage Commissioner and his criticism of the government's approach to the language.
Quinn said that the government did not accept the criticism and agreed there should be a debate on the issue.
Separately, the United Left TD Joan Collins said there were up to 30,000 people who do not have sufficient income to pay for their mortgages, cannot reach an agreement with their bank and do not qualify for the new insolvency regime.
"Up to 30,000 families are in this situation, they face eviction," she said.
Quinn said that if Collins would give him the details of those cases he would get a "comprehensive and detailed response" and said that the government's actions so far will "help the vast majority of people in those situations".