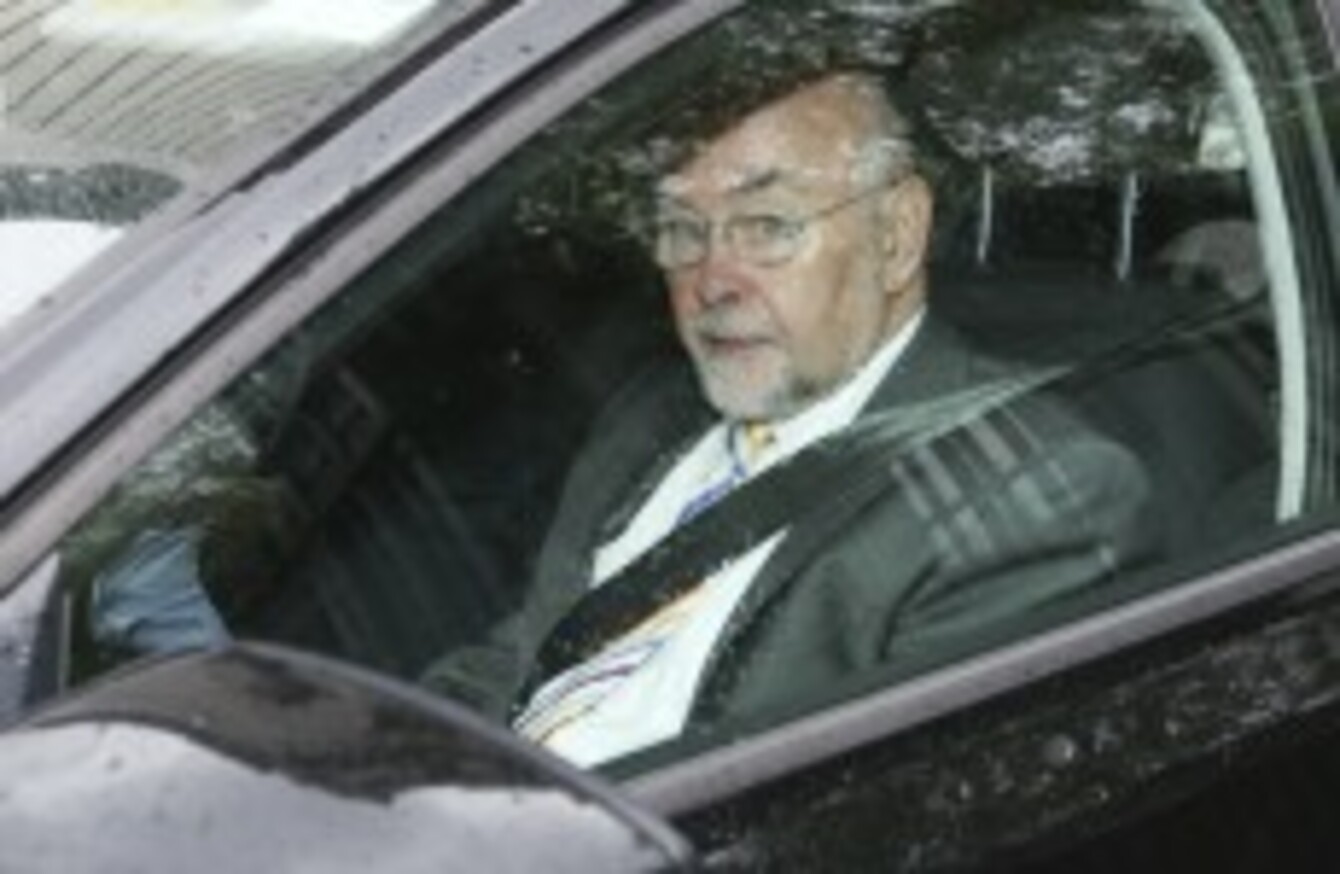 Image: Sam Boal
Image: Sam Boal
Updated at 6pm
FIGURES FROM POLITICS, education and civil society have been reacting to the news of Ruairí Quinn's departure from Government.
The Education Minister confirmed at midday today that he would be stepping down from Cabinet next week, after an expected reshuffle.
He also confirmed he won't be running for a Dáil seat again.
Labour junior minister Kathleen Lynch described him as a "very easy personality to get on with".
She spoke of his "reforming zeal" and described him as a "very complex man. A man that is from time to time misunderstood". 
Another veteran Labour politician, Minister of State Joe Costello, told RTÉ that Quinn had been "a very creative, reforming Minister".
Costello described him as an "exceptional minister in all the portfolios that he has been in".
He was also the "the man that gave us the Euro" Costello explained, detailing how Quinn, during his tenure as Finance Minister in the late 1990s, had "decided the name of the currency should be the Euro".
"He proposed to his European colleagues that that should be the name of the currency," Costello said.
He's always a guy who puts the party first. I'm not a bit surprised that Ruairí decided to make space… It's a typical Ruairí Quinn thing — he is selfless in many ways and always has been.
Labour chief whip Emmet Stagg insisted the decision to go had been Quinn's own, and said there was nothing to suggest he was being forced out ahead of the election of the new party leadership later this week.
Joan Burton, the favourite to take over from Eamon Gilmore as leader by the time all the votes are counted on Friday, said Quinn reflected the "best of Labour values":
Her statement:
"As Finance Minister in the 1990s, he charted the course to economic prosperity with remarkable skill and steadiness.
As Education Minister in the current Government, his contribution has been immense, ranging from the investment programme he has overseen to deliver new and refurbished schools for communities, to his commitment to ensuring our education system is a fully inclusive one, that reflects the diversity of our society.
Alex White — the other contender for the Labour top job — said the outgoing Minister had been a "champion of reform" who had "fought successfully for investment in education in difficult times".
There was also cross-party praise from some of Quinn's constituency colleagues in Dublin South East…
'A man of vision'
Outside of Leinster House, former President of the TUI Gerard Craughwell, who was in charge of the teaching union during the Haddington Road negotiations, said that "for all our disagreements, he was a man of vision".
"However, it's sad that sometimes that vision came out by way of announcement rather than negotiation."
"I don't think he had much say in it," he said, regarding the changes to pay and conditions experienced by teachers as a result of the deal.
During Haddington Road none of us were happy, and I believe he wasn't happy either… It all went back to Howlin and Noonan.
Regarding his controversial initiative to overhaul the junior cycle system, Craughwell said "again I feel sorry that he didn't sit down with teachers".
I hope that who-over comes in will put the brakes on the Junior Cert reform…
On the whole, Cruaghwell described Quinn as a "nice, decent gentleman" and said Irish politics would be "worse off without him".
'No doubting his interest…'
General Secretary of the Association of Secondary Teachers in Ireland Pat King told TheJournal.ie that Quinn had been "unfortunate enough to be a minister during an appalling period of recession".
However, King said it was a "tragedy" that he had presided over a period in which the education system was "seriously damaged" by the loss of teaching and guidance councillor posts.
However, there was "no doubting his interest and concern for education" King said, as he highlighted the outgoing Minister's achievements in the areas of student welfare and discrimination against teachers.
He said Quinn's initiatives to tackle bullying, in particular last year's Action Plan on Bullying were "to be welcomed".
He also showed leadership in pledging to repeal Section 37 of the Employment Equality Act, to eliminate discrimination against LGBT people in the education sector, King said.
However, the Labour politician's stance on the junior cycle also came in for criticism from the ASTI boss, who spoke of Quinn's "failure to consult and listen to teachers".
Students
The Union of Students in Ireland made reference to Quinn's u-turn on the issue of third level fees in their statement marking his resignation.
The Labour politician broke a pre-election promise not to increase student fees, and the annual amount payable is due to increase to €3,000 by 2016.
Source: IT Sligo Students' Union/YouTube
"Minister Quinn served at a time of serious upheaval in government.  Students remember the pledge he made not to increase student fees before the last general election and rue his inability to keep to his promise.
"However, we note that Minister Quinn was one of the very few ministers prepared to come to USI Congress to defend his position, take questions and debate the reasons why.
Minister Quinn engaged with USI on a regular basis and initiated a constructive and frank relationship with the student movement.
'A champion of equal rights'
Chairman of the Gay and Lesbian Equality Network Kieran Rose described the TD as "a champion of equal rights for lesbian and gay people".
"Ruairí Quinn was a transforming Minister for Education who, as soon as he became minister, committed to eliminating homophobic and transphobic bullying and set about doing that in partnership with GLEN, BeLonGTo and the education partners"
As Minister for Education, he delivered the most far reaching change at school level for LGBT young people, through the mandatory anti-bullying procedures for all schools, primary and secondary, which fully include measures to tackle homophobic and transphobic bullying.
"Minister Quinn can feel rightly proud of the role he has played in creating a fairer Ireland for lesbian and gay people, for which we offer our deep appreciation and thanks."