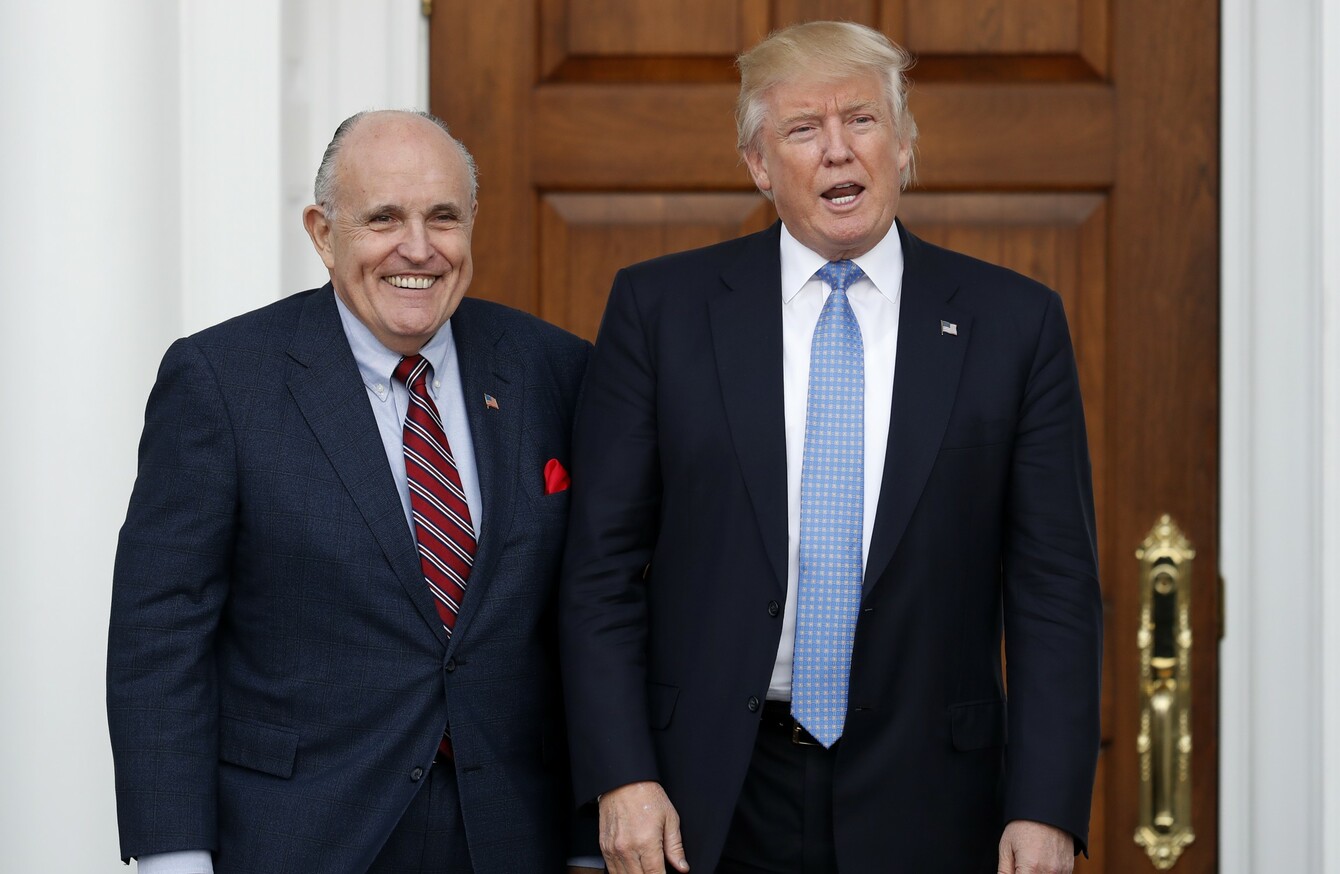 Image: Carolyn Kaster/PA
Image: Carolyn Kaster/PA
PRESIDENT-ELECT DONALD Trump has tapped former New York mayor Rudy Giuliani to advise his administration on cyber security amid an outcry over Russian hackers' apparent attempt to meddle in the US election.
Giuliani, 72 and a key Trump surrogate, was last year a candidate for secretary of state but subsequently came under scrutiny in the US media over business dealings that posed potential conflicts of interest.
Trump called cyber intrusion "the fastest-growing crime in the United States" and a "major threat" to national security.
He said "immediate attention" and "input from private sector leaders" was required to "help the government plan to make us more secure".
The incoming Republican commander-in-chief only admitted yesterday for the first time that Russia was behind the hacking of Democratic Party computers during the election campaign.
Giuliani told reporters the aim was "to create a very vibrant and a very robust cyber defense for both the private sector and the government."
"We've let our defence fall behind," he said, adding that he would bring together leaders from the private sector to advise Trump on both the problems and the solutions to cyber security problems.
"By putting all of these people in the same room I don't know that we will solve it and create a perfect defence but we can do a heck of a lot better job than we're doing," he added.
Committee
Trump spokesman Sean Spicer said Giuliani would chair a committee on cyber security, citing Trump's promise that he would give a team 90 days to come up with a plan to halt cyber attacks after meeting with intelligence chiefs.
But Trump's statement stopped short of giving Giuliani an official title, saying he would be "sharing his expertise and insight as a trusted friend concerning private-sector cyber security problems and emerging solutions."
Giuliani, dubbed America's mayor for his leadership in the wake of the 9/11 attacks in 2001 by jihadist group Al-Qaeda, is also a former US federal attorney who forged a tough reputation in the 1980s for indicting members of the New York mafia.
He currently runs an international security consulting firm and had been a candidate for secretary of state until he said last month that he had withdrawn his name.
At that time Trump said Giuliani remained a close friend, adding that "as appropriate, I will call upon him for advice and can see an important place for him in the administration at a later date".