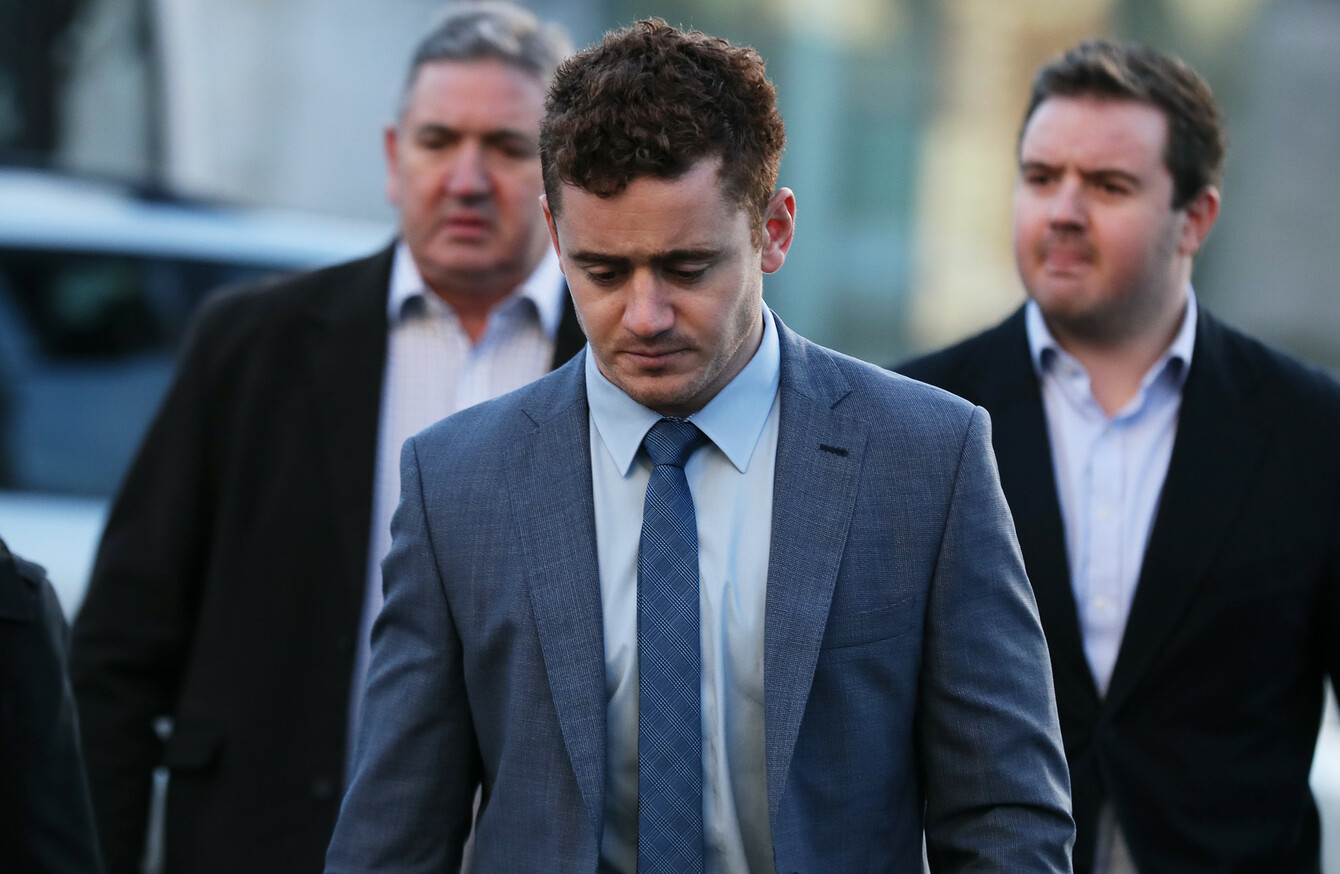 Ireland and Ulster rugby player Paddy Jackson arrives at Belfast Crown Court.
Image: PA Wire/PA Images
Ireland and Ulster rugby player Paddy Jackson arrives at Belfast Crown Court.
Image: PA Wire/PA Images
A COURT HEARD today that a woman who claims she was raped by two Ireland and Ulster rugby players had previously discussed the issue of rape with a friend.
The details emerged during cross-examination of the friend who took the witness stand for a second day at the trial of Paddy Jackson and Stuart Olding at Belfast Crown Court.
The woman's friend denied that she would ever encouraged her to lie.
The woman told the jury sitting on the trial at Belfast Crown Court that she had known the alleged victim for seven years.
She said that she had been in contact with her by text and Whatsapp messaging while she was working in Portugal as a nurse at the time of the alleged incident.
The court heard she knew her friend was going out on 27 June 2016 and she was asking her how her night was.
In reply, the alleged victim messaged: "I got raped by three Ulster rugby f***ing scum. Brilliant night."
The alleged victim said she would "go for a scan and a morning after pill" but added: "I am not going to the police. It's not worth it."
Her friend messaged her back telling her to "get tests for everything and to see if there is evidence there".
The alleged victim said she "didn't like the police" and that those involved in the alleged rape were Ulster rugby players.
Her friend sent a further message saying: "Just pretend they are not from Ulster rugby. Just pretend you have never met them before."
She added: "Don't bring up Ulster rugby…..what they do for a living is irrelevant."
Questioning
The court heard the alleged victim sent pictures to her friend in Portugal and under questioning from prosecution counsel Toby Hedworth QC she recognised Paddy Jackson from the images but not Stuart Olding.
Asked how she knew Mr Jackson, the witness replied: "I went to Methody (Methodist College Belfast) for three years so I knew of him. Stuart Olding I had never seen before."
Hedworth asked the witness: "What were you wanting her to do?
The witness replied: "I was wanting her to go to the police but she did not want to go."
Following a period of no contact, the pair then had a Facetime call about two weeks later when the alleged victim told her friend what allegedly happened.
Under cross examination from Paddy Jackson's defence counsel, Brendan Kelly QC put it to the witness that "just pretend you don't know they were from Ulster rugby, pretend you had not seen them before, that was your suggestion to her".
The witness replied: "The meaning behind that was it doesn't matter what someone's profession is: rape is rape.
"I was meaning pretend, don't acknowledge that they are players or what they do for a profession. It is irrelevant. Don't bring it up."
Kelly asked the witness: "Did you think she might have been prepared to lie about it?"
The witness replied: "I would never have told my friend to lie. Never."
Medical examination
Another friend later told the hearing that she had arranged to bring the alleged victim to the Rowan centre in Antrim to have a medical examination.
The witness said that when she got into her car they "hugged each other and I asked her if she was 'ok' and she burst into tears".
She told Hedworth that "she had never seen her like that before…. she's always very private with her emotions".
The first police officer to have contact with the alleged rape victim said he spoke to her at Lisburn Road police on June 29, 2016.
He said the "injured party was reluctant to go into details about what happened. I was trying to find out if any offences had been committed and if she was prepared to take the matter further."
The constable added: "She told me she had been at a party but she didnt name any names at this stage."
Asked by the prosecution if she told him where she was before the party, the officer replied: "She told me she has been to Ollies nightclub.
"This struck a chord with me. She was not telling me about the people involved in the allegation. I said to her 'if I ask you an honest question will you give me an honest answer?'
"I have a step daughter of 19 who had been in Ollies and had seen Ulster rugby players there. I was aware Ulster rugby players socialised in Ollies night club. I asked her were there any Ulster rugby players there and she said there was."
The officer told the court that the "injured party" gave him the names of Paddy Jackson, Stuart Olding and Blain McIlroy as those involved in the incident in a bedroom of Jackson's home.
Discussion
Also in court yesterday, defence counsel for Paddy Jackson, Brendan Kelly QC, put it to the female witness that according to text messages sent between her and the alleged raped victim, they had "discussed the issue of rape" 12 days before they were in Ollies nightclub.
"Do you recall saying to her 'If I ever get raped I am not going to the police?", asked Kelly.
The witness replied: "Yeah."
Kelly: "And you said you would 'deal with the man'."
Witness: "Yes."
Kelly said that the alleged rape victim had texted her to say that "nine of ten rapes go unreported."
Witness: "I have heard of people being raped. It's scary."
Kelly: "And you say (in the text) that 'just got to find a way to blackmail or stab them."'
Witness: "Yes. That was clearly a joke."
The court heard the alleged rape victim had also discussed "in a humorous way" of taking up boxing as a form of protection.
Earlier the court heard that the witness had been in the Ollies nightclub with the alleged rape victim on the night of Monday, June 27, 2016.
Kelly cross-examined the witness about their night at Ollies and the days after the alleged rape. She was asked if she believed her friend of 12 years that she had been raped as she had said.
The witness replied: "I presumed she was telling the truth. She wouldn't lie to me."
She was again shown CCTV footage from inside the bar and VIP area of Ollies just as patrons were being ushered out by security staff around 2am on June 28, 2016.
She was asked was about the footage showing the alleged rape victim grabbing hold of a man's arm only for him to pull his arm away.
"Was she known for that type of behaviour?" asked Kelly.
The witness replied: "Not that I would have picked up on."
Later, the court heard from a counsellor from the Brooke Clinic who initially talked to the alleged rape victim the following morning.
He said that he took a note of what she told him which in summary she had said she had been drinking in Ollie's nightclub to 2 am and went back to a house party and remained there for approximately 45 minutes "when the mood changed when one of the men tried to come onto me".
He also noted that the woman said that after going into a bedroom to get her handbag she was "followed by this man who pushed her onto the bed and sexually assaulted her…. And another man came into the room and joined in the sex assault" before yet a third man "came in and tried to rape her", but she managed to break free and escape.
And that afterwards she met a man on the stairs who took her home.
Asked by defence counsel Kelly about the noted comment of "no marks of physical violence", the counsellor agreed that this was in response to a question and not through a physical examination.
Paddy Jackson, 26, from Belfast's Oakleigh Park, is charged with one count of rape and one count of sexual assault.
Stuart Olding, 24, from Ardenlee Street, Belfast, is also charged with rape.
Rory Harrison, 25, of Manse Road, Belfast is charged with perverting the course of justice and withholding information.
Another man has also been charged in connection with the case.
Blane McIlroy, 26, of Royal Lodge Road, Belfast, is charged with one count of exposure.
All four defendants deny the charges. The trial continues.
Comments are closed for legal reasons.