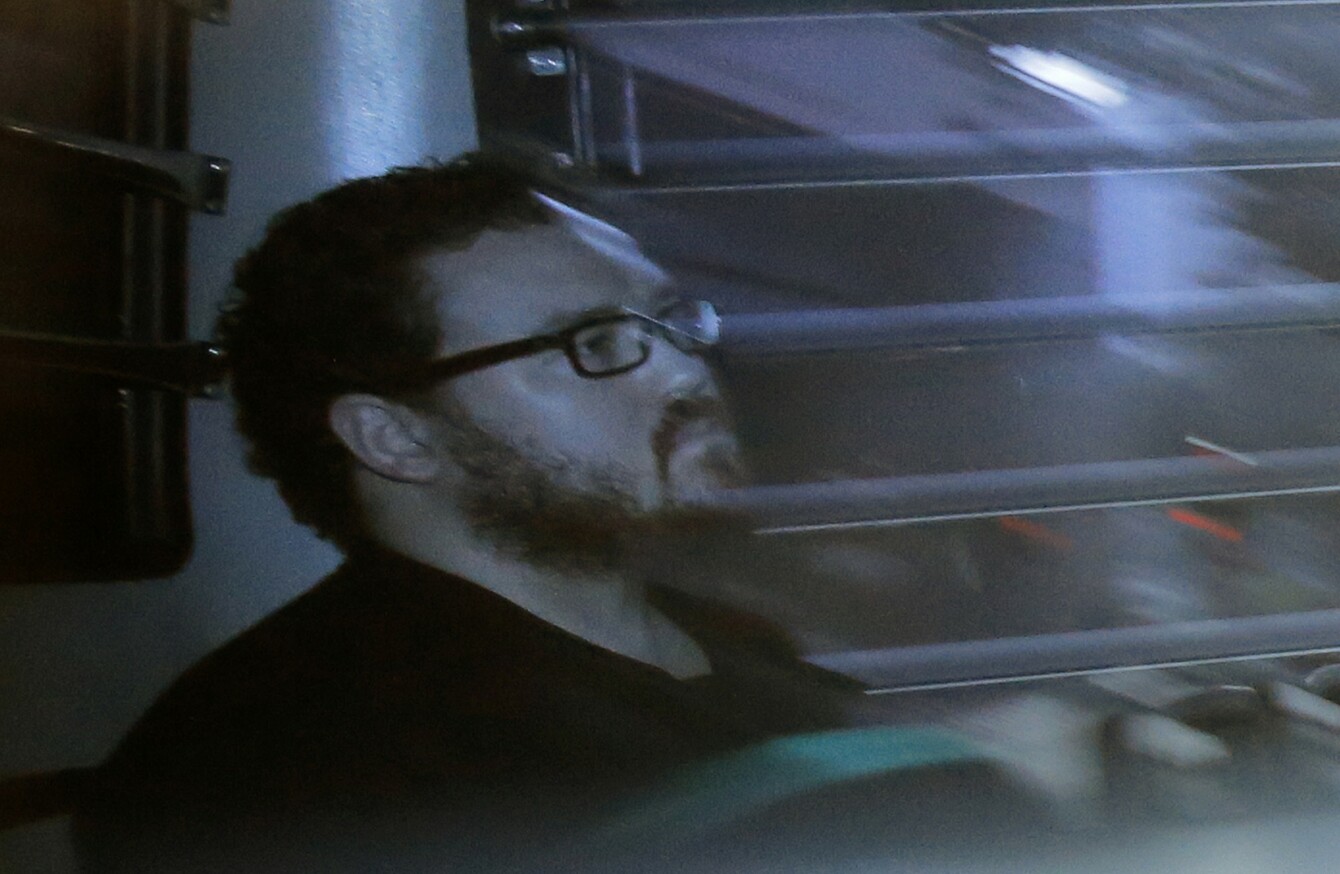 Rurik Jutting photographed in November 2014.
Image: Vincent Yu
Rurik Jutting photographed in November 2014.
Image: Vincent Yu
Note: This article contains graphic details which may be upsetting to some readers. 
JURORS IN THE murder trial of British banker Rurik Jutting have viewed harrowing iPhone footage showing him torture an Indonesian woman whose decaying body was later found dead in a suitcase in his Hong Kong flat.
Jutting, 31, is standing trial for the murders of two Indonesian women, both of whom were killed in his luxury apartment two years ago.
The former securities trader for Bank of America-Merrill Lynch pleaded "not guilty" to the two murder charges yesterday, on the grounds of diminished responsibility.
He pleaded guilty to manslaughter, which was rejected by the prosecution.
Today, jurors watched around 20 minutes of footage of Jutting attacking the first victim, Sumarti Ningsih, 23, who prosecutors said was tortured for three days after she arrived at his flat on 25 October, 2014.
Jutting had offered her money for sex.
Reporters in court did not view the disturbing footage, which was shown on individual screens to jurors, but were able to hear the audio.
"If you scream I will punch you, you understand?" said Jutting, who also repeatedly asked Ningsih if she loved him.
The only sound from Ningsih in the video was a muted squeal, according to an AFP reporter in court.
Ranting
The prosecution then showed a number of clips of a topless and ranting Jutting talking to the camera after he had killed Ningsih.
The court heard that he had cut her neck with a serrated knife in the shower after forcing her to lick a toilet bowl.
"About five minutes ago I just killed, murdered this woman," says Jutting in the iPhone footage.
I've done a lot of coke. I've tortured her badly.
The start of the footage showed a brief glimpse of Ningsih's body lying awkwardly in the shower.
"Three days of torture, rape and mentally brutalised," he says. "I've never seen anyone that scared."
He had used pliers, sex toys and a belt in the attacks on Ningsih, the court heard Monday.
Jutting said the sense of dominance was "addictive".
"I feel a bit sad because she was a good person, but I don't really feel guilty," he said in the video footage.
'High on coke'
In more than four hours of monologues, Jutting spoke on camera about masturbation, drugs, prostitutes, and "dark fantasies", and quoted from television series Game of Thrones.
He was also seen inhaling a substance through a white tube.
"When I'm high on coke I have the propensity just to do bad things," Jutting said in the recording.
In one clip he goes back to check on Ningsih's body which is still in the shower with the water running.
He describes himself as a "part-time rapist and murderer", then rebukes himself for killing Ningsih, who was mother of a young son.
"I've not done anything close to this," Jutting said in the video, saying he last punched someone when he was 12.
"Jesus Christ, she was a mother," he said.
The Cambridge graduate closed his eyes when the videos were being shown in court.
Ningsih and Seneng Mujiasih, 26, were found dead in Jutting's flat in the early hours of 1 November, 2014, after he called police.
Suitcase
Jutting cut Mujiasih's throat hours after he had met her at a bar near his home in Wan Chai and offered her money for sex on 31 October, the prosecution said.
Police found her in the living room while Ningsih's body was discovered in a suitcase on Jutting's balcony.
In clips shown this afternoon, Jutting shows off "torture" instruments to use on Mujiasih, including a small blowtorch, while dance music plays.
Prosecutors described on Monday how he killed Mujiasih after she screamed when she saw a rope gag in the living room.
"There will be no redemption for me," Jutting said in one of the final video clips shown in court.
The killings shone a spotlight on the seedy underbelly of the finance hub. Jutting's flat lay streets away from one of the city's red light districts.
Indonesian migrant organisations in Hong Kong have called for justice for the women, and compensation for their families.