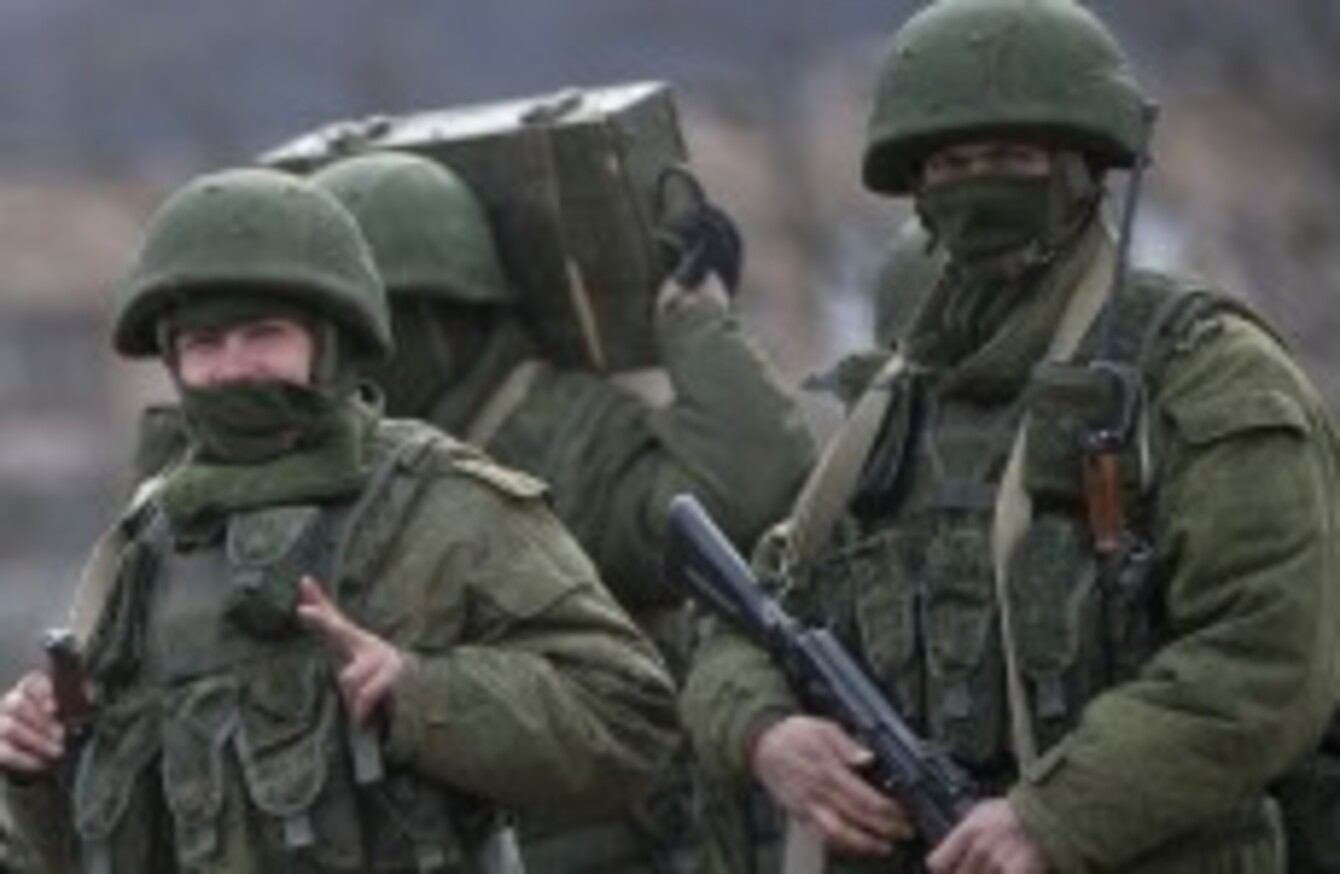 A pro-Russian soldier flashes a victory sign while marching near a Ukrainian army base in Perevalne, Crimea.
Image: AP Photo/Vadim Ghirda
A pro-Russian soldier flashes a victory sign while marching near a Ukrainian army base in Perevalne, Crimea.
Image: AP Photo/Vadim Ghirda
UKRAINE HAS ANNOUNCED plans to drop out of a key post-Soviet alliance and slap entry visas on Russians, while also preparing for a possible Crimean withdrawal following the Kremlin's absorption of the peninsula.
Meanwhile, Russia has requested that commander-in-chief of Ukraine's navy be be released, having earlier been detained by Crimean officials.
Kiev's first firm response to Russia's claim to the strategic Black Sea peninsula came as a deadline expired on an ultimatum set by the acting president for Crimea's separatist leaders to release the captured head of the Ukrainian navy or face "an adequate response"
"Gravest threat"
The spiralling crisis prompted the White House to warn Russia it was "creating a dangerous situation" and the NATO commander to call the Kremlin's seizure of Crimea "the gravest threat to European security and stability since the end of the Cold War".
"Our major concern right now is whether he (President Vladimir Putin) will go beyond Crimea, whether Russia will intervene in the eastern parts. . ." of Ukraine, Secretary General Anders Fogh Rasmussen said during an event in Washington.
Denouncing the moves in the Crimean peninsula as "military aggression," Rasmussen said Russia's actions were part of a long-running pattern across the region to block nations from forging ties with the West.
"Wake-up call"
"This is a wake-up call," he said, "For the Euro-Atlantic community. For NATO. And for all those committed to a Europe whole, free and at peace."
US officials have said they are reviewing a request from Kiev for military support, including arms, ammunition and non-lethal equipment.
So far Washington has only agreed to provide military rations to Ukraine.
Pro-Russian forces had earlier seized two Crimean navy bases and detained Ukraine's naval chief as Moscow tightened its grip on the flashpoint peninsula despite Western warnings that its "annexation" would not go unpunished.
Black Sea
Dozens of Ukrainian soldiers filed out of Ukraine's main navy headquarters in the historic Black Sea port city of Sevastopol after it was stormed by hundreds of pro-Kremlin protesters and masked Russian troops.
The local prosecutor's office said Ukraine's navy commander Sergiy Gayduk — appointed after his predecessor switched allegiance in favour of Crimea's pro-Kremlin authorities at the start of the month — had been detained on suspicion of "ordering Ukrainian military units… to open fire on peaceful civilians".

Crimean self-defense forces member walks in the Ukrainian navy headquarters in Sevastopol, Crimea. (Andrew Lubimov/AP/Press Association Images)
Russian Defence Minister Sergei Shoigu said he had "asked the leaders of the Crimean Republic to release the commander-in-chief of Ukraine's naval forces… and not to prevent his departure for Ukraine," according to a statement.
Gayduk's capture delivered a huge blow to efforts by the new team of untested pro-Western leaders in Kiev to impose some authority in their crisis-hit country in the face of an increasingly assertive Kremlin.