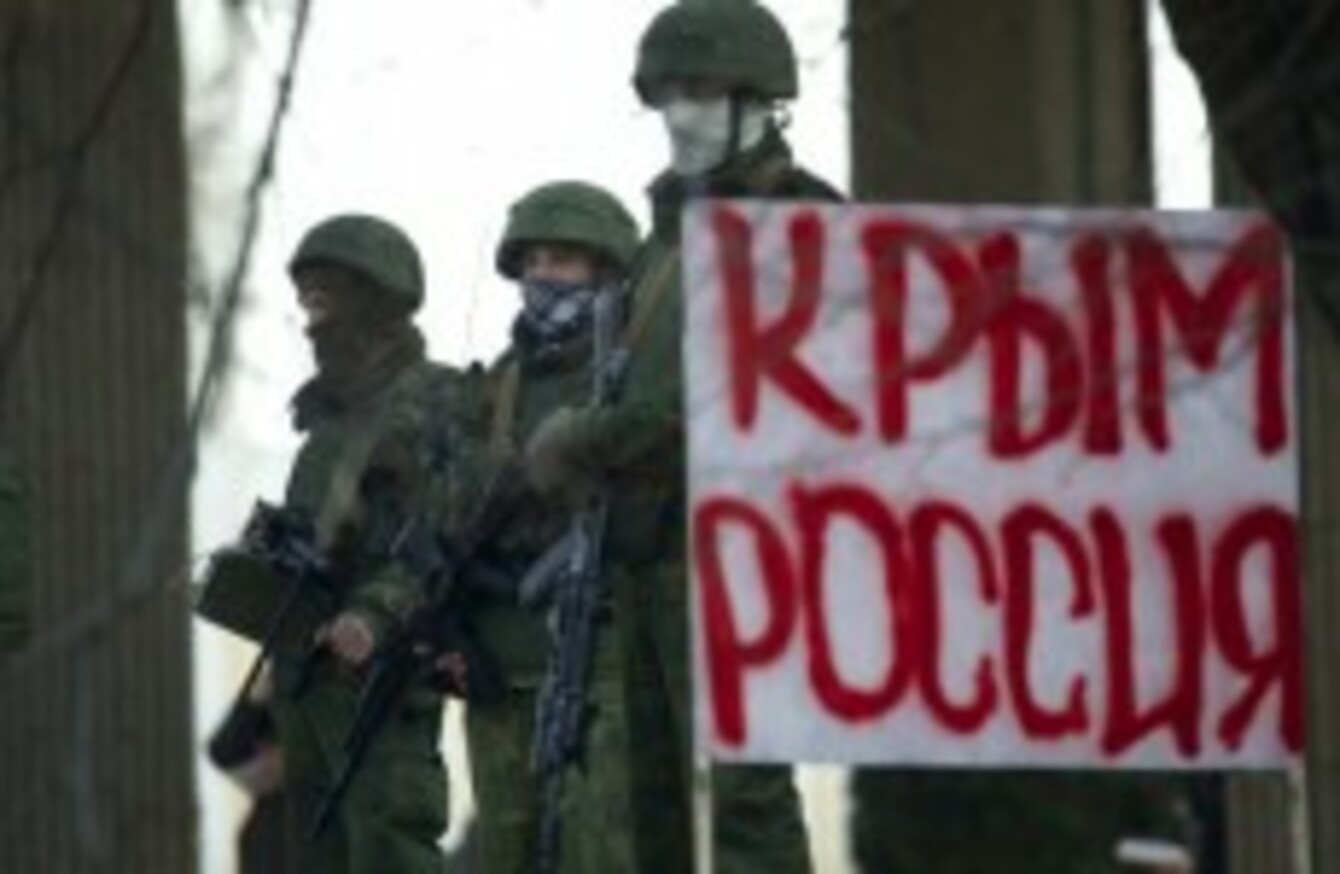 Unidentified gunmen wearing camouflage uniforms block the entrance of the Crimean Parliament building in Simferopol, Ukraine
Image: Ivan Sekretarev/AP/Press Association Images
Unidentified gunmen wearing camouflage uniforms block the entrance of the Crimean Parliament building in Simferopol, Ukraine
Image: Ivan Sekretarev/AP/Press Association Images
UKRAINE'S DEFENCE CHIEF has accused Russia of sending 6,000 troops and 30 armoured personnel carriers into Crimea as the restive peninsula tries to gain broader independence from new pro-EU leaders in Kiev.
Defence Minister Igor Tenyukh told a cabinet meeting that Russia began sending these reinforcements yesterday "without warning or Ukraine's permission, in defiance of the principle of non-infringement of state borders."
The move comes as an AFP journalist said more than 10,000 people carrying Russian flags began protesting in the eastern Ukrainian city of Donetsk, the stronghold of ousted president Viktor Yanukovych.
Protesters declared they supported "the aspirations of Crimea to rejoin Russia", referring to Ukraine's pro-Russia peninsula further south where Kiev has accused Moscow of launching an "armed invasion."
The defence chief spoke as dozens of pro-Russian armed men in full combat gear patrolled outside the seat of power in Crimea's capital Simferopol, a day after similar gunmen seized control over airports and government buildings in the territory.
The rugged peninsula jutting into the Black Sea — host to a Kremlin fleet and with an ethnic Russian majority — has now effectively been cut off from mainland Ukraine, with airports shut down and a pro-Kremlin militia establishing a tightly-controlled checkpoint on the main road from the mainland.
Crimea has come to the fore of a Cold War-style confrontation between the West and Russia over Ukraine, a faceoff that has also exposed the ancient cultural rifts between the pro-European west and Russian-speaking south and east of this country of 46 million.
Added to that, a referendum to determine whether residents in the flashpoint peninsula want greater autonomy has been pushed forward to March 30, the spokeswoman of the region's newly-chosen prime minister Sergiy Aksyonov said.
The vote had originally been planned for May 25, on the same day as presidential elections set by parliament following the ouster of the pro-Moscow president Viktor Yanukovych.