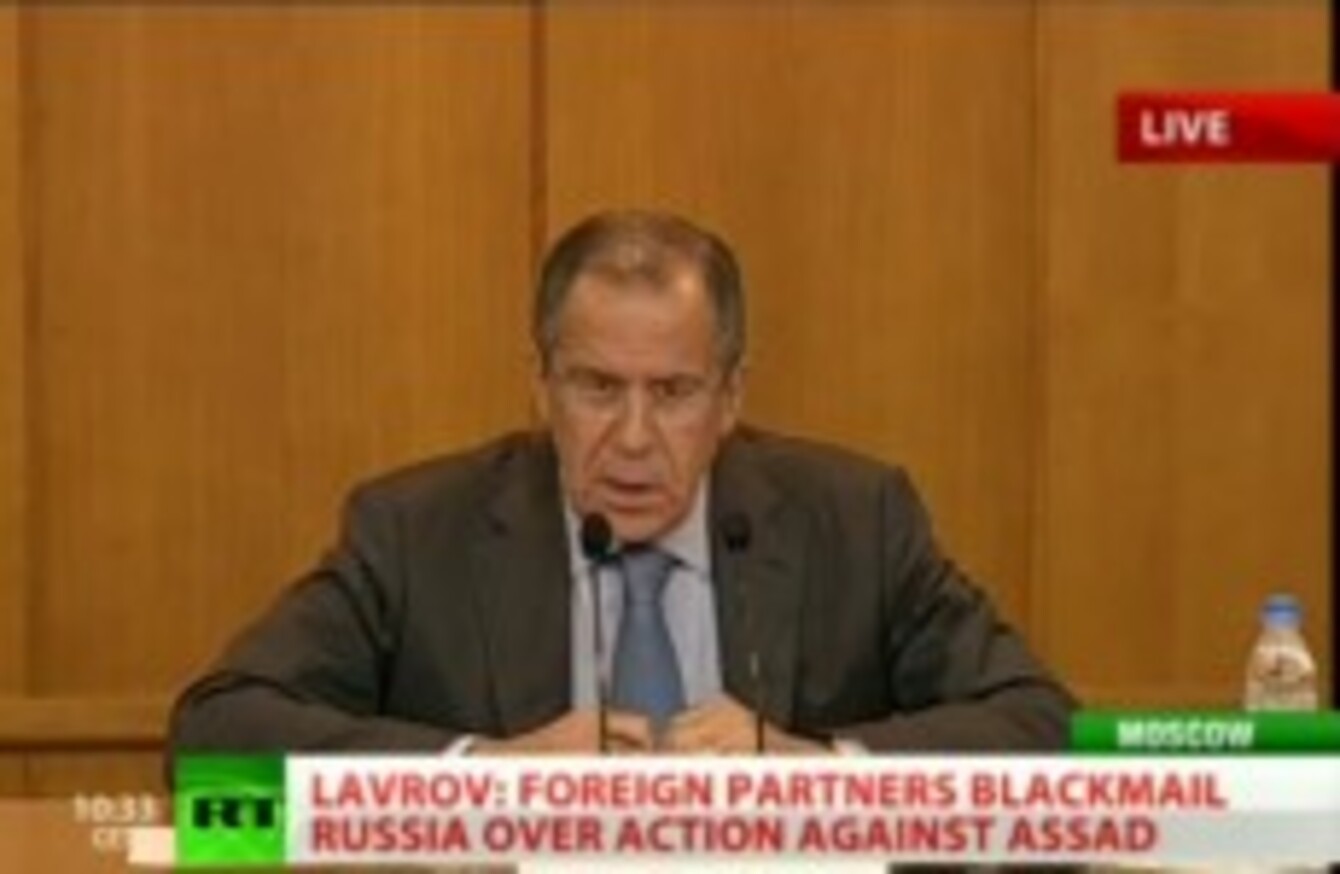 Sergei Lavrov at a press conference this morning.
Image: RT.Com Screengrab
Sergei Lavrov at a press conference this morning.
Image: RT.Com Screengrab
RUSSIA HAS SAID it would be "unrealistic" for Moscow to put pressure on Bashar Assad to step down from power not because of its status as an ally but because a large portion of the country's population support his regime.
Foreign Minister Sergei Lavrov said it is not realistic to ask Moscow to convince Assad to step down.
"And it is not question of our inclinations, our sympathies or our antipathies," he said. "He will not leave power. And this is not because we are protecting him but because there is a very significant part of the Syrian population behind him."
I will repeat — we are not supporting Bashar Assad. We are supporting what everyone else is — the peace plan of [UN envoy] Kofi Annan.
Speaking at a press conference ahead of talks with Annan today, Lavrov also said Russia is being blackmailed by Western powers to get its backing for UN Security Council sanctions against Damascus.
Lavrov said that the UN has indicated that if the Kremlin does not support the resolution allowing action against Assad, then observer missions in the country won't be prolonged.
"We are being told to either agree to the approval of a resolution that includes Chapter 7 (that provides for possible sanctions), or we refuse to extend the mandate of the observer mission. We view this as a completely counterproductive and dangerous approach."
As Annan meets with Lavrov and Ban Ki-moon heads to China to apply similar pressures on Beijing, fighting on the ground in Syria continues. Activists reported fierce battles overnight, said to be some of the most violent of the entire conflict to date.
Yesterday, the Red Cross declared the whole country in civil war and not just pockets as it had previously indicated.
The current UN mission to Syria ends on Friday and a new resolution is being called for by western powers. However, Russia and China have already twice used their veto powers against tougher sanctions.
Up to 17,000 people have been killed since unrest began in March 2011 when the Assad regime kicked off its campaign to dispel any dissent or pro-democracy sentiments.