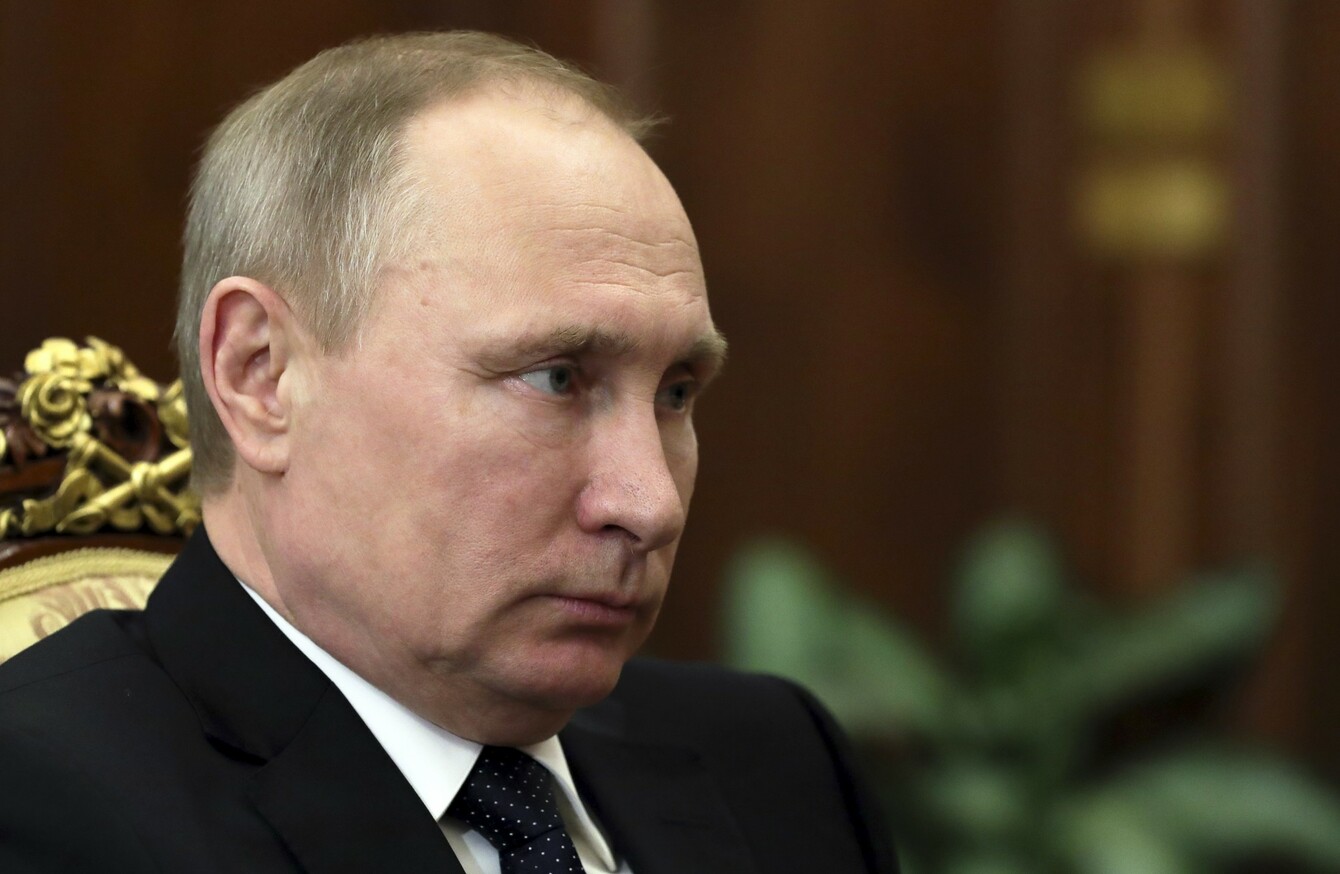 Image: AP/PA Images
Image: AP/PA Images
RUSSIAN PRESIDENT VLADIMIR Putin considers the US strike on a Syrian airbase early this morning as "aggression against a sovereign state," Kremlin spokesman Dmitry Peskov has said, according to Russian agencies.
"President Putin considers American strikes on Syria aggression against a sovereign state in violation of international norms, and under an invented pretext," Peskov was reported as saying.
President Donald Trump ordered the strike on a Syrian air base in retaliation for a "barbaric" chemical attack he blamed on President Bashar al-Assad.
In a brief televised address delivered hours after the UN Security Council failed to agree on a probe into the apparent chemical attack, Trump confirmed the first American targeted strike against Assad's regime.
Declaring it in America's "vital national security interest" to prevent the spread of deadly chemical weapons, Trump accused Assad of a "very barbaric attack" in which "even beautiful babies were cruelly murdered".
'Virtually destroyed'
The attack virtually destroyed the base's facilities, a monitoring group said.
"An air commodore was among the four soldiers killed," the Syrian Observatory for Human Rights said.
"The airbase was almost completely destroyed — the runway, the fuel tanks and the air defences were all blown to pieces," the Britain-based monitoring group said.
"There were Sukhoi-22, Sukhoi-24 and MiG-23″ fighter aircraft on the ground, Observatory chief Rami Abdel Rahman told AFP.
Washington said that Russian military officials in Syria were informed of the strike beforehand in order to avoid casualties that could prompt a broader crisis.
Israeli Prime Minister Benjamin Netanyahu said this morning he supports the "strong and clear message" sent by the US strike.
The Israeli military said it had been informed in advance of the attack plan.
The airstrikes overshadowed President Trump's Florida summit with his Chinese counterpart Xi Jinping. Trump informed the Chinese leader personally of the missile strikes, a senior administration official told AFP.
US reaction 
Senior US lawmakers from both parties have expressed support for Trump's ordered military strike, but some rank-and-file members warned against further action without congressional authorisation.
Republican House Speaker Paul Ryan called the action "appropriate and just," adding that the strikes "make clear that the Assad regime can no longer count on American inaction as it carries out atrocities against the Syrian people".
"Making sure Assad knows that when he commits such despicable atrocities he will pay a price is the right thing to do," Senate Minority Leader Chuck Schumer, the country's top Democrat and a frequent critic of the nascent Trump administration, said in a statement.
Senator John McCain, a national security hawk who for years has advocated a more muscular policy against the Syrian regime, hailed the strike as a "credible first step".
Unlike the previous administration, President Trump confronted a pivotal moment in Syria and took action.
Several lawmakers, including Ryan and Schumer stressed the need for Trump to consult with Congress on forging the appropriate US military strategy against Syria.
Iran statement 
Another power in the region, Iran, said this morning that it "strongly condemns" the US attack.
"We condemn all unilateral military action and the missile strike by US warships against Shayrat airbase under the pretext of Tuesday's suspected attack on Khan Sheikhun," foreign ministry spokesman Bahram Ghassemi told the Fars news agency.
Iran, with Russia, is the closest ally of the regime of President Bashar al-Assad and has provided money, weapons, military advisers and trainers, as well as volunteer militiamen to support it in the six-year civil war.
Reporting by © – AFP 2017