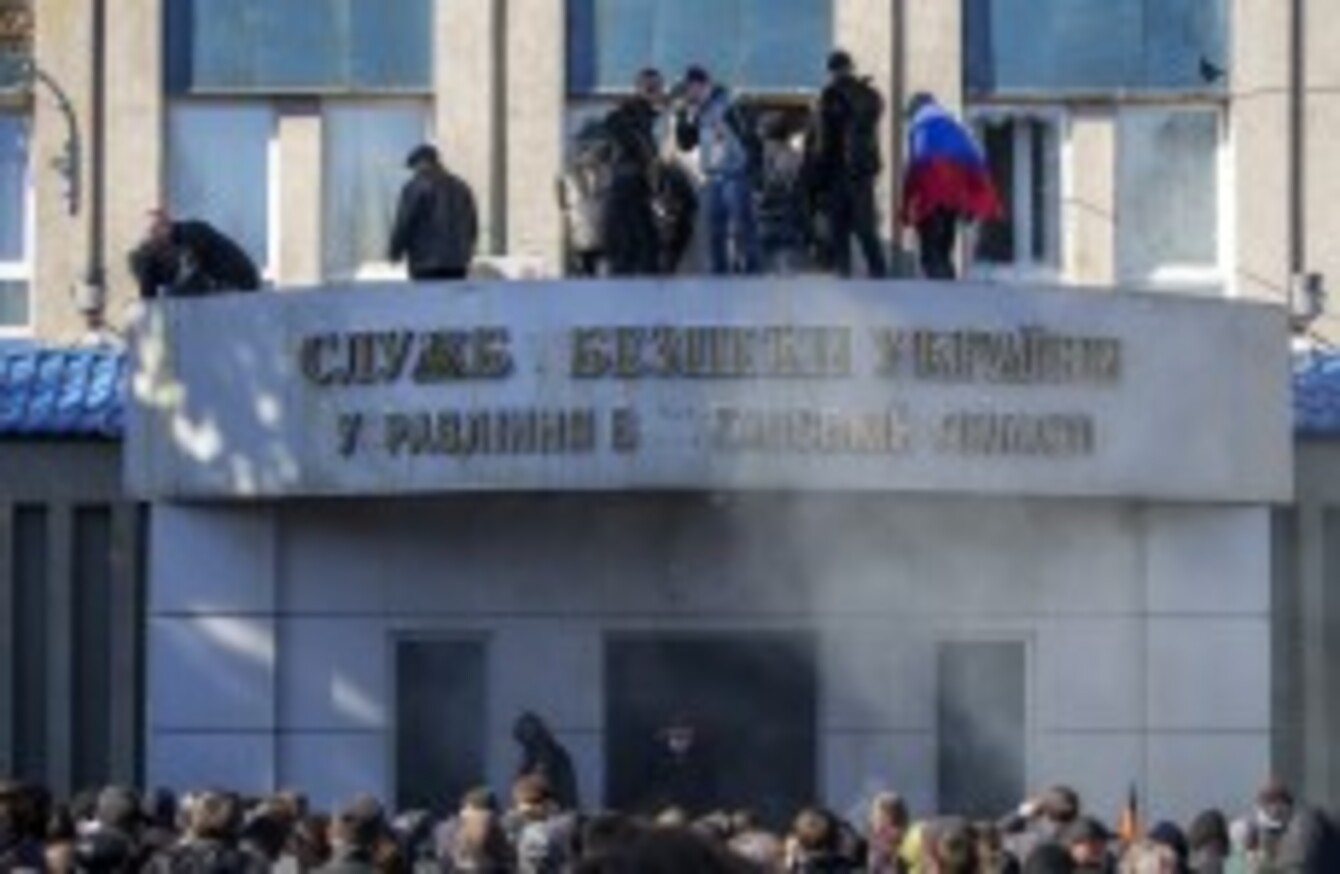 Image: Igor Golovniov/AP/Press Association Images
Image: Igor Golovniov/AP/Press Association Images
UKRAINE'S EMBATTLED PRIME minister today accused Russia of trying to "dismember" his country by plotting seizures of government buildings in eastern regions that are seeking to break away from Kiev.
Prime Minister Arseniy Yatsenyuk's latest volley against Ukraine's giant neighbour came as his top lieutenants fanned out across the heavily Russified eastern swathes of the country trying to regain a semblance of control.
Thousands of irate pro-Russian activists broke through police lines yesterday and occupied the administration buildings in the big industrial cities of Kharkiv and Donetsk as well as the headquarters of the regional security service in Lugansk.
AFP reporters saw pro-Russian activists leave the Kharkiv government headquarters this morning even while a few hundred of their supporters continued to rally outside.
But the situation in the other two cities remained tense amid unconfirmed reports that pro-Russians had also stormed the security building in Donetsk.
Yatsenyuk said Russia had helped orchestrate the occupations in order to find an excuse for a full-out invasion that would punish Ukraine for February's ouster of its Moscow-backed president and decision to seek a political and economic alliance with the West.
"There is a plan to destabilise the situation, a plan for foreign forces to cross the border and seize the territory of the country, which we will not allow," Yatsenyuk told a government meeting.
"This scenario is written by the Russian Federation and its only purpose is to dismember Ukraine."
PM rejects 'federalisation' 
The unrest comes with Ukraine's borders seeing a massing of Russian troops who had earlier seized the Black Sea peninsula of Crimea and the economy in tatters after decades of mismanagement and government theft.
Several eastern regions now want to stage referendums on joining Kremlin rule when Ukraine holds snap presidential polls on May 25 that feature two frontrunners who both want to tie the vast country's future to Europe and break its historic dependence on Russia.
Moscow is now lobbying for Ukraine to be transformed into a federation that allows eastern regions in the vast nation of 46 million to adopt Russian as a second state language and overrule some decision coming from Kiev.
The Kremlin has argued the changes were needed because ethnic Russians had allegedly been coming under increasing attack from ultranationalist forces that helped the new leaders ride a wave of anti-government protests to power.
But Washington and its EU allies fear that Russia — having already annexed Crimea last month — is using the federation idea as an excuse to further splinter Ukraine by granting the Kremlin veto powers over Kiev's regional policies.
The new Kiev government approved a draft reform plan last week that would grant more powers to the regions in line with Western wishes but stopped well short of creating the federation sought by Russia.
And Yatsenyuk on Monday called federalisation a dangerous idea aimed at ruining Ukraine.
"Any call toward federalisation is an attempt to destroy the Ukrainian state," said Yatsenyuk.
He added that the Kremlin's ambition was to turn "a part of Ukraine into a slave territory that was under the diktat of the Russian Federation."
- © AFP 2014.