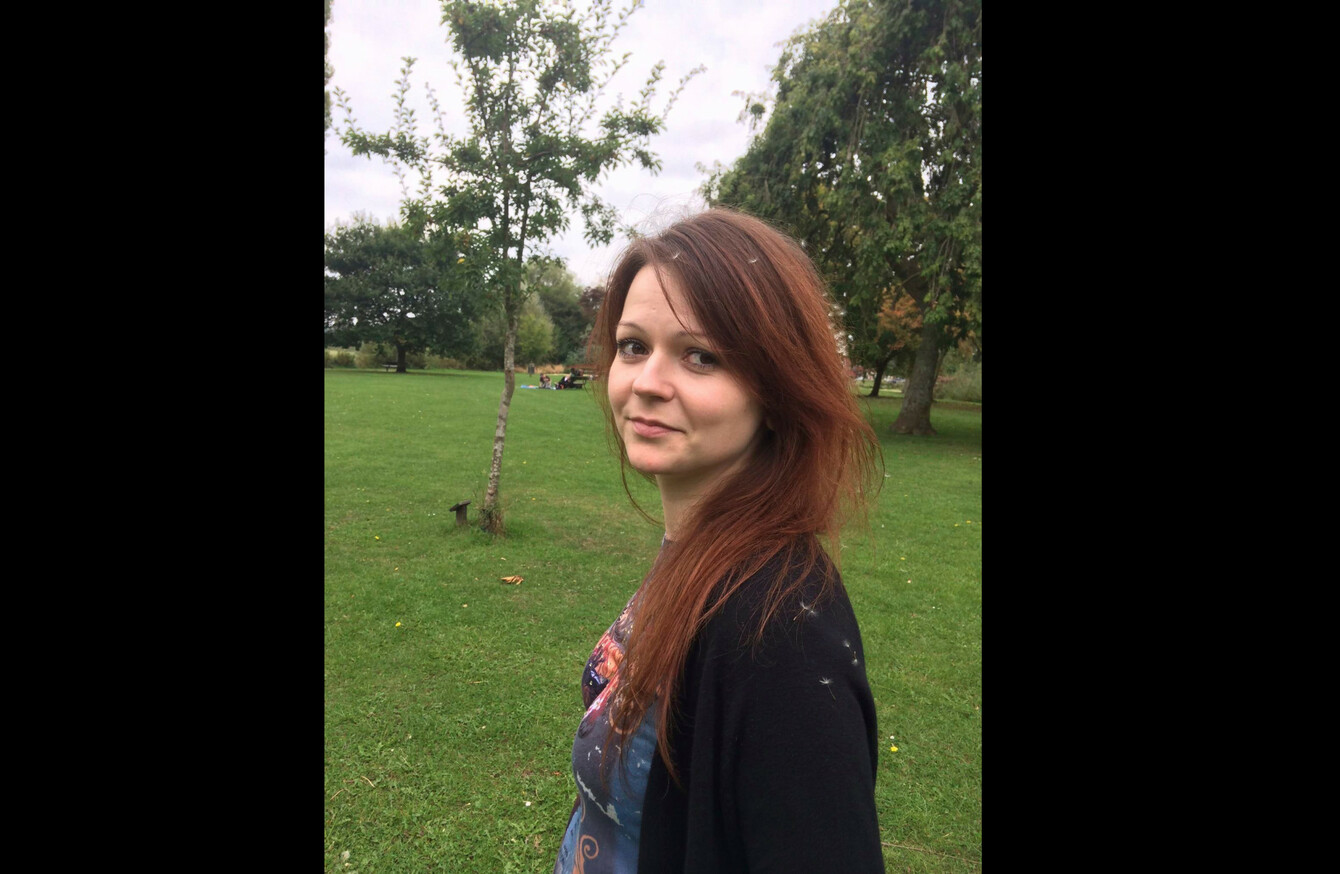 An image of Yulia Skripal taken from Yulia Skipal's Facebook account last month.
Image: Yulia Skripal/Facebook via AP
An image of Yulia Skripal taken from Yulia Skipal's Facebook account last month.
Image: Yulia Skripal/Facebook via AP
YULIA SKRPIAL, WHO was poisoned in England last month along with her Russian ex-spy father, today has refused consular assistance from the Russian embassy.
Skripal was discharged from hospital on Monday, more than a month after the 4 March nerve agent attack in the English town of Salisbury which has sparked a global diplomatic crisis.
While her whereabouts are unknown, Skripal said she is being supported by police officers who are keeping her informed of their high-profile investigation.
"I have access to friends and family, and I have been made aware of my specific contacts at the Russian embassy who have kindly offered me their assistance in any way they can," she said in a note issued by London's Metropolitan Police.
"At the moment I do not wish to avail myself of their services, but, if I change my mind I know how to contact them," she added.
Yulia Skripal was visiting her father when the attack took place. Sergei Skripal was imprisoned in Russia for selling secrets to British intelligence in the 1990s but was exchanged in a spy swap in 2010.
London blames Moscow for the attack, an accusation vehemently denied by the Russian government which has requested access to the Skripals as Russian citizens.
The ex-spy's daughter said her father "is still seriously ill" and said she herself is "still suffering with the effects of the nerve agent used against us".
"Most importantly, I am safe and feeling better as time goes by," she added.
Responding to reports that the pair may be resettled, the Russian embassy to London said:
Secret resettlement of Mr and Ms Skripal, barred from any contact with their family, will be seen as an abduction or at least as their forced isolation.
Sergei Skripal's niece, Viktoria Skripal, has spoken to Russian media about the poisoning and last week saw her application to visit the UK rejected, with officials saying it did not comply with immigration rules.
Yulia Skripal has cast doubt on her cousin's account, saying: "Her opinions and assertions are not mine and they are not my father's."
"I thank my cousin Viktoria for her concern for us, but ask that she does not visit me or try to contact me for the time being," she said.