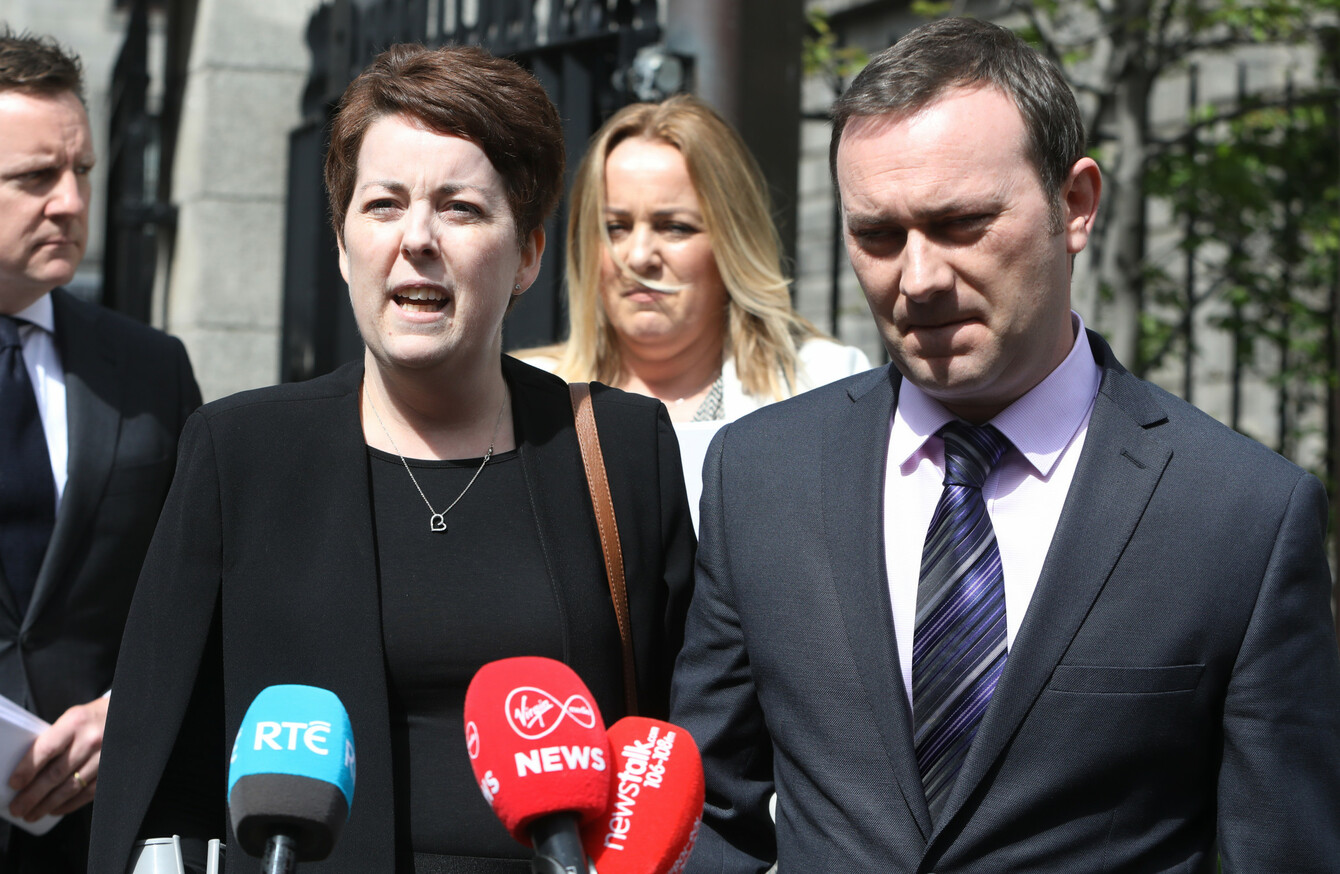 Image: Leah Farrell/RollingNews.ie
Image: Leah Farrell/RollingNews.ie
Updated May 3rd 2019, 12:49 PM
THE HIGH COURT has delivered its ruling in the case taken by Limerick woman Ruth Morrissey and her husband Paul over the alleged misreading of her cervical smear tests and the failure to inform her about it.
They are to be awarded €2.1 million in damages the court ruled this morning, in what's seen as a test case in the wake of the CervicalCheck controversy. 
Ruth is to be awarded €757,000 and her husband is to be granted €1.4 million. 
Speaking to reporters outside the court in Dublin today, Morrissey said she now wants to "move on and spend whatever quality time I've left with my daughter". 
She thanked the judge for his compassion and her family for all of the support she and Paul have received over the 37 days of the case.
What can I say? I didn't think I'd be in this position because our Taoiseach told us that none of us would have to go through this. But unfortunately I'm the one that had to so I hope that's a positive thing for the women left, that they don't have to do this and fight for what is their right to have a good life, what they've left.
She thanked her husband, who she described as "my rock".
Morrissey also encouraged women to continue to go for smears. Though she said the system had failed her, she said the screening "does save many, many lives".
Responding to the judgement today, Taoiseach Leo Varadkar welcomed the fact that the couple won their action. 
"I know a year ago I said I didn't want any woman to have to go through court, I still don't and I know the Irish public don't want [that] either," he said.
And I genuinely believed at the time that it would be possible to settle all cases by mediation and negotiation. While many have been, we know now that's not possible in all cases but we have found an alternative, an alternative to court, and that's a tribunal.
Varadkar said legislation for the establishment of the tribunal is now being prepared and this process will mean women who want to take a case will have an alternative. He said these cases will be heard in private and the system will help to fast track those cases. 
The couple took the action against the HSE and two US laboratories, Quest Diagnostics Ireland and MedLab Pathology Limited over cervical smears taken in 2009 and 2012.
The court had heard the woman was not told until May 2018 that a review of her two smears in 2014 had found they were incorrectly reported. 
In February last year she was diagnosed with a recurrence of her cancer and was told she had at most two years to live. The labs had both denied liability.
Pain and distress
In his judgement, Mr Justice Kevin Cross said that her life had been "ruined".
He found the laboratory where her 2009 slide was read were negligent and in breach of duty. In the case of the 2012 slide, he found this lab was not negligent in its failure to determine it contained abnormal cells as the sample was not adequate.
However he found that the failure of this lab to test the slide for adequacy was negligent and in breach of duty. He said if this test had been done, it would have been reported as inadequate and Morrissey would have been called back to be retested within one and three months. 
MedLab Pathology welcomed the judgement that its lab was not negligent in its review and interpretation of the 2012 slide. It said it was "surprised and disappointed" with the finding there was insufficient cellular material on the slide to meet the minimum threshold of 5,000 cells. 
"This is contrary to findings of a retrospective detailed actual cell count where it was proven there was in excess of 35,000 cells present on the slide," the firm said in a statement. "This is over seven times the required volume of cells to deem a cervical sample as adequate."
The company said it will now review the judgement in full with a view to appeal.
This evidence about the 35,000 cells on the slide related to a computer analysis of the slide – for the lab's legal defence – using what is known as the Qupad system.
However the judge was told by a medical expert hired by Ruth and Paul Morrissey that this analysis was irrelevant as the slide should have been assessed using the method in accordance with what is known as the Bethedesda system. This is the system the labs are suppose to use for carrying out tests, under their contracts with the HSE.
"Mrs Morrissey has suffered a life sentence, of which she is fully aware, which is expected to take effect within two years and for which there is no reasonable prospect of reprieve."
He said the 37-year-old woman has "suffered a catastrophic injury, no less than that of a tetraplegic or someone with brain damage". 
He said there is a high probability she would have been successfully treated using the non-invasive LLETZ procedure and she never would have contracted cancer in 2014. 
"She would have been spared the pain and distress of what followed and in particular, the cancer would not as a matter or probability reoccurred."
He said she would not be left with the knowledge she had only at most two yeas to live, her careers would not have been interrupted, she would not have had to stop having intimate relations with her husband and she would likely have had another child. 
She would have been spared the prospect and knowledge that her daughter and her husband will have to go through life without her care and guidance and in particular she will not live to see her daughter make her way through life and probably start her own family and of most importance, her life would not have been so tragically cut off. 
The HSE admitted it owed a duty of care to Ruth Morrissey in relation to the disclosure of the audits of her smear tests after she was diagnosed with cancer. The judge said that apart from the non-disclosure of the audits, the immediate cause of damages was the acts of omissions of the two labs.
He said the HSE is entitled under contract to indemnity against the laboratories for all matters other than its own liability relating to the audits and has been ordered to pay €10,000 of the damages.