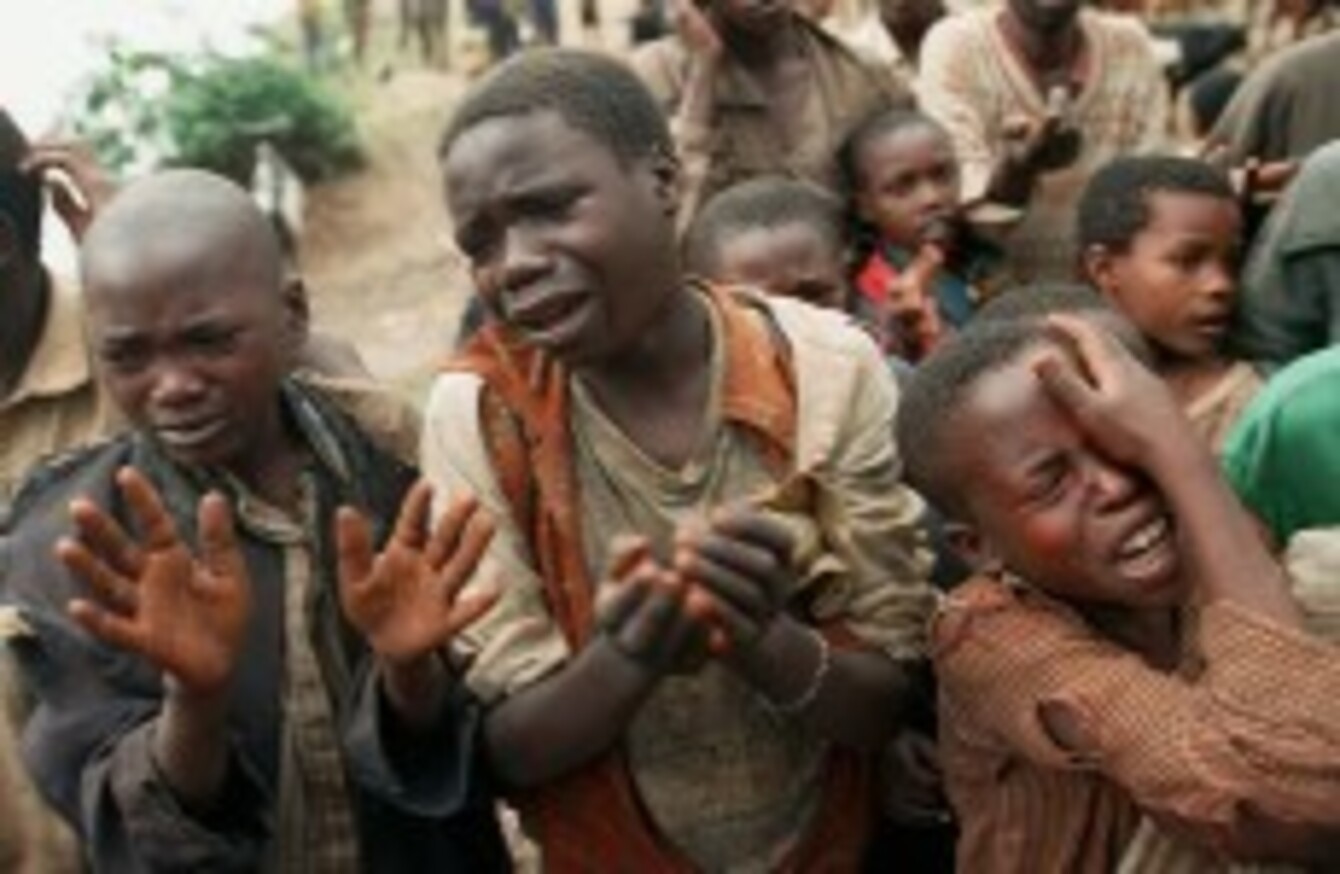 Rwandan refugee children plead with Zairean soldiers to allow them across a bridge separating Rwanda and Zaire where their mothers had crossed moments earlier before the soldiers closed the border on 20 August 1994.
Image: AP/Press Association Images
Rwandan refugee children plead with Zairean soldiers to allow them across a bridge separating Rwanda and Zaire where their mothers had crossed moments earlier before the soldiers closed the border on 20 August 1994.
Image: AP/Press Association Images
THE WORLD MADE huge mistakes 20 years ago. 
Political leaders and the humanitarian aid community have all put their hands up to say they should – and could – have done better.
It would be hard to hold any other position when looking back to the events of 1994 in Rwanda.
An estimated 800,000 people killed. Massacred. Bodies left in heaps for days, weeks – even months -before they were discovered.
Today marks the anniversary of the country's descent into genocide. Citizens across the African country are taking part in solemn commemorations to remember the victims of the atrocities.
UN Secretary-General Ban Ki-moon admitted the international community was still wracked by the "shame" of failing to act.
Many United Nations personnel and others showed remarkable bravery. But we could have done much more. We should have done much more.
"In Rwanda, troops were withdrawn when they were most needed.
The shame still clings, a generation after the events.
Next year, we will mark the 20th anniversary of the Srebrenica massacre during the Bosnian war. Just one year later – and the world watched again. Another failure alluded to by Ban Ki-moon.
But have we now learned from those mistakes?
"It is a travesty if we haven't," says Goal CEO Barry Andrews.
He believes there has been "very significant developments" in terms of accountability among humanitarian aid agencies as a direct result of what happened in Rwanda.
"Lots of organisations showed up there and did more harm than good," he told TheJournal.ie in a recent interview.
He cites a number of positive developments, including membership of umbrella organisations in order to ensure accountability to donors and better inter-agency cooperation.
His colleague, Fiona Gannon, adds that there is also more accountability when it comes to those people they are aiming to help.
"We have learned quite a bit in the 20 years about how we should work. There is an onus on us to be creative in how we approach beneficiaries," she says.
"Now we are quite innovative when it comes to our consultation processes – where we can meet, evaluate and monitor people.
"For example, we now video all our distributions and then select families who benefitted from those distributions. We then do in-depth surveys with them to get feedback – all so we're better informed about how we're providing the service, and how that service can be tailored the next time."
Gannon, who is currently working with teams in Syria, says her staff have analysed results there and are trying to figure out why 5 per cent of those helped are not fully satisfied.
"In the early 1990s, feedback like that wasn't really a feature," she explains. "We weren't systematic about how we consulted with the people. We hadn't factored in how important it was to get it right."
Although both Goal workers agree that the humanitarian aid community have learned lessons, they believe the political world is still behind.
"It is something I read recently in a document about the failures of Rwanda. Those essential failures were and continue to be political," it said.
It is a sentiment that survivor and founder of a grassroots NGO, Deo Niyizonkiza, shares. He believes the international community to even understand the origins of the conflicts.
The way I see it – the war didn't happen between Tutsis and Hutus. It occurred because of survival and desperation.
"The international community seems to be lost in the understanding of genocide and war. It is politicians taking advantage of dehumanising conditions and people are not educated enough to know that they are being used."
#Open journalism No news is bad news Support The Journal

Your contributions will help us continue to deliver the stories that are important to you

Support us now
"It is hard not to be critical at the moment when you look at Syria," continues Andrews.
"One wonders if any real lessons were learned. We've had Srebrenica, the Congo and now Syria since. How do we properly intervene?
"There are massive inadequacies in Syria. Three years in, and you have 140,000 dead and hardly any sign of initiatives to bring it to an end."
According to both Andrews and Gannon, the international community "fights the last war".
For Rwanda, that was Somalia. For Syria, it is Iraq and Afghanistan.
"Countries are conditioned by the last crisis, rather than the current one," explains Andrews. "Nobody wants to get involved again."
"There is an unwillingness to respond given the complexity of Iraq and Afghanistan," agrees Gannon. "There is a fear of being drawn into another long-term conflict.
"The role of the UN also has to be factored in," she says. "It has an out-dated mandate and we have to look at what is possible for it given its Cold War makeup." #
But Niyizonkiza believes that by thinking – and acting – differently, more peace could be brought into the world.
"If we go deeper, reach out to the ordinary citizens and work with them, sit down and understand what is going on in their lives. If we just pump money into governments, it is just a vicious cycle.
"We have an obligation as human beings – not as countries, as they are just political boundaries. We all share the same sky. We need to do what is right in the spirit of kinship."
Andrews, Gannon and Niyizonkiza are all due to speak at a seminar, organised by Irish NGOs, this Thursday in Dublin's Royal Irish Academy which will explore Humanitarian Crises.