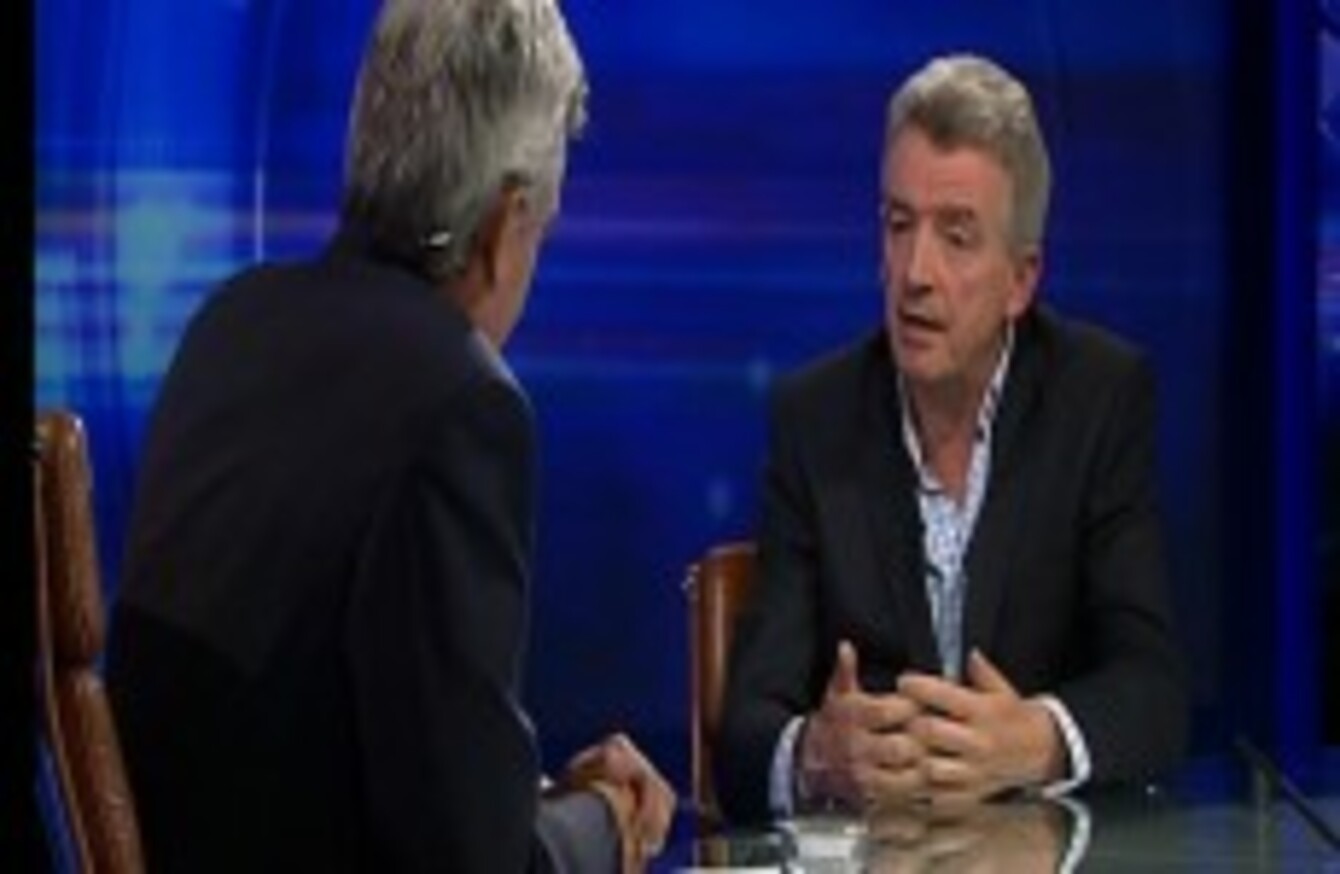 Image: RTÉ
Image: RTÉ
THE CHIEF EXECUTIVE of Ryanair has said that the company believes that they can expand Aer Lingus – if given the chance.
Speaking to RTÉ's Prime Time, O'Leary said that a Ryanair purchase of Aer Lingus wold "dramatically improve business".
"We've set out our plans but we haven't been able to persuade either the Irish government or the European Union of those plans.
"I think the question we do have to ask the European courts is why has the European Union rubber-stamped BA buying British Midlands, BA buying British Caledonia and yet objected to us buying Aer Lingus?"
O'Leary also told David McCullagh that the company was reviewing its policy in the wake of the Muhammad Sattar incident.
We're going to put in place a procedure where the staff at the check in desk can immediately call someone and verify: look we have a set of circumstances here can we vary the policy?
Asked about the company's notoriously difficult relationship with customers, O'Leary said that the company received a "small ratio" of complaints, but that the system to respond to these was evolving.
"There is no doubt I've made mistakes. There's no doubt I need to learn from those mistakes.
"But I think the core here – we employ 9,000 aviation professionals, on a daily basis they do a fantastic job, they deliver the best airline service of any airline service in Europe, never mind Ireland but where there is rough edges I take responsibility for those and I have to change those rough edges."
O'Leary added that the company would be making changes to their website. He said that the current version is "clunky, frustrating and difficult".
He said that new features in the coming weeks would cut the number of clicks needed to purchase a ticket.