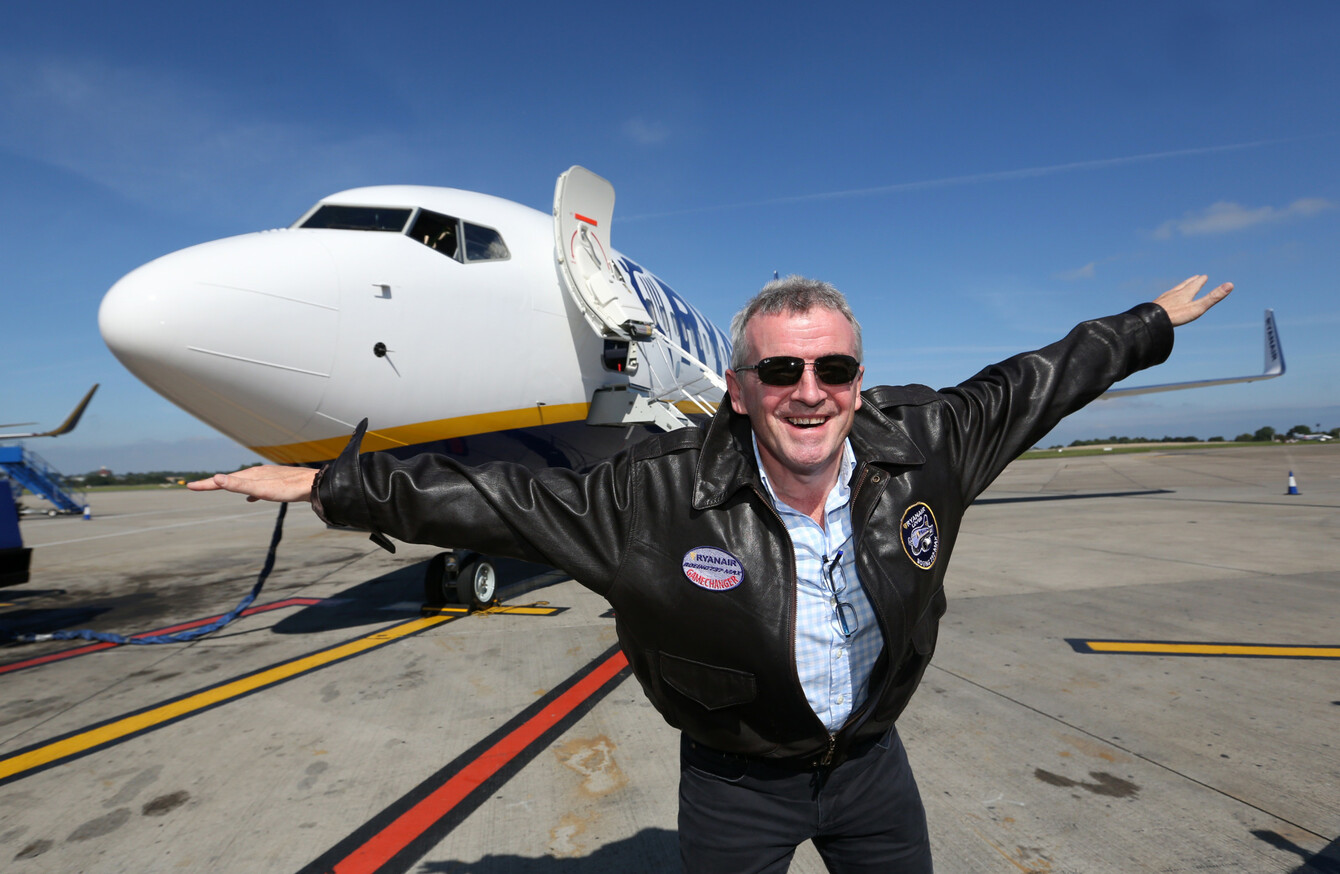 Ryanair's Michael O'Leary
Image: Sam Boal/RollingNews.ie
Ryanair's Michael O'Leary
Image: Sam Boal/RollingNews.ie
RYANAIR SAW A rise in passenger numbers, revenue and profit in the first half of this year.
The airline today reported an 11% increase in its first half profit to €1.29 billion. Customer traffic grew 11% to 72.1 million thanks to a strong Easter and a 5% reduction in airfare.
Revenue rose 7% to €4.4 billion.
The company expects the second half of the year to slow down, expecting to carry 129 million people due to the grounding of 25 aircraft after the company's rostering failures.
In its statement is says that these failures have been addressed and cost the company €25 million.
The airline came in from strong criticism after it cancelled 2,100 flights between September and October and a further 18,000 between November and March.
Ryanair put this down to a rostering issue around having to allocate too much leave in the final months of the year. There have been numerous reports that the cancellations are down to large numbers of pilots leaving the airline, but Ryanair has repeatedly denied this.
We have added resources to our pilot recruitment, base manager and rostering teams so that we can respond quickly to the needs of our pilots and cabin crew, promptly address their requests, and work more closely with them to facilitate opportunities at those bases where they wish to live and develop their careers. The test of any management team, is the speed and effectiveness with which they respond to a crisis, and the pilot rostering failure in early September was just such a crisis.
"We have responded quickly to repair this failure, eliminate further cancellations and we are determined to invest the time, money and manpower to ensure that it never recurs."
The company says that it "remains concerned" about the terms of the UK's departure from the EU in March 2019, saying that Brexit could see a chaotic period around April 2019.
CEO Michael O'Leary said the figures were strong despite last month's disruption.
"Prior to this event, we were on track to deliver strong H1 results during which we opened three new bases and 80 new routes. We took delivery of 35 new B737's in the first 6 months of 2017, we stimulated 11% traffic growth with 5% lower airfares, and achieved an industry record load factor of 97% in the peak summer months."
"I sincerely want to thank all our people for their help and support over what has been a very difficult 4 week period in September. Our pilots, cabin crew, customer handling and customer service teams have responded brilliantly to a very difficult situation that was not of their making.
"Thousands of our pilots and cabin crew have volunteered to work days off to ensure that disruption to our customers was minimised. Our customer service teams have worked late and over weekends to re-accommodate those customers who were disrupted and have dealt with over 700,000 requests in just 18 days, a phenomenal performance of which we are extremely proud."