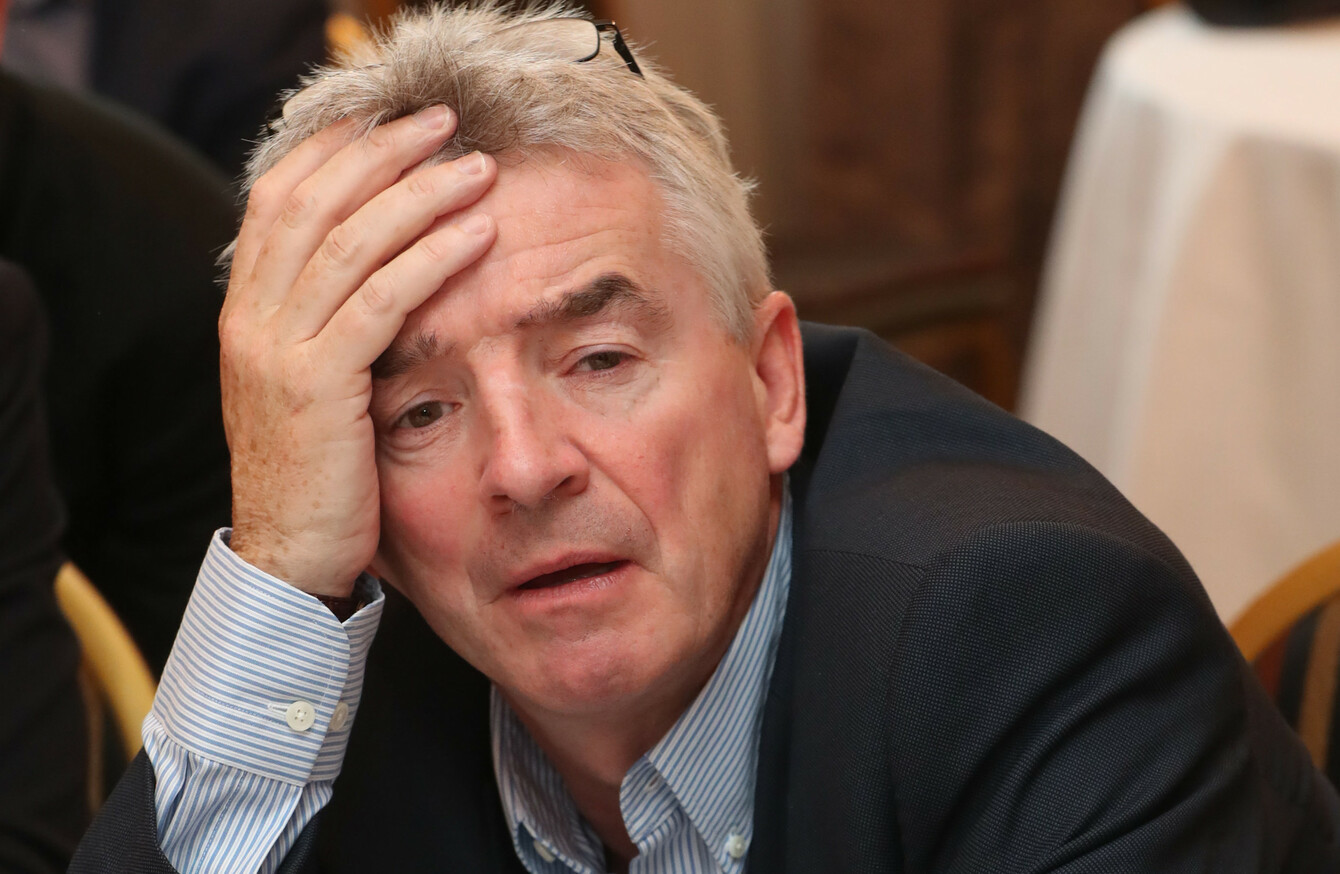 Ryanair CEO Michael O'Leary at a media briefing at the company's AGM in Co Meath yesterday.
Image: Niall Carson
Ryanair CEO Michael O'Leary at a media briefing at the company's AGM in Co Meath yesterday.
Image: Niall Carson
ITALY'S COMPETITION AUTHORITY Antitrust has opened an inquiry into low-cost airline Ryanair's decision to charge passengers for hand luggage, a which the body described an "essential" item for travellers.
From November, non-priority customers of the no-frills airline will only be allowed to take one "small personal bag", such as a handbag or laptop case, into the plane's cabin as long as it can fit under the seat in front.
However they will be charged if they want to take on a 10kg holdall or suitcase.
Hand luggage is "an essential element of transport" so Ryanair, and all other carriers, should include the price in the cost of a plane ticket, Antitrust said in a statement cited by the Italian press.
The new Ryanair policy could amount to unfair commercial practice in that it distorts the final price of the ticket and does not allow a true comparison with other airlines' prices, according to Antitrust.
Ryanair announced last month that customers who want to bring more than a small bag into the cabin will have to pay extra charges ranging up to €9.
Italian consumer associations had complained to Antitrust about the Ryanair decision.
"If its unfair commercial practice on hand luggage is confirmed, Ryanair… should reimburse all its customers who suffer unfair additional costs", the association Codacons said in a statement, promising to take the matter to court if necessary.
The Italian inquiry heaps even more negative publicity on Ryanair whose shareholders on yesterday delivered a blow to the airline's chairman amid widespread strike action by European staff that has rattled confidence in the company.
Safety restrictions
Chairman David Bonderman was re-elected but with 70.5% of the vote at the annual general meeting — a drop from last year's assembly where he garnered a 89.1% endorsement.
"Questions about the company's business model and governance now pose a threat to shareholder value," said the chairman of one of the shareholders, the Local Authority Pension Fund Forum.
In a statement, Ryanair's chief marketing officer Kenny Jacobs said the company looked forward to co-operating with the inquiry, particularly in explaining safety restrictions surrounding carry-on luggage.
"All Ryanair customers are free to bring one piece of carry-on bag onboard," he said.
"But no airline customer has a right to unlimited carry-on bags. For safety reasons, most short haul aircraft cannot accommodate two carry-on bags for each customer."
Jacobs added that other airlines, including Alitalia, Easyjet and BA, restricted the volume of carry-on bags for safety reasons.