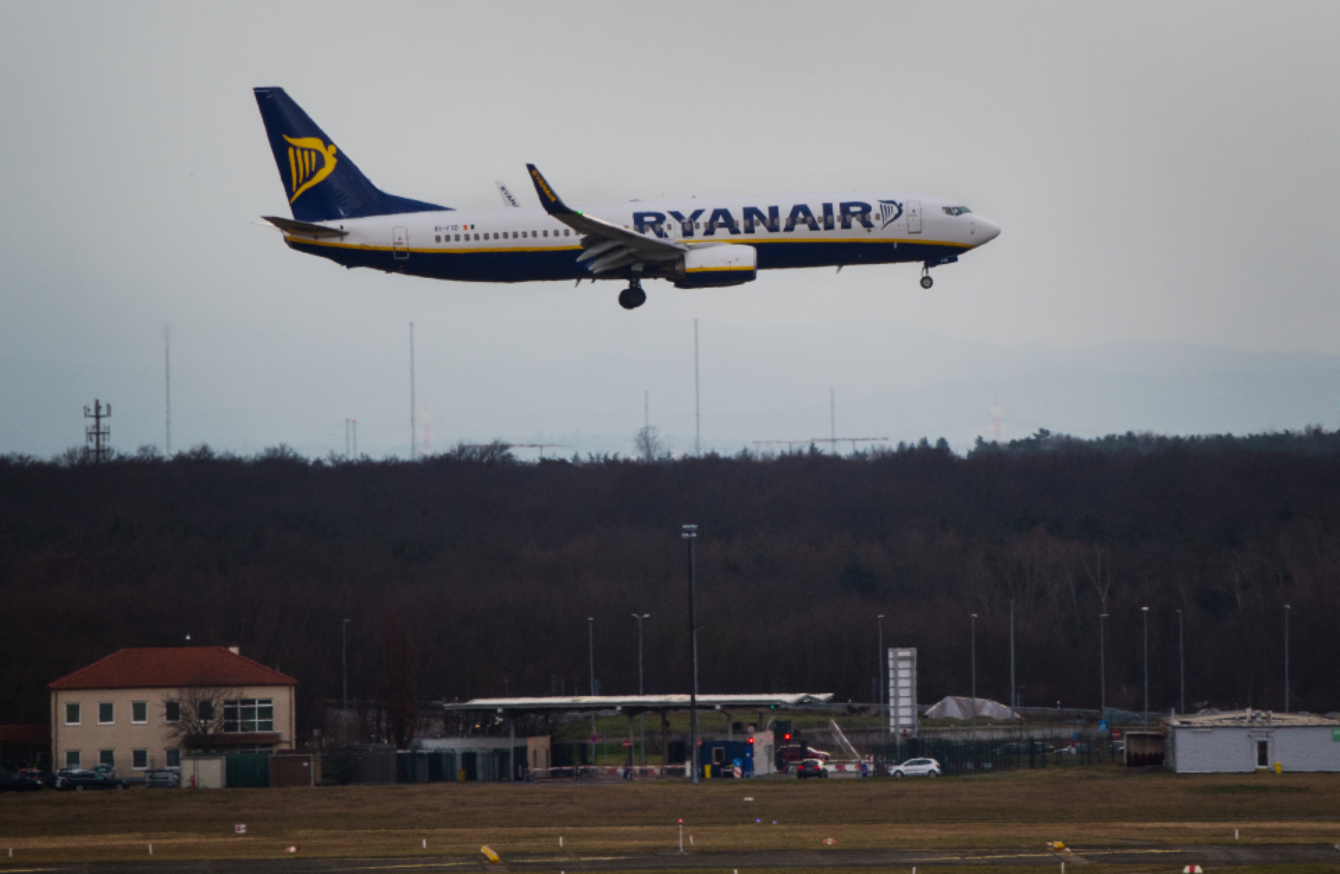 Image: PA IMAGES
Image: PA IMAGES
Updated at 8pm
TWO ORGANISATIONS THAT represent pilots across Europe, including pilots at Ryanair, have welcomed the airline's statement from earlier today that it would recognise pilot unions for the first time.
The European Transport Workers' Federation (ETF) and International Transport Workers' Federation (ITF) which recognises pilots across Europe added that it was important to recognise all workers – not just pilots.
Earlier today Ryanair boss Michael O'Leary announced that his airline would give pilot unions recognition as official organisations – marking a major break from the budget carrier's longstanding policy, which has been referenced repeatedly during the airline's current pay dispute with its pilots.
This week, pilots across Ireland, Portugal, Germany, Italy and Spain announced that they were either considering or planning specific days of industrial action.
That planned actions included strikes by the Portuguese and Irish unions next Wednesday 20 December.
Pilots and flight attendants in Italy were also due to go on a four-hour strike today – but the industrial action was called off after Ryanair announced that it would recognise unions.
Christmas flights are "very important to our customers," O'Leary said in a statement this morning. The airline, he said, wished to remove "any worry or concern that they may be disrupted by pilot industrial action next week".
If the best way to achieve this is to talk to our pilots through a recognised union process, then we are prepared to do so, and we have written today to these unions inviting them to talks to recognise them and calling on them to cancel the threatened industrial action planned for Christmas week.
O'Leary said recognising unions would be "a significant change for Ryanair". His statement added:
Putting the needs of our customers first, and avoiding disruption to their Christmas flights, is the reason why we will now deal with our pilots through recognised national union structures and we hope and expect that these structures can and will be agreed with our pilots early in the New Year.
In response to O'Leary's statement, the general secretary of the ITF Steve Cotton said that this was "an opportunity for real progress" and that "Ryanair must not stop at pilots' unions".
Trade union recognition is a fundamental right of all workers and we fully expect it to be extended to all categories of workers.
…We understand that it may take time to build trust between us given the history, but we are prepared to work hard at this, and we will play fair – we expect the company to do the same.
Eduardo Chagas, general secretary of the ETF added to those sentiments:
"The airline has wisely seen that this is an opportunity to change. What is needed is a serious reform of its employment practices."
Ryanair has written to pilot unions in Ireland, the UK, Germany, Italy, Spain and Portugal inviting each of them to talks with a view to recognising them as the representative body for pilots in Ryanair in each of those countries.
Ryanair committees 
The airline added the caveat that they must establish committees of Ryanair pilots to deal with Ryanair issues "as Ryanair will not engage with pilots who fly for competitor airlines in Ireland or elsewhere".
This morning's statement also called on the pilot unions in the six countries to call off their threatened industrial actions.
#Open journalism No news is bad news Support The Journal

Your contributions will help us continue to deliver the stories that are important to you

Support us now
The tone represents an about-turn on Ryanair's initial response to the announcement of the planned action by the Irish Airline Pilots' Association (Ialpa) on Tuesday, which describing the body as an "Aer Lingus pilots union" and said the company believed the action would be limited to "a small group of pilots who are working their notice and will shortly leave Ryanair".
Speaking to RTÉ's Morning Ireland the airline's Chief People Officer Eddie Wilson said management at Ryanair were "always decisive".
"If it's the right thing to do we'll do it," Wilson said. He said he hoped talks to begin in the new year.
Asked whether he would recognise unions for cabin crew and baggage handlers, he said the airline would "wait and see what comes" in other parts of the workforce.
Ialpa pilots backed industrial action by a margin of 94% to 6% in secret ballots conducted earlier this month.
The organisation, which is part of the IMPACT union, said the dispute was over "Ryanair management's refusal to enter direct negotiations with the European Employee Representative Council (EERC) or Ialpa as the sole independent representative body for pilots working in the company".
The airline has so far refused to recognise the EERC or Ialpa, and insists that any discussion of pay and working conditions be conducted through management-controlled 'employee representative councils'.
A spokesperson for IMPACT said it had not yet received a letter from Ryanair management regarding the current dispute. The union will consider what action to take and respond to the airline when it did receive contact, the spokesperson said.
- With reporting from Gráinne Ní Aodha