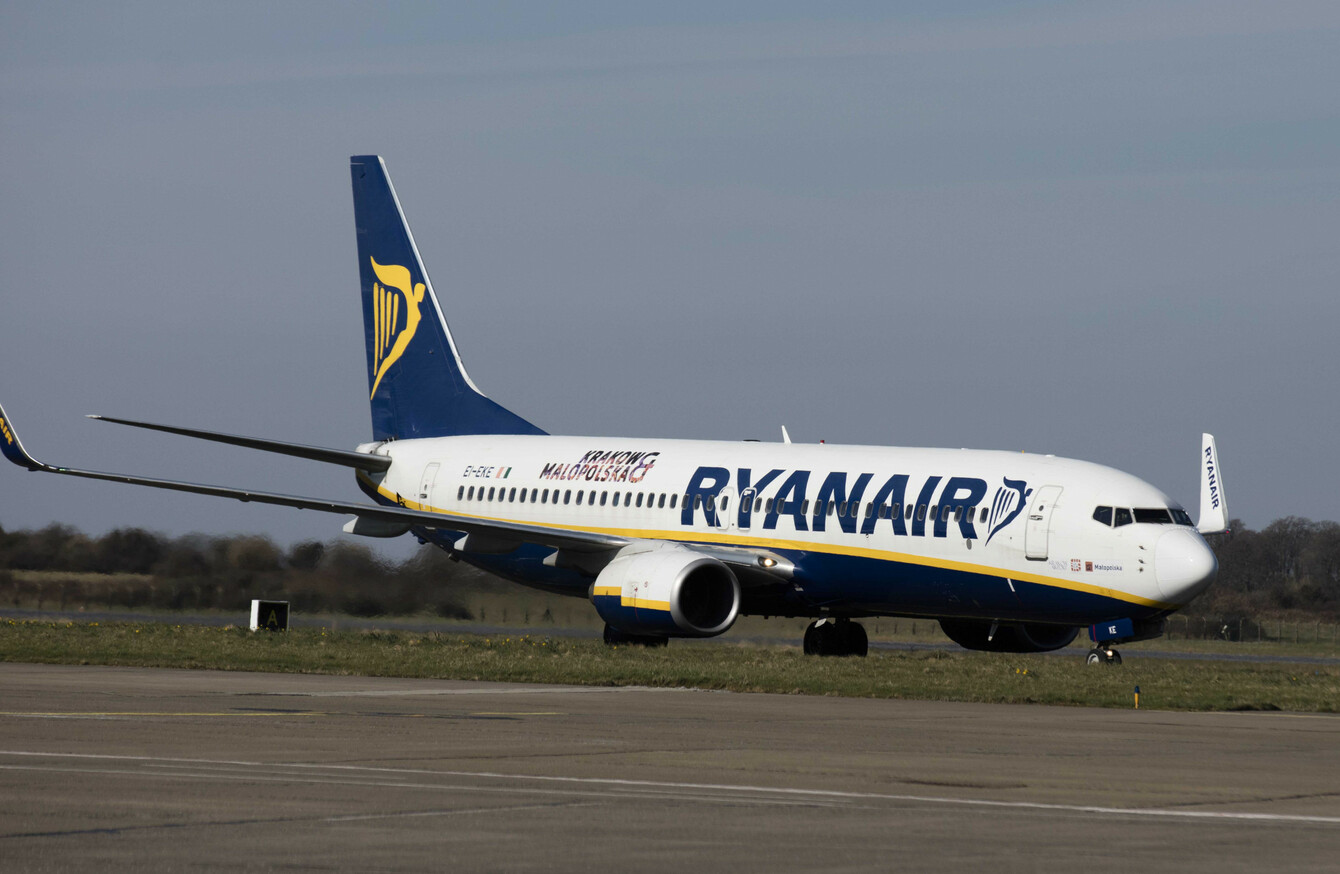 Image: Eamonn Farrell via RollingNews.ie
Image: Eamonn Farrell via RollingNews.ie
Updated Aug 1st 2018, 5:28 PM
RYANAIR HAS CALLED for new talks to happen with trade union Fórsa after this Friday's pilot strike action as "the damage has now been done".
The airline said last week that it has cancelled 20 of its flights to and from Ireland this Friday 3 August, as pilots from the union Fórsa are set to strike for a fourth day.
It said that all 3,500 customers affected by the cancellations have already been notified by email or text message.
It is set to offer refunds or re-accommodate passengers on other Ryanair flights to and from the UK.
In a letter to Fórsa this morning, Ryanair said: "Since 20 of our 300 flights have already been cancelled and 3,500 passengers re-accommodated, the damage has now been done by this strike and cannot be reversed."
Ryanair has now invited Fórsa to meet with it either on Saturday or any day next week, so it "can get down to the serious work of resolving this dispute".
"We have already sent you a written summary, which explains how Ryanair has agreed nine of your 11 requirements. IALPA's letter of 29 July shows there are clear misunderstandings on your side which could be resolved at this meeting," the letter said.
Please now confirm that you will accept to meet us, and that no further strikes will be called – at least until this meeting has taken place – and a genuine effort made to resolve this dispute without any further interference by Capt. Evan Cullen or other Aer Lingus pilots so we can all try avoid any more disruptions to Irish customers, particularly when there is so little remaining difference between us on Forsa's 11 requirements.
Last week, Fórsa warned further strike action would follow later into August unless the company "changed tack" and "negotiated in good faith" on issues around base transfers and related matters.
Ryanair's chief executive Michael O'Leary has warned the airline may shift jobs and planes to more profitable areas if the strikes continue.
"These unions have to learn that Ryanair is not some legacy airline that's going to roll over every time we're threatened with a strike," O'Leary told investors on Monday, Bloomberg reported.
Last Wednesday, the airline announced it could cut up to 20% of its Irish-based fleet this winter, and cited the ongoing strikes in its statement.
Additionally, it emerged yesterday that O'Leary lost out on almost €1 million in bonus pay last year, after volunteering to waive all of his performance bonuses as a result of the pilot rostering failure at the airline.
Sweden and Germany 
Meanwhile, it was announced by the Swedish Air Line Pilots Association's (SPF) president Martin Lindgren this morning that Ryanair pilots in Sweden are set to strike on 10 August.
Lindgren has said it has tried to initiate negotiations with Ryanair over the past eight months without success.
He said all proposals from Ryanair given to the union during negotiations to date have included restrictions in how the union's members are organised and represented, "something that is unacceptable to a union".
The strike notice was issued to Ryanair yesterday.
"We sympathise with passengers that are affected by this strike," Lindgren said.
"It is unfortunate that a third party will be affected but we don't see any other option than letting our members use their legal right to strike," he said.
Also, Germany's Cockpit union gave Ryanair until 6 August to submit a proposal for negotiation, noting that talks last Friday had broken down with no agreement.
"Since the start of our negotiations in January, Ryanair has been playing for time and even if Ryanair is not taking this ballot seriously, industrial action like in other European countries seems unavoidable in Germany as well," the union said.
Ryanair said it remained open to further talks with pilot representatives to discuss union recognition and collective labour agreements.
"In the interim, we have requested these pilot unions to give us seven days' notice of any planned strike action so that we can minimise the disruption to our customers by cancelling flights in advance and offering them alternative flights or refunds," a company statement said.
Contains reporting from © AFP 2018 and Órla Ryan