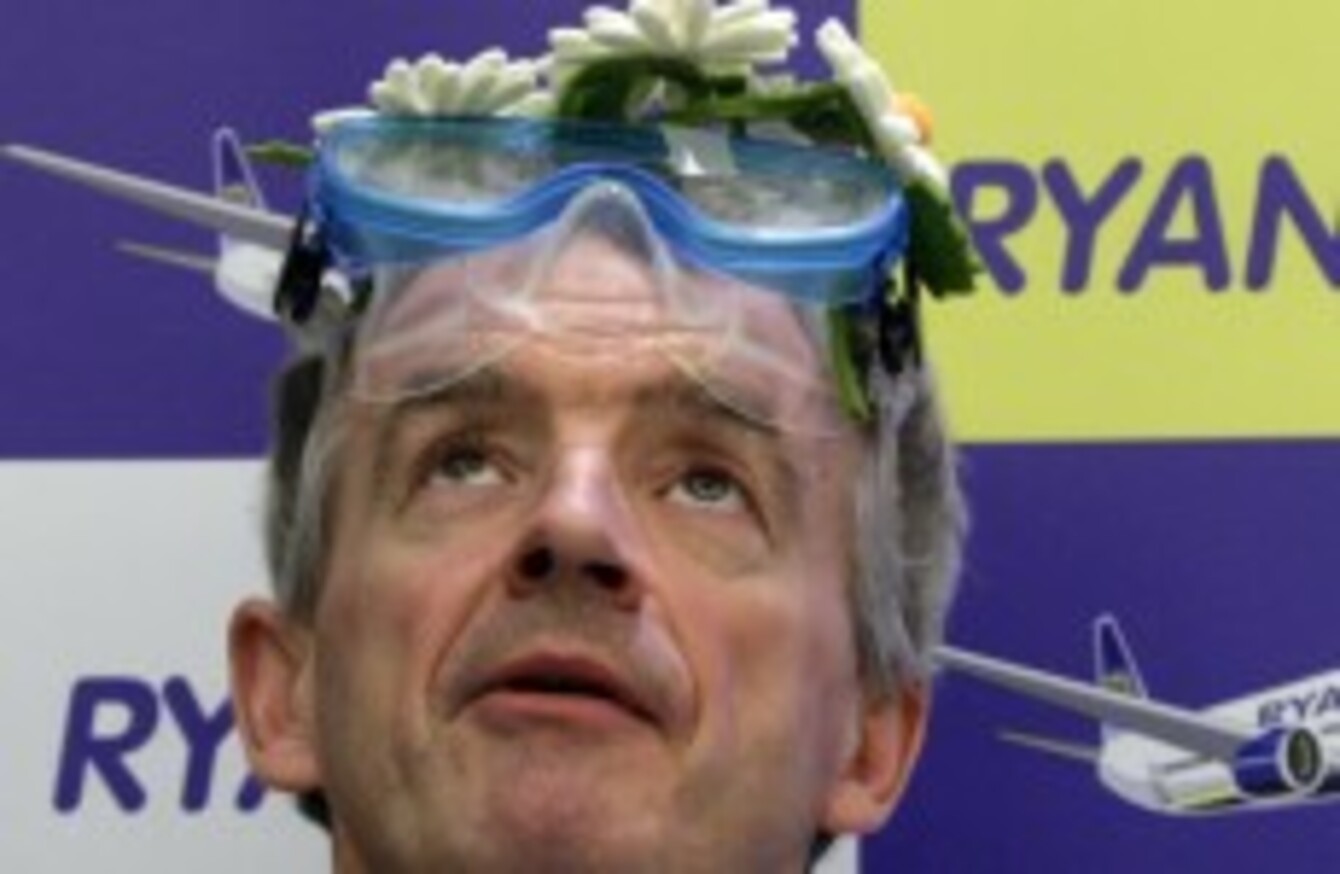 Ryanair CEO Michael O'Leary
Image: AP Photo/Virginia Mayo
Ryanair CEO Michael O'Leary
Image: AP Photo/Virginia Mayo
RYANAIR BOSS MICHAEL O'Leary is hoping for a 'price war' with rival airlines over the traditionally quiet winter months.
The budget carrier this morning announced it had topped €1 billion in profits for the first six months of its financial year, which covered the period to the end of September.
The figure was up 39% on the same time in 2014 due to both higher profit margins and nearly 7 million more passengers flying with the airline.
Speaking about the results, O'Leary told Bloomberg Ryanair was ditching its previous strategy of grounding aircraft in winter and instead increase its routes and cutting prices.
"What's going to drive our growth in the winter is we plan to lower fares," he said.
We will keep them flat in the third quarter, which is our Christmas quarter, and then down 4% in the first quarter next year, at a time when most of the competition are either raising prices or withdrawing capacity from our markets."
A price war
When asked if there would be a "price war" over the winter, O'Leary responded: "I hope so."
The airline forecast capacity would be up 22% in the three months after Christmas. It will add 119 routes to its winter schedule, including four-times daily Dublin to Amsterdam flights.
It will also open four bases including on the Greek island of Corfu and the company said it expected double-digit growth in Ireland and seven other countries.
Ryanair had already locked in the current cheap fuel prices until 2017, which gave it the ability to lower fares another 10%, O'Leary said.
If anyone want to have a fare war in our markets just let us know and we'd be happy to meet you."
Late adopters
The airline also relaunched its website as the CEO admitted the company had been behind the technology curve.
"We've been late to big data, we've been late to the mobile app but we've been catching up very quickly," O'Leary said.
I think what makes us different is we have such a cost advantage over every other airline, all we have to do is keep rolling out that cost advantage."
Ryanair lifted its yearly passenger target to 105 million and predicted its net profits could reach €1.225 billion for the 12 months. Its long-term goal was to carry as many as 180 million travellers each year by 2024.