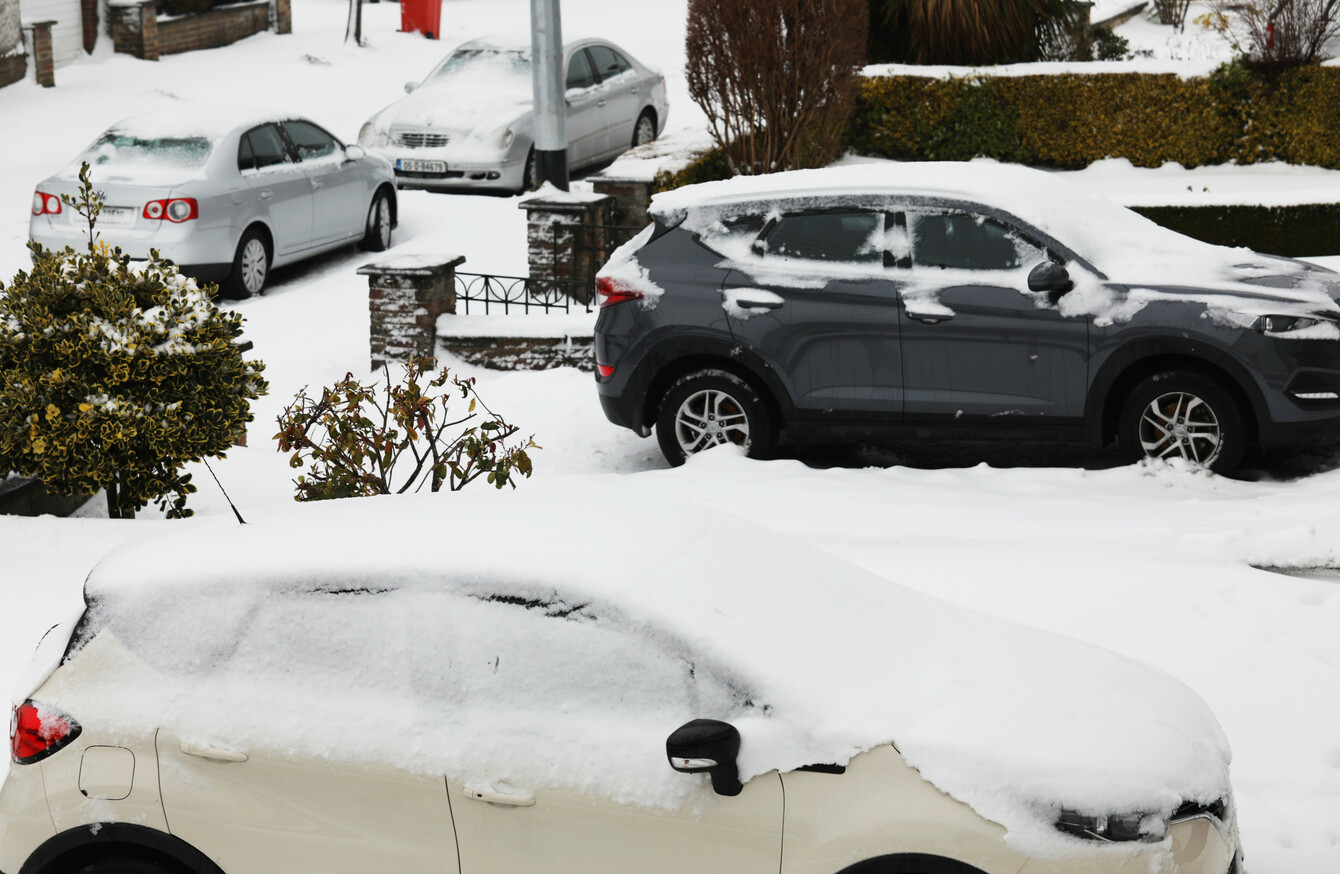 Image: Leah Farrell via RollingNews.ie
Image: Leah Farrell via RollingNews.ie
THE ROAD SAFETY Authority (RSA) is warning motorists not to be lulled into a false sense of security as red weather warnings are lifted today.
Orange warnings are still in place and roads are treacherous,and some impassable in many parts of the country. Drivers are urged not to make any unnecessary journeys in areas badly affected by the recent snowfall.
A statement from the RSA said that it is vital "you don't end up getting stranded or causing an obstruction while local authority vehicles clear roads".
"Where travel is absolutely unavoidable road users should check conditions and traffic reports in your area, along the route and at your destination before considering making any journey."
For those who have decided to drive, the RSA has issued the following advice:
Remove all snow from your vehicle before starting the journey.
Clear windows and mirrors before you set out,
Use a screen scraper and de-icer.
Do not use hot water on the windscreen as it can crack the glass.
In snow and icy conditions slow down, use all controls delicately and leave extra distance between you and the vehicle in front.
Avoid over steering and harsh braking and harsh acceleration. Use the highest gear possible to avoid wheel spin. Select a low gear when travelling downhill especially if through bends.
Road users also need to remain vigilant as the snow and ice begins to thaw. Thawing snow and slush will build up at road sides. Slow down as there may be a risk of localised flooding as the thaw starts and this will increase the risk of aquaplaning.
The RSA added: "Pedestrians are reminded that footpaths may not be treated so walk with extreme care. Make sure you are wearing appropriate footwear, wear shoes or boots with appropriate traction."
Falling snow 
Dublin Fire Brigade has also warned the public to beware of snow falling off roofs in the next day or two.
There are also icicle warnings. Emergency services said falling icicles and chunks of snow pose a serious risk to health and urged the public to be aware of what's happening above you, and to stay clear from the edges of buildings.