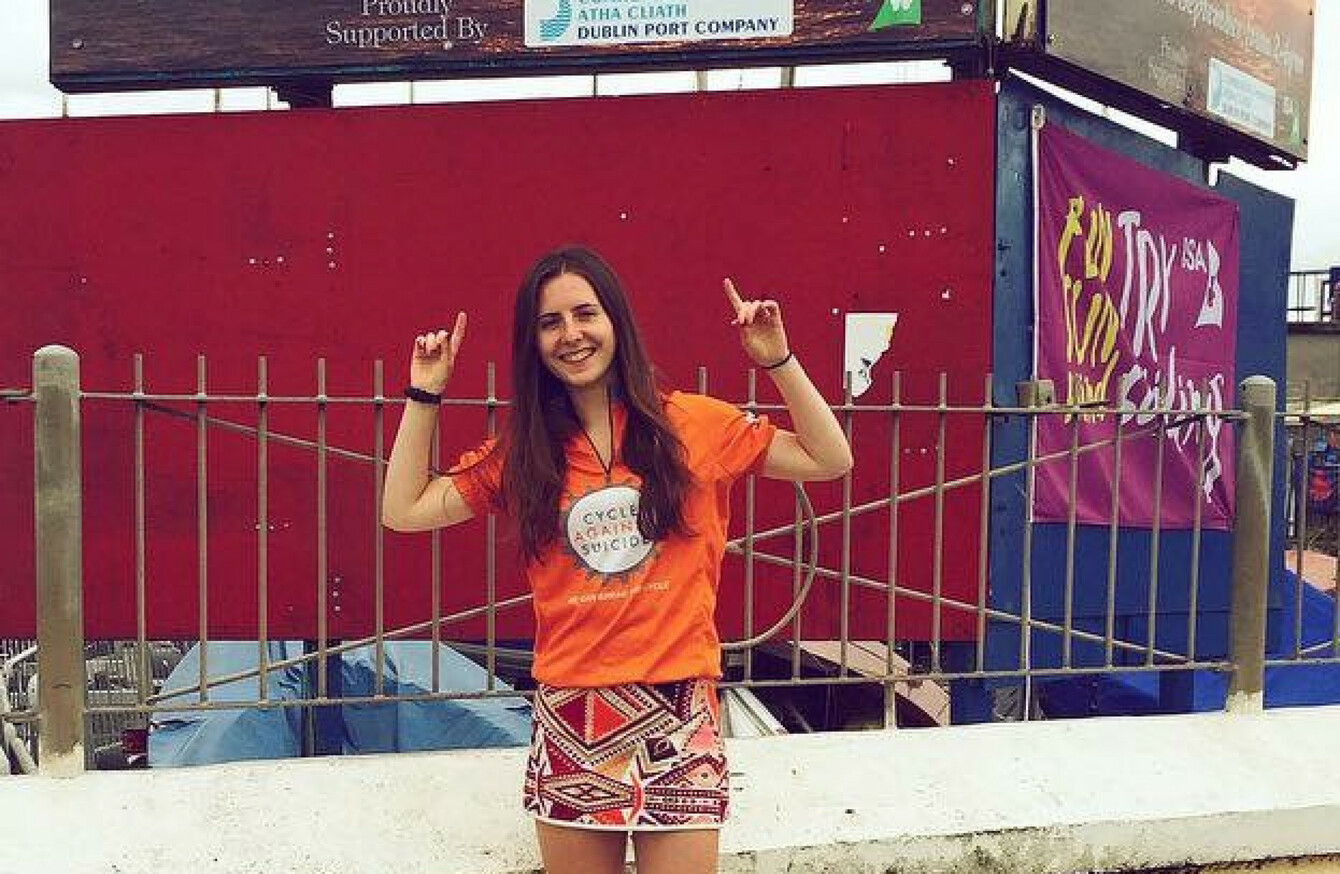 Jessica Clohisey
Image: Jessica Clohisey
Jessica Clohisey
Image: Jessica Clohisey
A DUBLIN TEENAGER has been campaigning for mental health awareness for years and this September she's set to host her third annual Sail Against Suicide event.
Jessica Clohisey (18), a student at Manor House in Raheny, set up Sail Against Suicide in 2015 after becoming a student ambassador for Cycle Against Suicide.
Taking place in Clontarf in Dublin on 9 September, the aim of the sailing event is to spread the message that it's ok not to feel ok. Last year, 120 sailors took to the water to participate in the awareness day and hundreds more came to watch from the beach.
Clohisey's journey into Sail Against Suicide began in August 2015 when she was selected to go on a retreat programme with Cycle Against Suicide and earned a certificate which made her a student ambassador for the programme.
"Those two days provided me with a major dose of reality. This was a serious problem that needed to be addressed," Clohisey said.
"I'm one of those people where when I spot a problem or someone needing help, I do my very best to help that person or solve the problem.
So this was no different. I was going to do absolutely everything in my power to raise awareness in my community of Clontarf, in regard to mental health.
From there, Clohisey took it upon herself to set up the first Sail Against Suicide event that September.
"The main problem I found was that there's nothing for young people, no events that young people could get involved in. That's when I took it upon myself and said 'Well I'm a sailor and I know there are so many young sailors in my club, why don't we do this?'" Clohisey said.
Within a day, she created a Facebook event page, stuck posters around Clontarf, and secured sponsors from local businesses.
Three weeks, two national radio station interviews and over 30 sponsorships later, the first ever Sail Against Suicide took place with over 200 participants.
"I was overwhelmed with the result and Sail Against Suicide is now an annual event. It addresses a serious issue in a fun, modern way," Clohisey said.
Clohisey told TheJournal.ie that you don't have to be a sailor to attend and you don't have to openly discuss mental health if you do, because "for the few hours that you're there, mental health is in your mind and you're constantly thinking about it".
'I knew I was doing the right thing' 
Clohisey said that the event wouldn't have happened without the motivation and support provided by her school.
"Six or seven teachers attended on the day and that's what made it so special," she said.
At the beginning of transition year, before getting involved with Cycle Against Suicide, Clohisey's guidance counsellor approached her and asked her to join the mental health promoting committee in the school.
"It was as if she knew I had an underlying passion for mental health awareness. You know when you get that feeling in your stomach and you know you are doing the right thing? I knew that day I was doing the right thing," she said.
Manor House is an ambassador school for Cycle Against Suicide and it has an orange painted 'Smile Room', within its building.
Dedicated to mental health, the room is full of support service leaflets and positive quotes.
Past the stigma stage
Clohisey told TheJournal.ie that one of the main reasons she set up Sail Against Suicide is because she thinks that Ireland is past the stigma barrier stage of mental health awareness.
My age group are past the stigma stage, we know that people are dealing with mental health issues in society.
"Now, it's time to ask what we should do about it. I know with the older generations, they are still struggling to talk about it and they're still pushing it under the carpet, whereas the millennials know the problems are there," she said.
She said that the young people of Ireland need to be given the opportunity "by the government, by schools and by colleges to trust us more on our views and our thoughts".
To get the ball rolling, Clohisey suggested that every school in Ireland should have a mental health committee, like Manor House, or a mental health hour once a week.
"It's about saying to students that there is someone there to talk to."
Although Sail Against Suicide aims to raise awareness instead of fundraising, the event raised over €1,000 last year. The money was donated to the mental health charity Aware and Cycle Against Suicide.
For more information about the event which runs from 12-6pm on Saturday 9 September, click here.