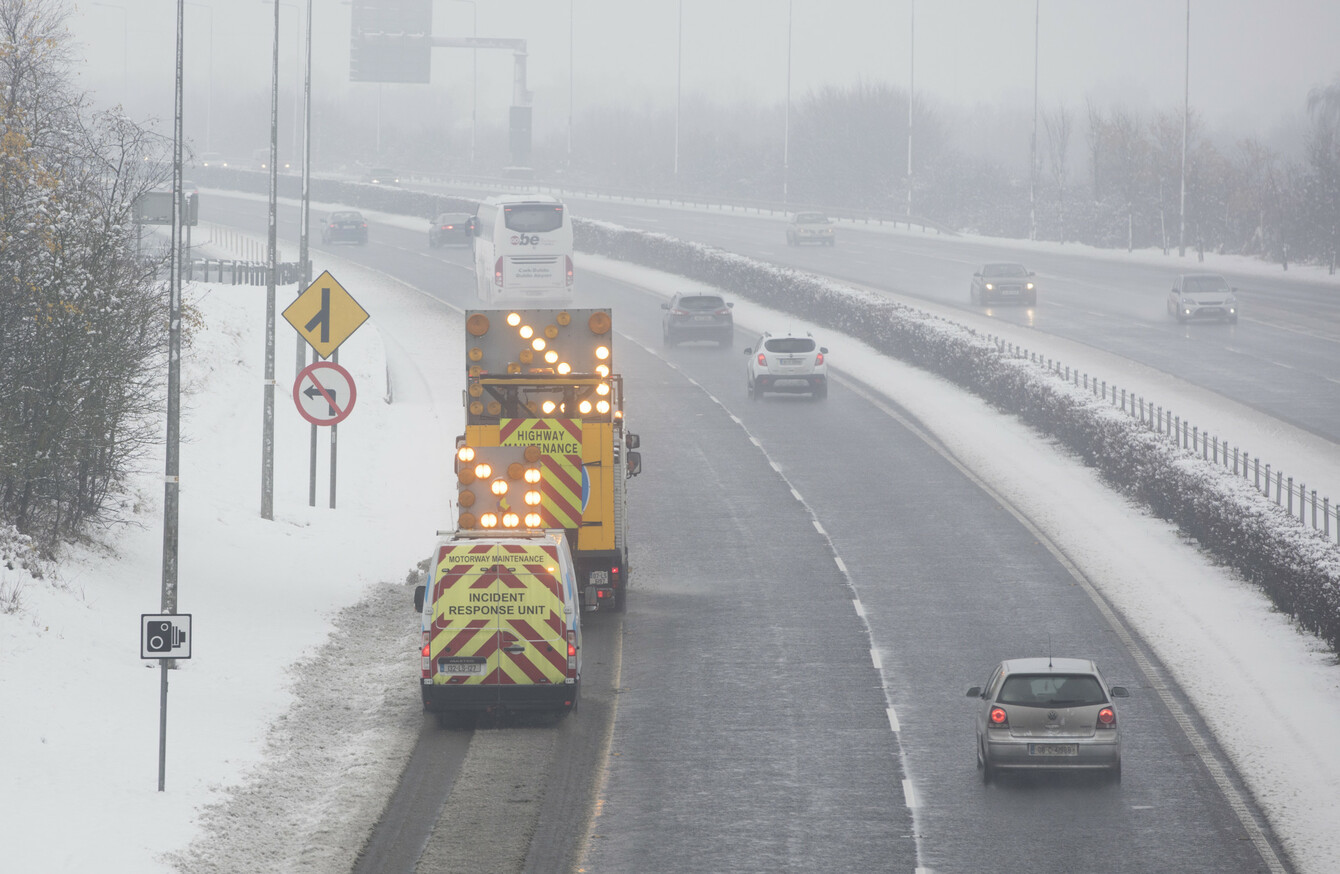 Image: Eamonn Farrell/RollingNews.ie
Image: Eamonn Farrell/RollingNews.ie
THE BIG FREEZE of 2010 caught the country by surprise. No one expected it would be so cold, or that so much snow would fall. And the country did not have the infrastructure to deal with it.
In particular, the roads were treacherous and local authorities struggled to make them passable again – the country even ran out of salt at one point.
Eight years later and a salt shortage is no longer a concern at any time of the year – nor is it likely to be in the future. Ahead of the storm this week, Transport Infrastructure Ireland's Seán O'Neill said we had "ample supplies" of sale – 120,000 tonnes to be exact.
Speaking to TheJournal.ie on Thursday, he said serious lessons were learned from the 2010 big freeze and the system was completely overhauled.
"Before, we had to get in a queue with France and Germany and everyone else who was looking for it at the time. We had to go knocking on everyone's doors, hat in hand and chequebook blank and it made it very difficult. People can take advantage and charge a premium.
"This was one heck of a lesson, so we knew we needed to look at what we learned and then decide what to implement."
He said now there is a framework contract with a private operator and now we buy the salt in bulk and at off-peak times, like during the summer.
This means the costs are kept down and access to the product is guaranteed. Proper storage facilities have also been installed across the country so that local authorities always have stocks of salt to grit the roads whenever there is a bit of frost overnight.
"It's really made a big difference – that and the fact that we have about 330 pieces of equipment in the national network too, to clear the roads."
O'Neill said the that in general, the level of preparedness for severe weather in Ireland has "definitely improved" in recent years.
"The government has put together all the central elements into one portal. They all know what's going on – the Civil Defence, the HSE, the ESB – they are all sitting around the table, all communicating to one another in one location at one time so it really does show a coordinated effort."