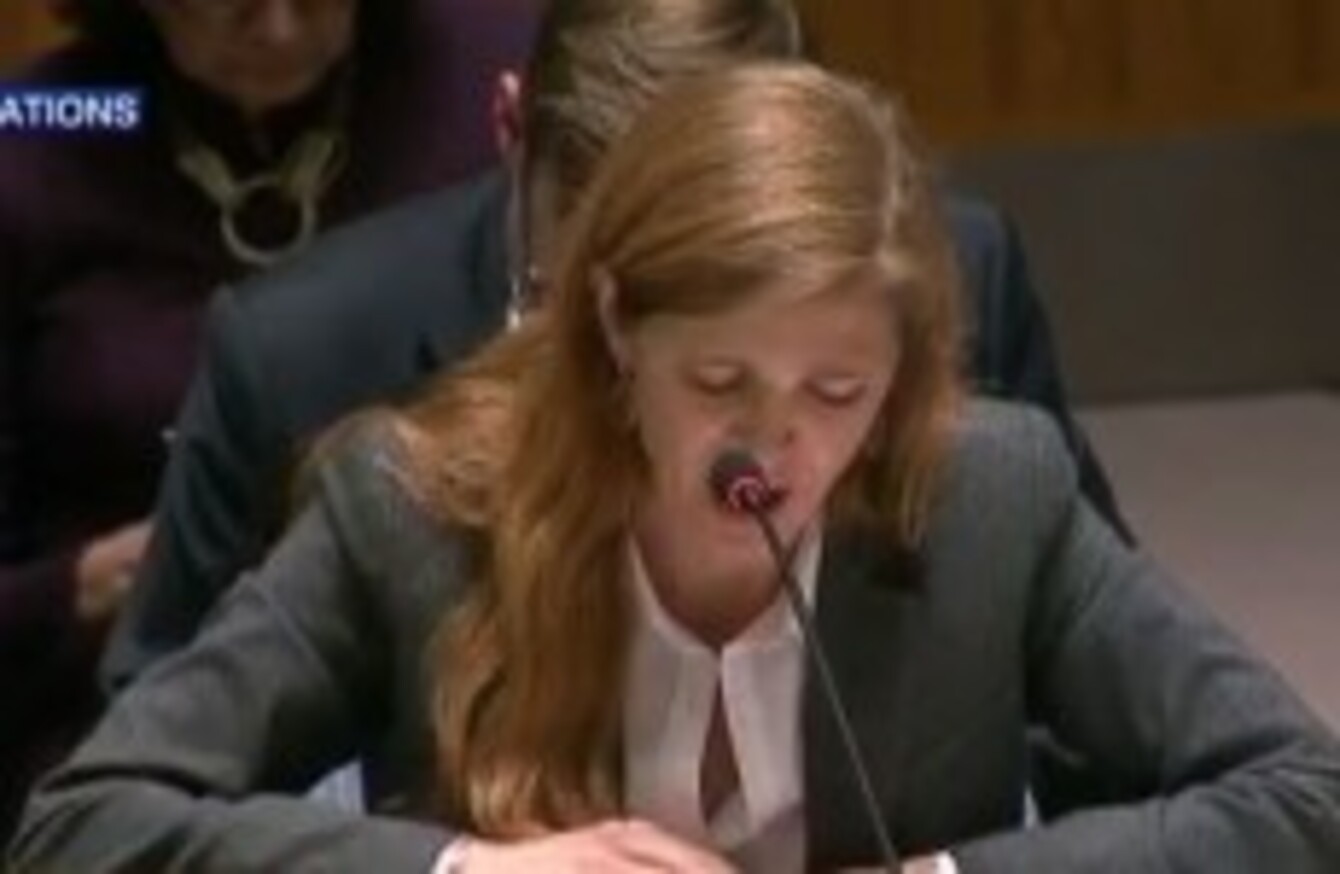 Image: Screengrab
Image: Screengrab
THE IRISH-BORN US Ambassador to the UN last night accused Russia of 'responding to an imaginary threat'.
Samantha Power told the UN Security Council that a suggestion by the Russian ambassador that Russian speakers in Ukraine were being persecuted was off the mark.
"Russian military action is not a human rights protection mission. It is a violation of international law and a violation of the sovereignty and territorial integrity of the independent nation of Ukraine, and a breach of Russia's Helsinki Commitments and its UN obligations.
"Russian military bases in Ukraine are secure. The new government in Kiev has pledged to honour all of its existing international agreements, including those covering Russian bases. Russian mobilisation is a response to an imaginary threat."
(JustBreakingNews/YouTube)
Power, who was appointed to the role by US President Barack Obama last year, said that Russia had every right to be upset with the events in Ukraine that led to the ousting of Prime Minister Victor Yanukovych, but did not have a right to respond militarily.
"The leadership in Moscow may well be unhappy about former President Yanukovych's decision to flee Ukraine and move in with them.
"Russia may be displeased with the new government, which was approved by Ukraine's parliament by an overwhelming majority, including members of Yanukovych's own party.
Russia has every right to wish that events in Ukraine had turned out differently, but it does not have the right to express that unhappiness by using military force or by trying to convince the world community that up is down and black is white.
She concluded that despite "self-serving rhetoric", there was "nothing that justifies Russia's actions".
"What is happening today is a dangerous military intervention in Ukraine. It is an act of aggression. It must stop. This is a choice for Russia. Diplomacy can serve Russia's interests. The world is speaking out against the use of military threats and the use of force. Ukrainians must be allowed to determine their own destiny."