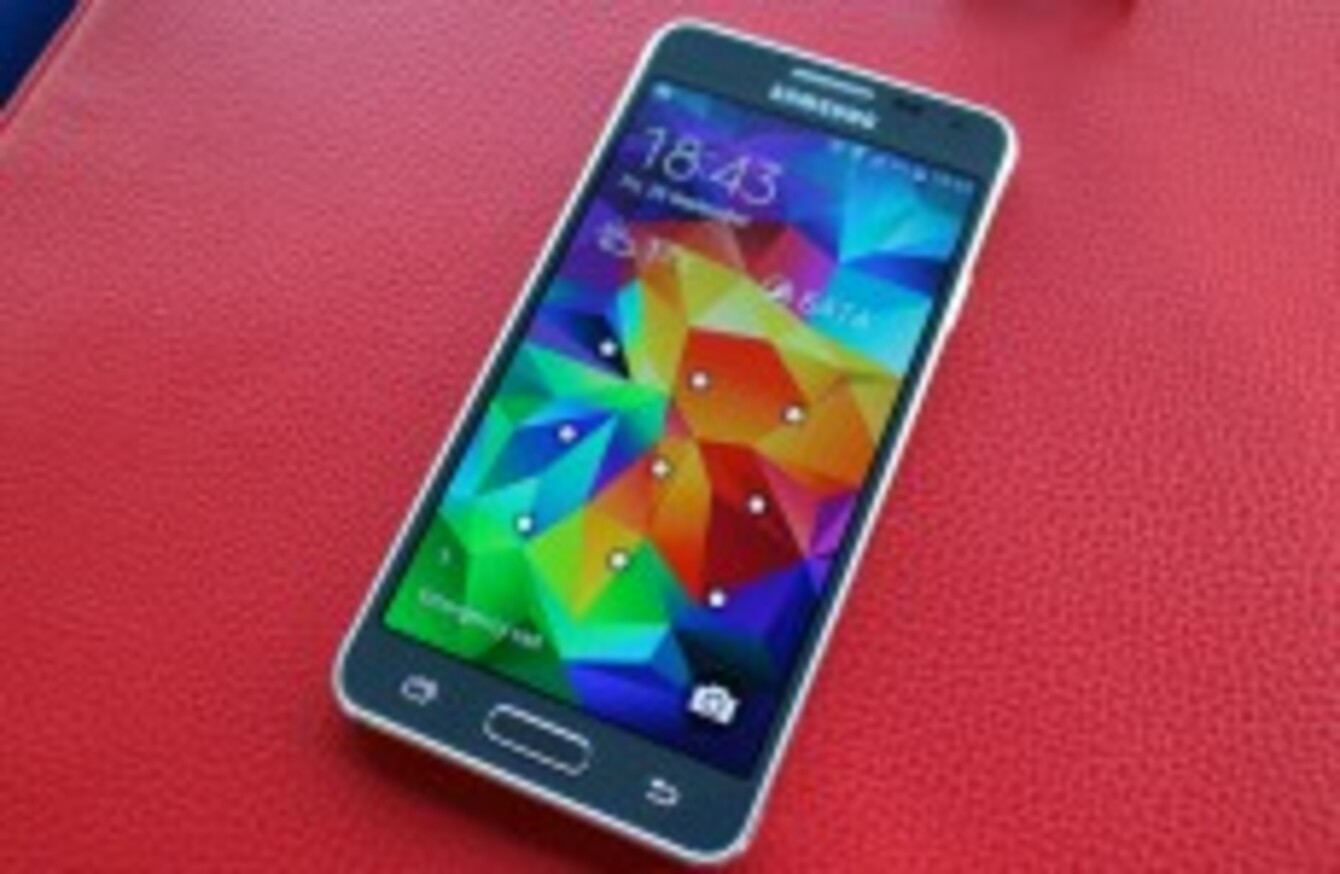 Image: TheJournal.ie
Image: TheJournal.ie
IF THERE IS a company that really wants to win the smartphone race, it's Samsung.
Earlier this year, it released the Galaxy S5, which was a great phone which focused more on adding features over the hardware, but was criticised for sticking to its plastic design.
Now, it has responded to this criticism with the release of the Galaxy Alpha. Using a metallic design, it hopes to set a new path for the company, but is this the future for Samsung devices?
Unique selling features
- Premium metal design and light feel.
- Updated with latest version of KitKat (Android 4.4.4).
- Most Galaxy S5 features are present here (fingerprint scanner, ultra power saving mode, etc.).
- 12MP camera and 2.1MP front-facing camera.
Look and feel
The first time you hold the Alpha in your hands, you'll immediately notice its weight. It's incredibly light and thin (its body is 6.7mm) to the point that if you put it in your pocket, there's a good chance you almost forget it's there.
The device uses a metal frame, but it still uses a removable back cover – made out of plastic but with a rubber casing – which will be great news to those who like to keep a spare battery handy.
The metal edges and the lightness of the device makes it almost feel like you're holding something hollow, but overall, there's a definite improvement in the style and feel of the device.
Hardware and Software
If you're familiar with the Galaxy S5, then you will know what to expect here. Practically all of the software features and hardware has been practically ported here, but with a small downgrade in actual specs.
That's the price it pays for being so light, but to be fair, the downgrade isn't noticeable unless you really, really push it to its limits, and 2GB of ram and a quad-core Snapdragon 801 processor is enough power to compete with rival flagship devices.
The decision to go for a 4.7-inch screen is very much designed towards those who would prefer to access everything with one-hand, which wasn't exactly possible with the S5′s 5.1-inch screen.
More seasoned Samsung users might be disappointed to hear that the Alpha doesn't come with a slot for an SD card. Granted, the Alpha has 32GB of memory which is more than enough for most users, but the option to add to that would have been nice.
The software is virtually identical to the S5 and everything you expect from it is present here: fingerprint scanner, fitness counter, ultra power saving mode, and the redesigned settings page are here.
That also brings with it the same frustrations like the overloaded settings bar, and the constant insistence of running Samsung software like My Magazine automatically, and you will likely revert to a swipe or pin password for the lock screen as the fingerprint scanner isn't the most practical, requiring you to swipe just the right way.
With two hands, this is fine, but since it's designed for one-handed use, it's going to be hit and miss.
To its credit, the battery life is quite good. After regular use of it for a day, you could find yourself left with 20-30% of battery power which if you combine with ultra-power saving mode, can keep you going for a whole day.
Camera
The Alpha uses a 12MP camera which again is a drop from the S5′s 16MP. You will still get good quality shots and the camera software is identical. Provided you get the focus right (and you're not in a low-light situation), you can get some good shots, although the shutter speed can be a little on the slow side.
St Stephen's Green

Source: TheJournal.ie

Horse and carriage

Source: TheJournal.ie

Statue 1

Source: TheJournal.ie

Lion image

Source: TheJournal.ie

Statue 2

Source: TheJournal.ie

Roadway

Source: TheJournal.ie
The same camera features are present, and can come across as a little overwhelming to those not familiar with them.
Chances are you will play around with the fast forward and slow-motion features the camera brings (the vines below show both features in action), although if the lighting isn't right, then you could be facing some problems.
Here's the fast forward function in action, going at eight times the usual speed.
Source: TheJournalTech/Vine
And here's the same camera recording something in slow-motion, eight times slower than a normal recording.
http://vine.co/v/OZTQeUJ66hP
Conclusion
On balance, the Galaxy Alpha is a great phone. The look and feel is much improved and the slight hardware drop is almost unnoticeable, but more importantly, whether this the smartphone that will convert non-Samsung is a difficult one to answer.
The irony is that while Samsung has created a device that matches the specs, its biggest competition is actually itself.
If you're not a fan of Samsung's interface, then there's virtually nothing here that will change your mind.
If you're are a fan, then chances are you will either have the S5 or you're waiting for the Note 4 to arrive, both of which have better hardware than the Alpha, and unless you really prioritise style over practicality, it's probably better to go for one of the two.
Still, that's probably being harsh on what is a solid device and if this is the direction Samsung is taking, then it's certainly a welcome one. If it can later combine the specs of future Galaxy S devices with the metallic design, then it will be onto a winner, but until then, consider this a statement of intent.
The Samsung Galaxy Alpha is currently available in Carphone Warehouse (€569), Three (€569), O2 (€549) and will be coming soon to Vodafone. Prices given are for Pay As You Go.