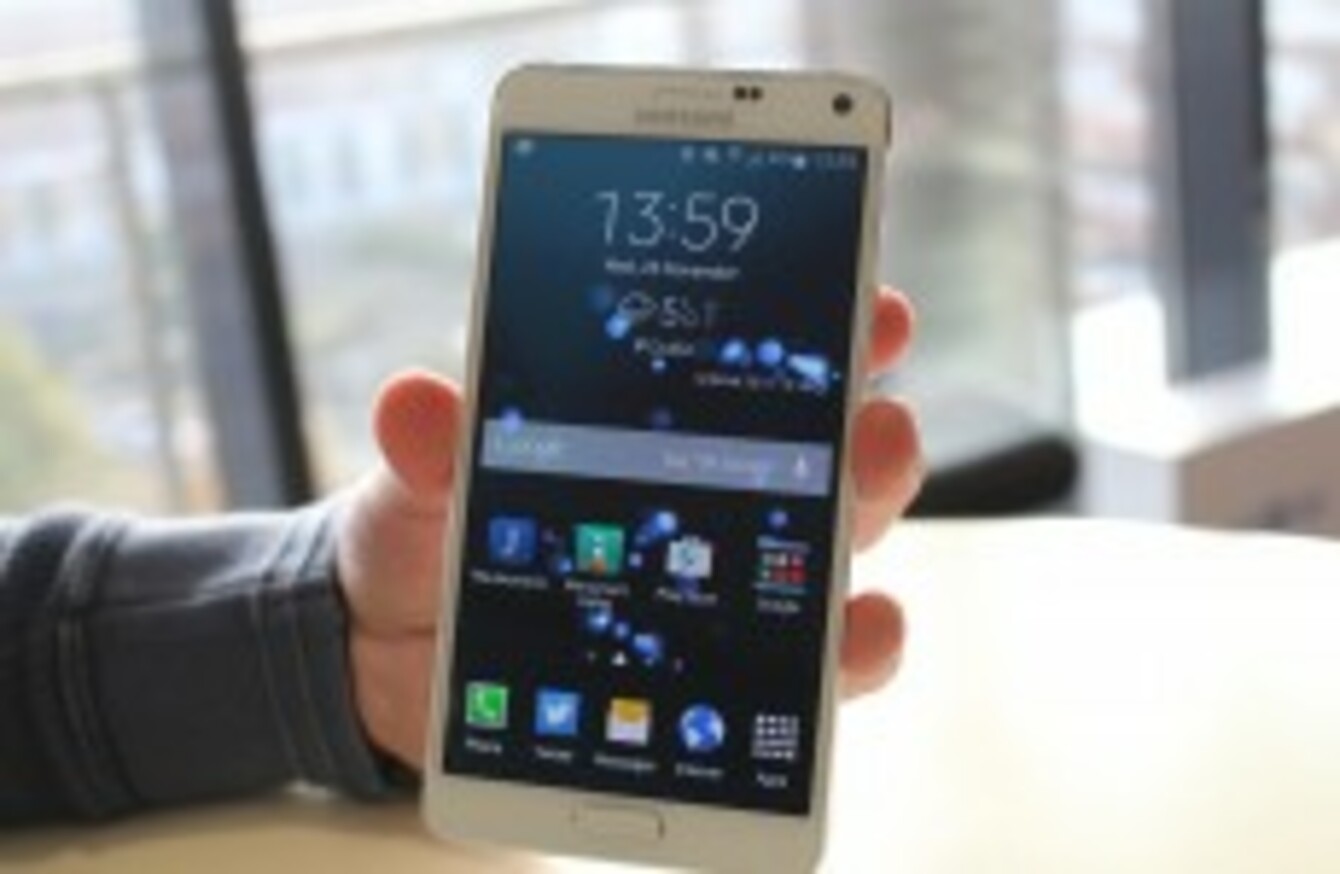 Image: TheJournal.ie
Image: TheJournal.ie
WHEN THE ORIGINAL Galaxy Note appeared back in 2011, it was probably fair to say that Samsung's larger than usual phone was both an anomaly and a curiosity.
Thoughts like 'a 5.3-inch screen is too big', 'who would want a phone that barely fits into your pocket?',  and 'who came up with the word phablet?!' were thrown about before the device even arrived.
Fast forward to today and things have changed (well, with the exception of phablet). Phone screens have grown in size and now it has two main rivals, Apple's iPhone 6 Plus and Google Nexus 6, as the lines between it and smartphones blurs.
With the fourth iteration here, Samsung has had enough time to perfect the range and keep itself one step ahead of the competition, so how does it shape up?
Look and feel
If you're familiar with the Galaxy Alpha's build, then you will know what to expect as aluminium sides, plastic backing and a Gorilla Glass display are all here.
The obvious difference is just how large the device is. Even for those with larger hands, a phone that size is going to take a bit of getting used to, and it's not one you can properly use one-handed.
The obvious comparison this will get is to the iPhone 6 Plus, while nice to hold, always gave you the impression that if you became careless, it would slip out of your hand. The Note 4′s sides are flat and therefore holding it feels more secure although with any device that size, you still have to exercise a degree of caution.
Both devices are pretty thin which helps when holding it, and the Note 4 is the right weight for such a device, making it feel like a phone. Speakers are located at the back with two small openings, USB/charger port at the bottom and beside that is a slot for your stylus. The top of it has a small ridge which makes it easy to take out, but it's virtually unnoticeable when it's slotted in.
Hardware and Software
In short, the hardware is excellent. It has three CPUs (all quad-core) with 2.7GHz, 1.3GHz and 1.9GHz means that the very thought of slowdown doesn't exist. This is down to the Note 4 prioritising multitasking, usually in the form of two apps running in splitscreen mode
That extends to the 5.7-inch screen which boasts a 1440 x 2560 pixel display. This makes everything you see incredibly sharp, and when you're playing visually stunning games like Monument Valley on it, the results can be absolutely glorious.
A larger battery usually equals longer lifespan and it's also quite impressive too. On normal use, it was able to last a day and a half, and you can reasonably expect that to be the case.
Perhaps the only weakness from the hardware side is the speakers, located at the very back of the device. They're not bad, but you do feel like the sound quality is lacking a little when you're watching a movie or playing a game.
The software that Samsung uses is the exact same as the S5 and the Galaxy Alpha, with a few small changes here and there. Stylistically, nothing has changed and when you compare it to the Lollipop update, you begin to feel that the current style Samsung has opted for is beginning to show its age.
That isn't as important as you might think since the Note 4 is very much geared towards productivity and multitasking. Despite the interface being cluttered, what it does right works incredibly well.
Running two apps simultaneously and multitasking is as useful as ever and at no point do you ever feel like it's having problems keeping up with your demands.
Minimising is really limited to a few apps, but it's handy to have Google Maps on screen while you're checking an email for an address, or tweeting an article while you're reading it.
The camera is also pretty sharp too with a high quality front and rear camera, 3.7MP and 16MP respectively, and if you familiar with any other Samsung device, you'll know what to expect here. While the rear camera is great for outdoor shots, it does have some difficulty focusing on low-light situations, which is a pity.
Samsung Galaxy Note 4

Source: TheJournal.ie

Samsung Galaxy Note 4

Source: TheJournal.ie

Samsung Galaxy Note 4

Source: TheJournal.ie
Stylus & Functionality
One of the main features of the Note 4, it's entirely possible to use the device without once taking the stylus – or 'S pen' as it's called – out, although you would be missing out on some useful features.
The device recognises when you take the stylus out and will automatically bring up the specialised menu for it. You have the choice of action memo (basically a notepad), Smart Select (capture a screenshot and extract text from it), image clip (capture a freeform screenshot) and screen write (capture a screenshot and write on it).
The screen certainly is big enough to cater for all of these functions and the ability to group screenshots and notes for sending is handy to have when you're taking shots from different apps.
There are some minor niggles though. For one, the stylus isn't the easiest to hold. Samsung has gone for a rectangular shape which makes sense since you're storing it in the device itself, but it just doesn't feel overly natural to hold.
You feel like you have to fumble it around a little to get the grip right before using it and if you're switching from finger to stylus input regularly, then it might get annoying.
The other minor issue is the smart button which brings up the stylus menu. For the Note 4 to recognise you're pressing it, you have to hold it incredibly close to the screen, and there are moments where it won't recognise it unless you're practically touching it.
For screenshots, it's brilliant, and to be honest, you can resort to using it instead of your fingers for most tasks, but it may be a case that you will find using your fingers the better option for most tasks.
Its usefulness really boils down to how much you enjoy writing. Using a stylus on a screen isn't the most natural process since there's no physical feedback, but once you get used to it, you could use it almost all the time, save for one or two situations.
Gear VR
Considering the role the Note 4 plays in Samsung's VR ambitions, it would be remiss of us not to mention the Gear VR, a headset that's sold separately and is created in partnership with Oculus Rift.
When we tried it out two months ago, the software running on it was still in the early stages, but it looks like it has potential.
The graphics aren't as sharp as what you would find on Oculus Rift, but you can still make out what's happening and it's just as immersive as its cousin. The latency and tracking is relatively smooth, a little jerky at times, but it's pleasant and will build up a catalogue once Oculus Rift comes out (both companies have been encouraging developers to create games/services for both platforms so there will be an overlap).
Powering this experience is why the Note 4 is packed with fantastic hardware and great battery life, but whether people will want to pay an extra €230 on top of paying for the Note 4 is another story.
Summary
The Note 4 is easily the best smartphone in Samsung's range and despite the high price point, it will be a long time before you will feel the need to upgrade if you purchase one.
If you're choosing between this and the iPhone 6 Plus, the device you go for really boils down to the type of functionality you want to have on a phone. iOS goes for simplicity, essentially making the 6 Plus a larger iPhone. It's one that has its own pros and cons, but you know what you're getting.
If you prioritise tasks and productivity, then the Note 4 wins hands down. It's effectively a mini-computer which initially goes against the idea of a smartphone, but the little additions Samsung adds to its phablet software like split-screen functionality is incredibly handy, and if you like the inclusion of stylus controls, then it's a no-brainer.
If you already have a Note 3 – or even a Note 2 – then you won't find enough to justify the upgrade, but if you're able to get over the size of it, this is a phone you're going to love.
Pros
- Great screen and display
- Fantastic hardware and camera.
- Multitasking is a breeze.
- Stylus is greatly improved.
Cons
- Until Lollipop arrives, some might find the software style a little dated..
- It's very much a device designed for two hands.
- Camera has trouble focusing in low-light situations.
The Samsung Galaxy Note 4 is available in Vodafone (€ PAYG/ ), O2 (€669 PAYG/From Free), Three (€669 PAYG/€149 ), Meteor (N/A PAYG/€99 – €449 ) and  Carphone Warehouse (€599 – €699 PAYG/ N/A Bill pay)