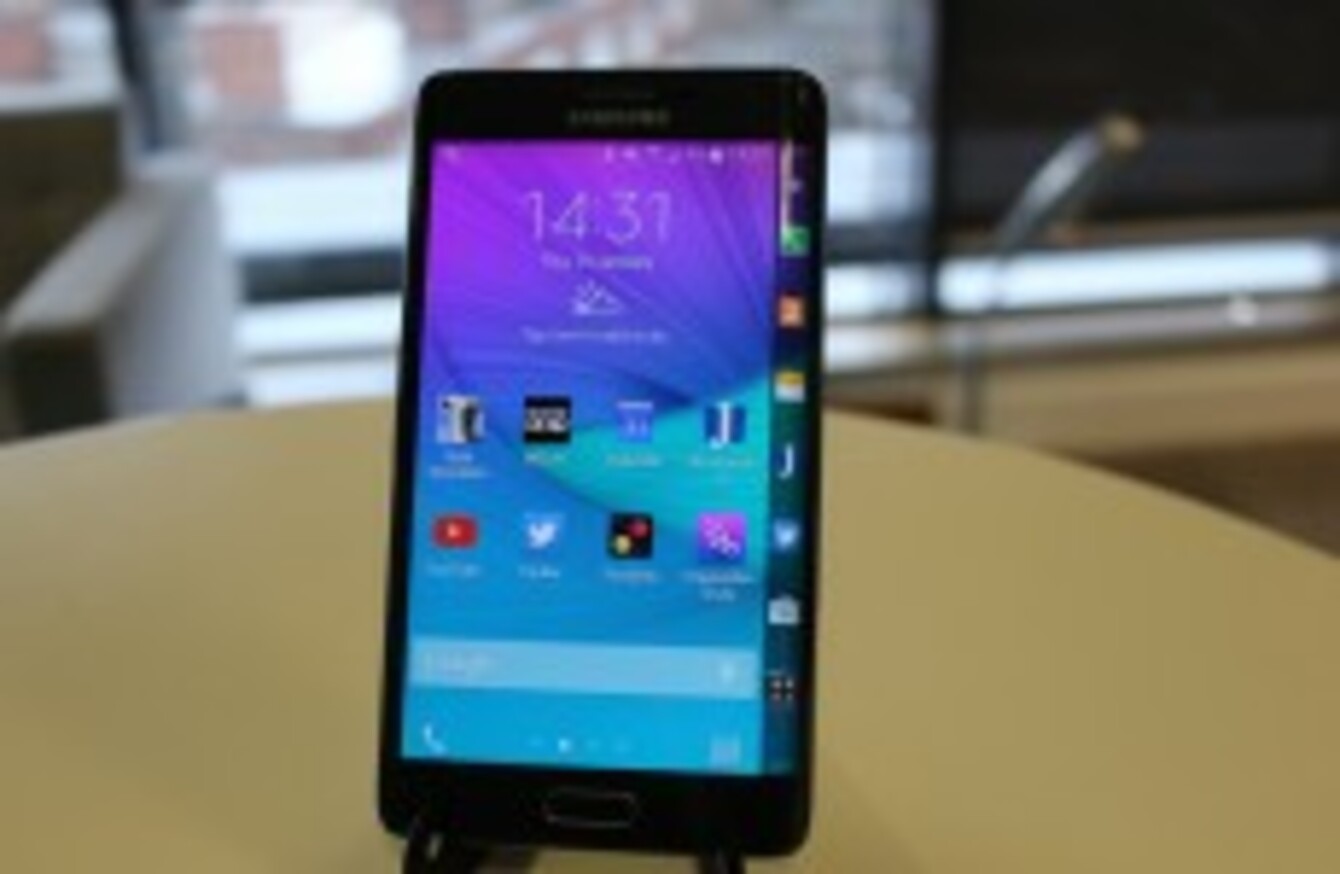 Image: TheJournal.ie
Image: TheJournal.ie
WHILE SAMSUNG IS committed to lowering the number of devices it will release this year, it's still as busy as ever.
After announcing three new devices as part of its A range (the A3, A5 and A7) in quick succession and to maintain competitiveness, it's easy to forget that it also released two new phones before the Christmas period.
While the Note 4 was released here two months ago, the Galaxy Edge made its way here last month, but even with Christmas out of the way, it's still worth a look.
Look and feel
Since the screen curves off on the right-hand side, the lack of symmetry means holding it takes a little bit of getting used to.
When you're picking it up from a flat surface, the curved screen makes it a little difficult to get a proper grip at first, resulting in a few slips here and there initially. You get better over time, but for those initial first few days, it's something you need to keep track of.
Apart from that, the design is virtually similar to the Note 4. Aluminium frame, removable leather backing and a Gorilla Glass screen. This isn't a bad thing as both devices are quite easy on the eye and the curved screen does add a bit of intrigue to it.
Hardware and software
Comparing it to the Galaxy Note 4, the Edge is practically similar in software but has a small downgrade in hardware. The S Pen is there for productivity, the camera has virtually the same specs and feature, and while the layout of the home screen is a little different, the same features are still there. The only major difference is the Edge itself (which we'll get to later).
Regarding hardware, the Note Edge isn't as powerful as the Note 4 – it has only one quad-core CPU processor compared to the Note 4′s three – although the screen quality is just that little bit better. That said, games like Goat Simulator run fine and there's was no evidence of slowdown when dealing with the more demanding parts.
Although there's an unexpected weak point: the battery. Compared to the Note 4, it just isn't as good as you would expect, lasting roughly a day and a bit through average use. It has a slightly smaller battery and is effectively powering two screens, but you will be charging every evening with just a bit of power to spare.
Living with the edge
Considering just how apparent it is when you start it up, this will be the feature that will help you decide whether to go for a Note or an Edge.
In its most basic form, the edge is really a quick way to access the most popular apps on your phone. It's pretty easy to customise and swiping across to bring up different strips (for want of a better term) containing notifications, updates and alerts is a nice touch.
There's also a ruler feature should you find yourself in a dilemma that can only be solved by measuring a 10cm or less objects, and a night mode, allowing you to use the edge as a bedside clock without having to activate it.
The only thing to note, however, is the strip usually takes up a small bit of your screen when accessing an app. For the most part, that's not a big deal, but when you're typing something for example, it does make it a little difficult to hit the buttons located on the edge without hitting a shortcut or notification, which is a minor niggle.
Also, notifications come in through the side, meaning you will have to turn the phone sideways to read it properly.
Having the features the edge brings is nice, but it's not essential by any means, it's just a less intrusive way of accessing certain information. When it's not in use, it just displays a custom message, but you can download extra strips to use later should you need more notifications or info to cycle through and as a starting point, there's enough there to get you started.
If you're left-handed, things aren't as awkward as you think as you can flip the screen 180-degrees. Although it's easy to forget this setting when you're answering your phone and realising the speaker and microphone are the wrong way around.
#Open journalism No news is bad news Support The Journal

Your contributions will help us continue to deliver the stories that are important to you

Support us now
The other factor is the camera, the shutter button and all associated settings are located on the edge which isn't the best position, either at the top or bottom.
The tradeoff is there's almost nothing obstructing your view but it means that taking one-handed photos is going to be a bit awkward, but then again, the size of the phone means you'll be using both hands anyway.
Summary
Just like the Note 4, the Galaxy Edge is well-built and solid to hold, but the main selling point doesn't add up to more than a nice feature. In the greater scheme of things, there's not enough there to make it a genuine selling point and it's not something you would miss terribly if you had to revert back to a more traditional phone.
If you're the kind of person who absolutely needs to access the same few apps at a moment's notice, it's going to be handy, but on balance, you're probably better off going for the Note 4.
If Samsung decide to make this a regular feature for its more prominent phones, like it did with the Galaxy Alpha, then it will be received warmly. You can see that thought has gone into this, but it needs to think about how it ties into the overall experience for normal users as concepts will only bring it so far.
Pros
- Great screen and build.
- Sloped side-screen works well for both right- and left-handed people.
- Most of the Note 4′s features are transferred here without problems.
Cons
- Battery life is a little disappointing.
- Curved screen makes it slightly awkward to grip.
- Specs aren't as good at the Note 4′s.
The Samsung Galaxy Note Edge is available in Vodafone (€149 – €349 Bill Pay & €829 PAYG)