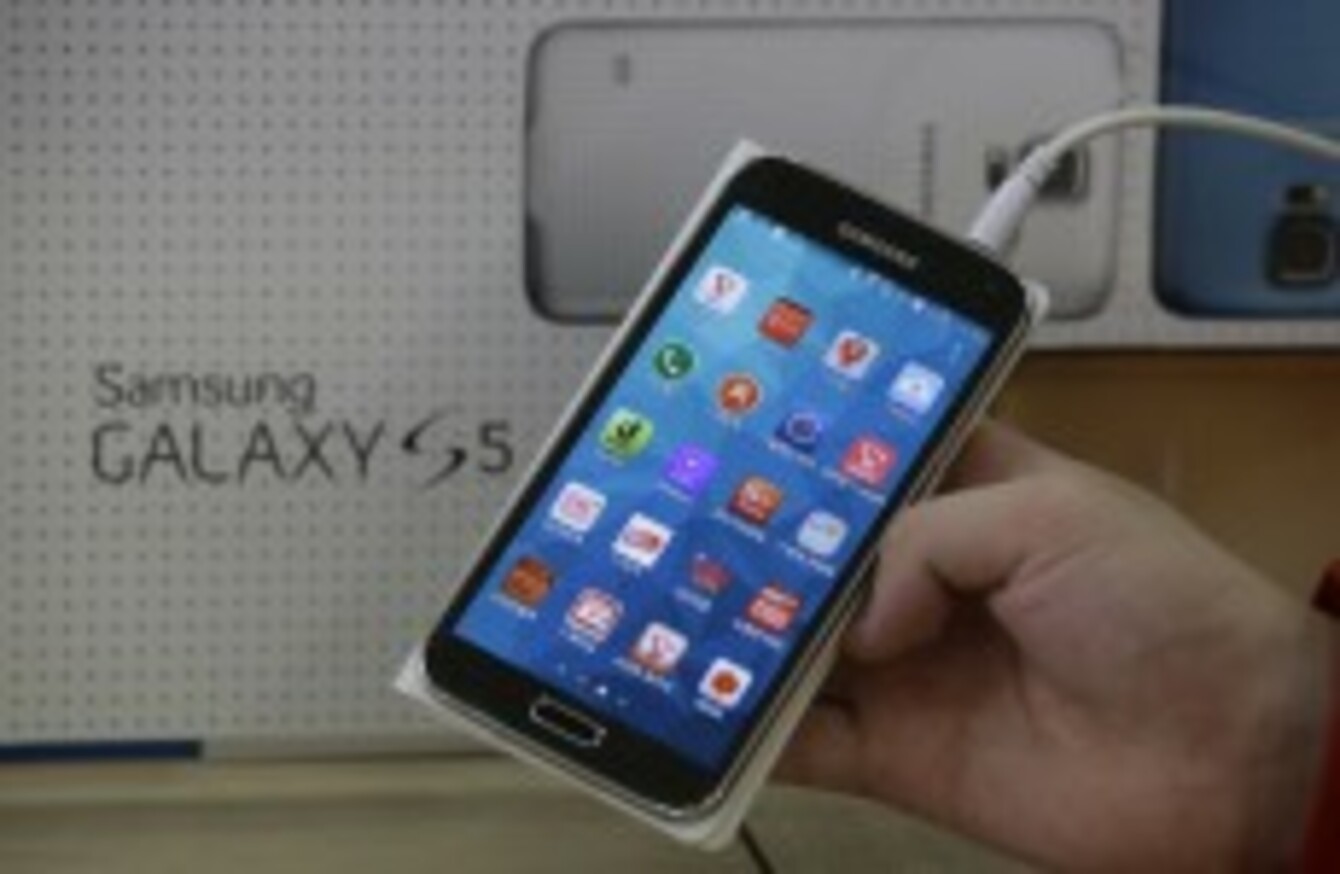 Image: Lee Jin-man/AP
Image: Lee Jin-man/AP
PRETTY MUCH EVERYONE knows the score with Samsung smartphones by now. Android device, large screens, plastic build, decent camera quality, qualities that were reflected in two of its most successful devices, the Galaxy S3 and S4.
But its rivals are quickly catching up. Alongside the Nexus 5, the HTC One (M8) was released to critical acclaim a fortnight ago, while the Sony Xperia Z2 and Nokia Lumia 930 are shaping up to be worthy competitors.
Now Samsung has released the latest model of its flagship phone, the Galaxy S5. This time, Samsung has focused more on features over hardware, but is the S5 the device that will win over sceptics, or is there still room for improvement?
Hardware
With a slightly larger 5.1-inch screen, Samsung has been slowly increasing the screen size from the S3′s 4.8-inch screen two years ago and last year's S4, which had a 5-inch screen. The S5 has practically the biggest screen a phone can have before it becomes unwieldy – or worse, falls into phablet territory.
5-inch screens have become the norm for many phones and unless you're upgrading from an old 4-inch screen phone, where it may feel strange holding it for the first time,  you'll get used to it pretty quickly.
Speaking of how the device feels, the plastic build Samsung uses has improved, although the usual criticisms surrounding this design choice still apply here.
The device is well built, but if you're used to more premium devices like the HTC One or a Nokia Lumia device, it can feel like a step down, but it feels a lot nicer when you compare it to previous Galaxy S models.
The hardware is powerful enough to keep up with the most demanding games or tasks and with the exception of one game crashing in the middle of play, there were no issues of slowdown.
Particular mention must go to its battery, which lasts longer than you would expect. Normal use will see it last for a good day before you would need to charge it, unless you really push it by watching Netflix or playing games all day in which case it will last a couple of hours.
When you're low on battery power, you can rely on two power saving modes, one which turns your screen monochrome while another shuts off everything except the most essential services on your phone like calls and texts.
Both modes are useful in an emergency situation and for ultra power-saving mode, it claims it can allow your battery to last for days, but unless you're in a serious bind, you shouldn't have to rely on either too much.
Interface
While the S5 goes through the usual hardware upgrade, the real changes are happening from within. Like the S4, it's packed with features which could feel a little overwhelming if you're coming from a different handset, but to its credit, it does a better job in organising these so you're don't feel lost.
Alongside the usual Samsung-branded apps, it's also offers a custom version of Flipboard as one of the main screens, which is always nice to look at on bigger screens.
Overall, it's a lot easier to navigate between different settings without getting in the way of using the phone. If you want to use duel screen, or reduce the size of the screen so it's easier to use – one of the stranger options you can activate on the S5 – you can. The rounded tiles and drop-down menus found in settings makes it a more pleasant experience.
Features
Like the S4, Samsung's latest flagship phone is packed full of modes and options that you may never use. While there is the feeling that some of these features are there for the sake of being there, and not really succeeding in what it's doing,
One feature Samsung has been pushing is the fingerprint scanner to unlock your phone or make payments via Paypal. In theory, it's a great idea, but in practice it still needs some refinement.
For one, it requires two hands to unlock properly – one to swipe while the other to hold the phone properly. It requires you to essentially swipe with your finger facing down which is fine when you can take your time, but if you're on the move or in a rush, getting it to unlock can take a few attempts
This becomes more problematic if you're using one hand. While it's possible to unlock it this way by using your thumb to swipe the scanner, the large screen size and the fact you will be holding the phone near the bottom instead of gripping it normally means there's always that chance you may accidentally drop it in the process.
Chances are you resort back to a pattern password or PIN as it's easier to manage, but both Samsung and Apple have a lot of work to do before they create a good fingerprint scanner.
It's also water and dust resistance which means it can survive a careless spill and continue working as normal.
Camera
With a 16 megapixel camera, the S5 is definitely one of the better smartphone out there for snap-happy enthusiasts. Much like the phone itself, it's also packed with camera options and shooting modes which will suit almost every situation should you need them.
Some options like picture/video stabilisation and smooth motion (for recording) are genuinely useful, but the default options are good enough for the casual user to get by without making too many changes.
Despite the many options, trying to get the camera to focus on a particular object can be a little annoying, if it's a dark object in a bright room for example, but overall the camera's quality is great and it does the job well.
#Open journalism No news is bad news Support The Journal

Your contributions will help us continue to deliver the stories that are important to you

Support us now
Fitness
When Samsung announced the S5 and Gear 2 smartwatch back in February, a major theme surrounding them was fitness. Alongside the S Health app, which also has been simplified, the phone has a built-in heart rate sensor located underneath the camera.
However, while the app functions just as well as any other fitness or exercise app, it feels like it was very much designed with the Gear 2 in mind.
If you use a similar fitness app like Runtastic or Endomondo, then there isn't much that will make you want to switch over, but it does its job just as well as any other fitness app out there.
Conclusion
It's clear the focus of the S5 was to improve on the S4, and to be honest, who can blame Samsung for doing that? The Galaxy S series is already popular so going for evolution instead of revolution makes sense.
That said, there is a lot to like about the S5. While the issues surrounding it like its insistence are similar to previous incarnations, it's still a great device and one of the best Samsung smartphones around.
While the S4 was about cramming as many different options and ideas into the phone as possible, the S5 has focused on refinement, redesigning the interface and making it more intuitive.
If you weren't a fan of Samsung's handsets before, then this is not the device that will convert you – the HTC One (M8) or the Nexus 5 will suit your needs better – but if you have an open mind, what you will get is a reliable, high-quality smartphone.
(Note: The Samsung Galaxy S5 used in this review was provided by Three Ireland).