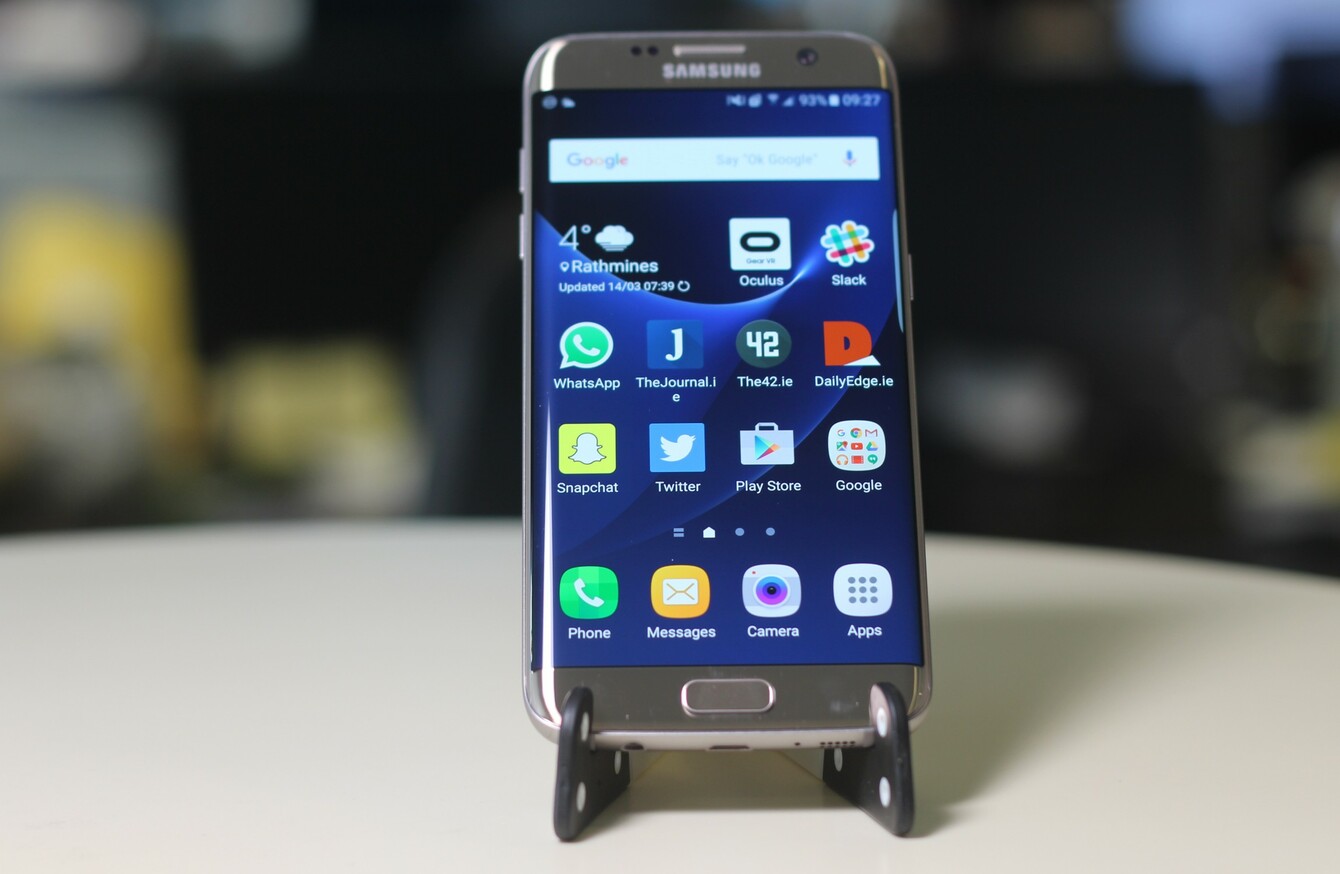 Image: TheJournal.ie
Image: TheJournal.ie
Rating: 9/10
Verdict: Improving in all the right ways, the S7 has its flaws, but the design choices and features make it a joy to use.
IF LAST YEAR'S S6 was a way for Samsung to correct the direction its flagship phone was going in, then the S7 is its way of refining it. It has mostly listened to its fans, reintroducing most of the features they missed like expandable storage and waterproofing.
And upon the buildup to the launch, Samsung's heads were quite bullish about the company's chances. While the focus of their promotions was on Gear VR, which only works with certain Samsung smartphones, it felt a bit odd it wasn't promoting the S7 as much. But after using it for a week, they probably didn't need to.
Note: The device used for this review was the S7 Edge. Apart from the Edge screen and related features, all features are virtually identical.
Refinement
Compared to the S6, not a whole lot has changed but to be fair, the S6 was a well-built device and the Edge was its stylish counterpart. In the case of the Edge S7, it's a little bigger than the standard version, but the 5.5-inch screen (5.1 for the S7) manages to be comfortable to hold thanks to the subtly-curved backing and pronounced bezel.
The home button is rather chunky in comparison to the rest of the device, but it feels more satisfying to press it, and you will press it a lot as you boot up the camera, but we'll get to that.
The camera at the back pokes out a little, a rectangle jotting out on a perfectly smooth steel backing, but overall, both versions build upon the work of the S6 range.
With all been said, the Edge version is fantastically designed and gives Samsung a unique look, separating itself from the hundreds of identikit phones out there.
Restraint 
While the design hasn't changed that much, the software running has received another overhaul. Prior to the S6, Samsung pushed TouchWiz, its version of Android, which contained a ton of features but few of theme essential, hurting what were decent phones.
Now, it's running Android Marshmallow (6.0) and has discarded much of the dross that accompanied previous versions. It has taken the 'less is more' approach the likes of Apple use, but more importantly, it's put its own spin on it.
And it's a joy to use. Important apps are only a swipe or button press away, Samsung's apps are there but in the background, and unique features like the Edge screen – which needs a bit of time to mature but has potential – and split-screen mode are so streamlined, it's hard to think of a Samsung device that just flows as well.
Little touches like the screen closing in when you lock it are tiny but combine to form a much greater experience.
If there is a flaw, it's how it hasn't completely discarded its bad habits. The major features are less confusing and more streamlined, but the phone doesn't restrain itself in other areas. Anyone using a Samsung phone for the first time will need a bit of time to get used to it as it's not as accessible compared to others.
Powerhouse
Considering the phone is powerful enough to run VR applications – you need a Gear VR headset for them to work but that only costs an extra €99 – it probably unsurprising just how well this deals with day-to-day tasks.
Apps run and update smoothly, demanding 3D games run without breaking a sweat and the phone never felt like it was going to crumble under pressure, even when using split-screen functionality where it switches window sizes smoothly.
It also comes with a large 3,000 mAH battery although there are a few reasons why it needs this. One is the amount of processing power it needs for Gear VR – which is an absolute battery hog – while another is the always-on display which manages to be economical with battery life.
There is something to note about this. The positioning of the clock and info changes somewhat over a short period which can be a bit distracting if you place it in front of you.
It's a minor quibble though as you can turn it off if you wish but even with it on, we found it would take a day and a half before it hit the 20-30% mark.
Instant focus
But if there's a jewel in the S7′s crown, it's the camera which builds upon the S6′s work. As well as an incredibly quick bootup time – you can tap the home button twice to activate it – and the autofocus is impressively quick. Two vital components needed for anyone who wants to take a shot in the heat of the moment.
It gives you more excuses to take out your phone for a quick photo or 12 (and more if you have a micro SD card mounted) and considering how convenient and quick it is, you'll be doing this a lot.
Much like previous versions, the camera tends to go for more vibrant colours when compared to the more realistic tones that the iPhone range opts for. This isn't necessarily a bad thing but something to keep in mind if you're deciding between the two.
The front-facing camera is of good quality too for selfies and the rear camera fares well in low-light situations thanks to a dual pixel camera. It's not a miracle worker but if you have some light, it's good at eliminating the fuzziness you associate with darker photos.
S7 photos

Early morning

Early morning

Focus on foreground...

before changing focus to background a second later.

Afternoon

Afternoon

Graffiti

Low-light

Evening
Should you buy one?
Despite the drawbacks, there's no getting away from how good the S7 is. It should be one of the first to consider if you're in the market for a new phone – provided you don't mind the price-tag – and if you can get the Gear VR for another €99 and you have two devices that you will be happy with.
Honestly, all Samsung had to do was address the criticisms that plagued the S6 and people would have been happy. In many ways, that's what it has done, but in adding in its own little touches that work, it has created a tempting device,
Forget the best smartphone Samsung has created; it's hard to see many smartphones matching what it's brought to the table this year. And that's the highest praise we can give it.
Pros
- Fantastic design for the Edge.
- Camera is both quick and fun to use with great quality photos.
- Software aesthetics is generally pleasing to use.
- Full of nice little touches that enhance the overall experience.
Cons
- Edge features need a bit of time to mature.
- TouchWiz is still bloated in certain areas like settings and camera.
- Overall price is still steep compared to other devices.
The Samsung Galaxy S7 costs €759 prepaid (starts at free on bill pay) and is available in Vodafone, Three, Meteor, ID mobile, Tesco Mobile, and Carphone Warehouse.
The Edge S7 costs €859 prepay (starts at €199 on bill pay) and is available in Vodafone, Three, Meteor, ID Mobile and Carphone Warehouse.