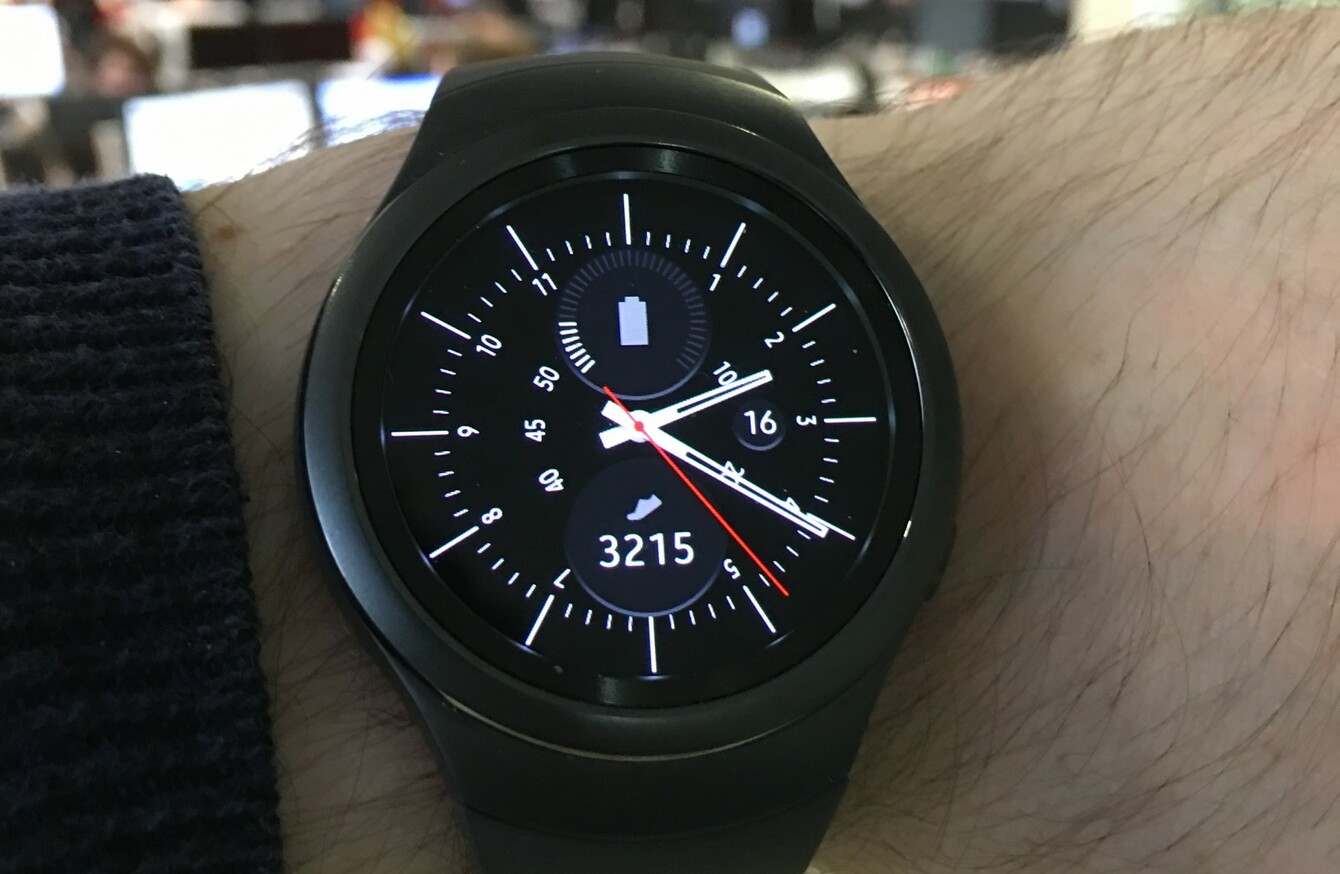 Rating: 7.5/10
Verdict: Second time lucky brings with it better battery life and experience, but some more work is needed before it becomes an essential purchase.
BEFORE APPLE WATCH or Android Wear, smartwatches were a complete mess. Underpowered, overpromising, and being generally terrible, even those who loved the idea found it hard to accept it.
Things have improved compared to then but there's still quite a bit of work to go.
Apple's first attempt and the new generation Android Wear devices are slowly meeting their lofty ambitions and in the centre of it is Samsung. One of the first companies to enter the market, it has added to the market with the latest addition to its Gear series, but does the S2 warrant a look?
Blending in
For those who remember the first Gear S, it looked less like a watch and more like a bracelet with a large square screen. The end result was a watch that looks like a small phone attached to your wrist instead of something stylish or inconspicuous.
Compare that look to the Gear S2 and it's immediately clear that Samsung has learnt from this. It looks similar to a normal sports watch with rubber or leather strap (the latter is with the Classic) and that's by no means a bad thing. Its look is familiar and stylish but it hides a few things that show off its smart capabilities.
Setting it up is a matter of having a phone with Android 4.4 or higher, downloading the Gear app and connecting it via Bluetooth. It's a straightforward process and you'll have it connected in no time.
Alongside the touchscreen, there are two buttons at the side, the home button and the back button. They end up doing the same thing most of the time but the handy addition is the rotatable bezel.
Swiping to navigate menus and widgets isn't practical with such a small screen, most makers realise this, so to incorporate it in this form is handy.
Charging isn't exactly the fastest process, but considering how you'll be doing this at night time, this won't be much of an issue. Charging it is done wirelessly via a small stand which you clip onto magnetically.
Softly does it
Instead of opting for Android Wear, Samsung decided to give its Gear S range its own operating system called Tizen. It only works for Android devices so if you're an iPhone user, you're out of luck here. Granted, you can use the watch disconnected, and it keeps certain aspects like the time, tracking and alarms but that misses the point.
The interface boils down to the clock being the main home screen. Notifications are found on the left while widgets are on the right.
Keeping it focused on a few works to its advantage and the bezel means it's faster to navigate, not that you would have a whole lot to look through. Which brings us to one of the biggest stumbling blocks for the Gear S2.
The apps that support it are a mishmash of different services, and lack any major third-party support outside of Samsung's own. Sure you can still select notifications and reply to messages, but it's limited and it's more a workaround than smooth integration.
Certain controls like music, which work with Spotify, makes sense but other inclusions like Bloomberg don't work as well as intended. The experience can be hit and miss, which can be a little disappointing, but the main apps like S Health perform as well as expected.
The Gear app on Android fares better with an nice range of customisation options for notifications, and quick access by double tapping the home key.
#Open journalism No news is bad news Support The Journal

Your contributions will help us continue to deliver the stories that are important to you

Support us now
The battery is also another strong point with it regularly lasting two days without much effort. Samsung puts the battery life to around two to three days and through normal use, it's a fair estimate.
There is a low-powered option should you need it but the biggest concern won't be the watch but your phone. Since it connects via Bluetooth, you may have to keep an eye on its lifespan but if your phone can last a day with juice to spare, it will be able to manage.
Should you buy one?  
The smartwatch industry is growing up, and the Gear S2 is probably one of the best versions out there, but unless you're easily distracted by notifications to the point of checking your phone compulsively, its price will be a stumbling block.
There are deals for it, for example Vodafone has it for €199 if you buy it with a Galaxy S6 smartphone, but for most people, it will be a little too far out of reach.
If you're in the market for an Android smartwatch, then you should have it high up on your list. It's one of the few times where Samsung using its own software makes sense, and it's all the better for it.
Pros
- Great design.
- Interface is simple and to the point.
- Combination of circular bezel and touchscreen makes navigation easy.
- Battery life is good.
Cons
- Very limited app compatibility.
- Notifications could be more streamlined.
- No iOS support.
- Price point might be too high for some.
The Samsung Gear S2 costs €349 (€399 for classic version) and is available in Vodafone, DID, Power City, Littlewoods and Samsung Experience Stores/Carphone Warehouse.